we care about only 1 bracket here at The Monday Lineup Radio Show, and that is the Kanye Madness bracket. join me and my 2 favorite yeezy aficionados as we break down our bracket choices, lament about the match-ups that were unfair and give air time to our favorite tracks that were left out of the tournament.
also, note from Randall: "OK also, slight correction, Flashing Lights didn't premiere on Grand Theft Auto, but it was featured in the game coincident with the song's release."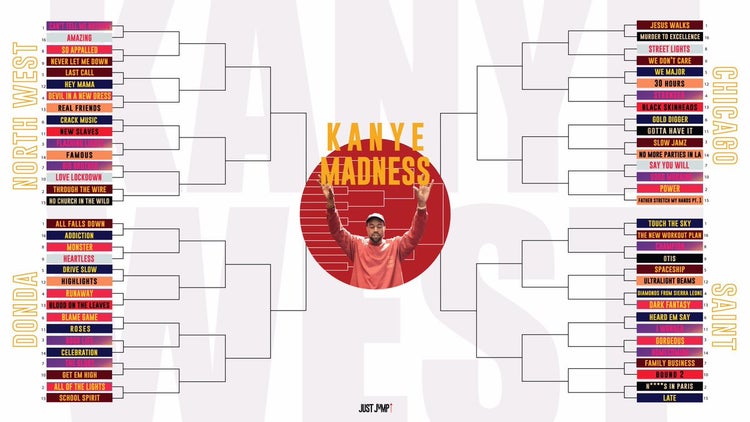 Playlist
Click buy to purchase tracks from this playlist and BFF.fm will receive a small percentage. You can also support BFF.fm with qualifying purchases made via Amazon Smile. Every bit helps!
Famous by Kanye West on

The Life of Pablo

(Def Jam)

$ Buy

All of the Lights by Kanye West on

My Beautiful Dark Twisted Fantasy

(Roc-a-Fella Records)

$ Buy

POWER by Kanye West on

My Beautiful Dark Twisted Fantasy

(Roc-a-Fella Records)

$ Buy

Homecoming by Kanye West on

Graduation

(Roc-a-Fella)

$ Buy

New Workout Plan by Kanye West on

The College Dropout

(Roc-a-Fella Records)

$ Buy

Black Skinhead by Kanye West on

Yeezus

(Def Jam)

$ Buy

Runaway by Kanye West on

My Beautiful Dark Twisted Fantasy

(Roc-a-Fella Records)

$ Buy

Can't Tell Me Nothing by Kanye West on

Graduation

(Roc-a-Fella Records)

$ Buy

Ultralight Beam by Kanye West on

The Life of Pablo

(GOOD Music)

$ Buy

Jesus Walks by Kanye West on

The College Dropout

(Roc-a-Fella Records)

$ Buy

Get Em High by Kanye West on

Late Registration

(Roc-a-Fella Records)

$ Buy

White Dress by Kanye West on

The Man with the Iron Fists

(Geffen)

$ Buy

Break

The Food (feat. Kanye West) by Common on

Be

(Geffen)

$ Buy

All Day (feat. Theophilus London, Allan Kingdom & Paul McCartney) by Kanye West on

All Day

(GOOD Music)

$ Buy

Lost in the Woods by Kanye West on

My Beautiful Dark Twisted Fantasy

(Roc-A-Fella Records)

$ Buy

Fade by Kanye West on

The Life of Pablo

(GOOD Music)

$ Buy

Gone by Kanye West on

Late Registration

(Roc-a-Fella Records)

$ Buy