DJ4AMs laptop has officially pooped the bed but we shall not be defeated, this show is super analog, a mixed tape by DJ4AM and a special vinyl set by DJ Marloca, this show will be super heavy on dope HipHop from the Megakut label, word up!
Catch DJ Marloca live at F8 (1192 Folsom) June 20th (and every 3rd Wednesday) from 5pm-9pm.
Catch DJ4AM at Pops Bar on 24th st. Thursday June 14th dropping funky remixes and edits from 9pm til blackout... word.
If you'd like to contribute to the DJ4AM laptop fund you can go to www.dj4am.bandcamp.com and purchase any release. Thanks!
Also check out Jason Nevermind on Episode 4 of The Speakeasily Hour Podcast Minute and on the latest episode #26 of The Creepy Podcast... search on Stitcher, Tune In, Soundcloud, iTunes, Lybsyn.
Thanks for your ears, big up to all the talented musicians featured, big up to all the homies at Smart Bomb in Oakland tonight!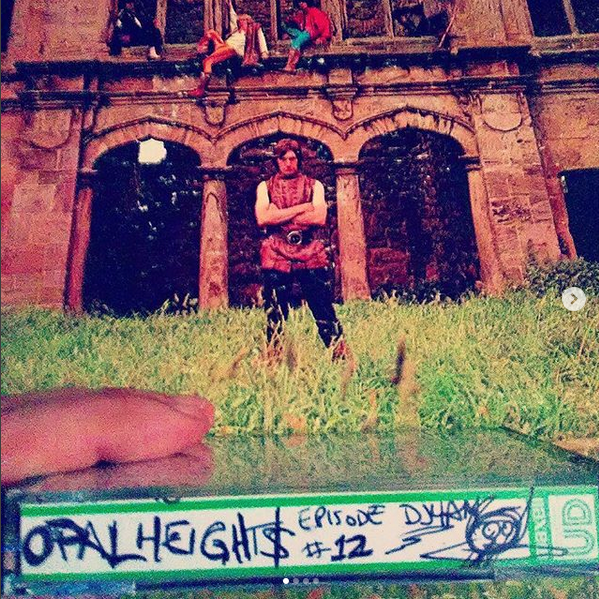 Playlist
Mixed Tape Intro - Soundcheck by DJ4AM on

talk break

(exclusive)

Break

The Sco by Equipto & Brycon on

Tape Single

(Megakut)

Shirley Mac Lane Talks 2 Aliens (improv) by DJ4AM on

Opal Heights Ep12

(exclusive)

GawddamnItSmellsLikeCarlaThomas by DJ4AM on

SF Iz Mad

(The Vampire On A Pony Network)

What Can U Make Of This Johnny? (improv) by DJ4AM on

Opal Heights Ep12

(exclusive)

All Liquored Up by On Tilt on

Drink Floyd

(Megakut)

The Trees $hivered (improv) by DJ4AM on

OpalHeights Ep12

(exclusive)

Tricks N Treats / Made From Bjork by Kid Koala on

Scratch Scratch Scratch (tape promo)

(promo)

Eddie Harris Talks S#!T / Giggle Gra$$ (improv) by DJ4AM on

Opal Heights Ep12

(exclusive)

DFS side 1 by Kursive, Bucc Rogerz, Brewmaster on

Derived From Samples

(Megakut)

Try Suicide Again (Aaliyah vs. Suicide) by Sofaking Massive (Big Ant & DJ4AM) on

Soundklash

(The Vampire On A Pony Network)

Speed Limit 12" version by Octavius (produced by DJ4AM) on

Modern Chairs 12" vinyl

(Just One Entertainment)

Jason Nevermind on The Speakeasily Hour Minute Podcast (snippet) by Speakeasily on

The Speakeasily Hour Minute Podcast

(podcast)

China Dress by DJ4AM vs The Sleepover Disaster on

Sex, Darwinism & The Jungles Of Hades

(Just One Ent / The Vampire On A Pony Network)

Bloom by DJ Q Bert & Tipsy on

Extra Terrestria LP

(Thud Rumble)

Data Check by Grand Killa Con on

La Barranca

(Megakut)

Word Up by LIGHTBULB & DJ EONS ONE on

7"

(Megakut)

The Style Is Bonkers by Grand Invincible on

12" vinyl single

(Megakut / Zero Friends)

Real Shit by Eddie K on

Cue's Hip Hop Shop V1

(Dogday / Cue's Records)

Intramental by Live Human on

S/T

(Live Human)

Old E On The 14 by Z-Man on

4 Hours Of Sleep

(Vulgar / Gurp City)

Duragz by Azeem on

12"

(Stray Records)

Gamerz (Rick Rock Eerie Attic Remix) by The Conscious Daughters on

12"

(Priority Records)

So Young by Mike Marshall & San Quinn on

12" single

(Million Dollar Dreams)

Mottavation by Equipto & Mike Marshall on

K.I.M.

(Million Dollar Dream)

Bibingka by Secret Sidewalk on

7" single

(CB Records (Change The Beat))

Laugh/Love/Fuck (Album Version) by The Coup on

12" single

(Epitaph)

The Swashbucklers by Dopestyle 1231 f/ Eso Tre of Substance Abuse on

MochaFrappucinoPsychoSick LP

(Grimey Noir Records / The Vampire On A Pony Network)