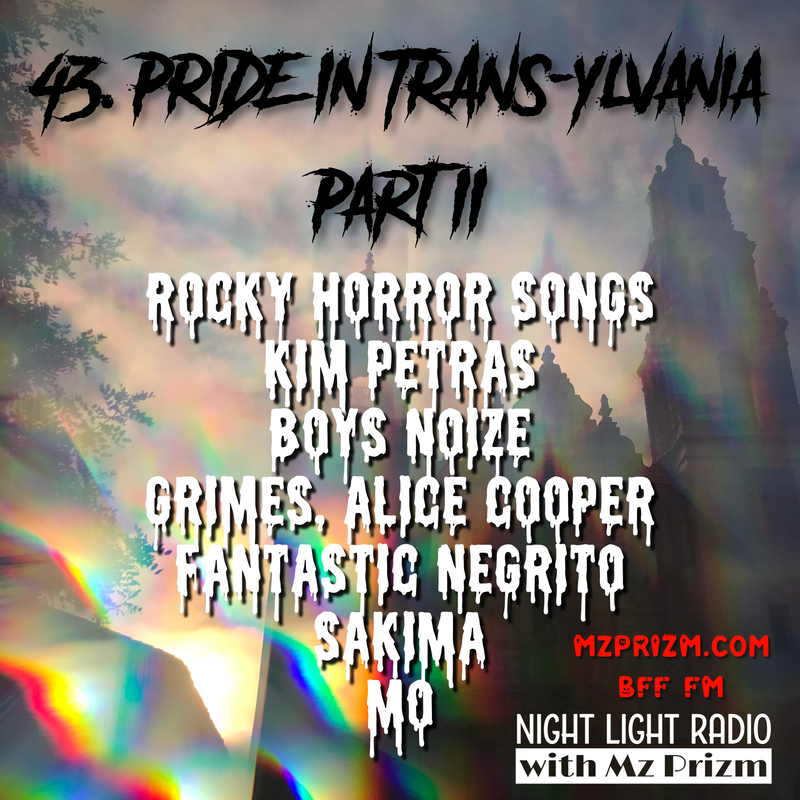 BOO, b*tch! A spooky sequel to PRIDE in TRANSylvania Part 1 is here!
After watching 1975 cult classic Rocky Horror Picture Show right as Part 1 (ep. 42) came out, I knew I had to make a Part II!
As the election results roll in, good and bad, and as we feel the love in our hearts but see disasters erupting around us constantly, the best thing we can do is be able to enjoy ourselves no matter what, be our true-est selves, let our freak flags fly, and dance it the f*ck out like it's our last day on earth!!!
In episode 43, we rock thru a few dramatic classics from Rocky Horror Picture Show -- Time Warp, Sweet Transvestite, Susan sarandon's breath-y Touch-a Touch-a Touch-Me / Creature of the Night about losing her virginity to freaky transvestite Dr. Frank-N-Furter (played by Tim Curry!), and at the end of the episode, the heartfelt ballad I'm Going Home.
We have a rave-y disco section featuring a brand-new scary yet inspiring track from Boys Noize with Steven A. Clark, a freaky one calls Apps from SAKIMA, a new track called World's Crazy by Roisin Murphy, more Kim Petras from her new album TURN OFF THE LIGHTS, VOL. 1., a Britney Spears throwback, some scream-y songs from the magical, probably-is-an-alien Grimes, and much more. We enjoy a new track from new artist Perta, and an older track from the Knife, and a new one from MO.
We enjoy two musical numbers from Kinky Boots, whose soundtrack was written by Cyndi Lauper!
Plus we rock out to tracks from Garbage, Alice Cooper, Season of the Witch by Donavan, and two songs from Fantastic Negrito.
A new one from Pancho Morris, expect big, strage things from him soon...
Plus a Queen cover by lovable young gay pop icon Troye Sivan! And we learn that perhaps a member of all-female Queen tribute band the Killer Queens, will come onto Night Light Radio soon as a guest!
enjoy the music!
xx Mz Prizm
WEBSITE, BLOG & MORE: mzprizm.com
SPOTIFY PLAYLIST: http://bit.ly/nlrbff43