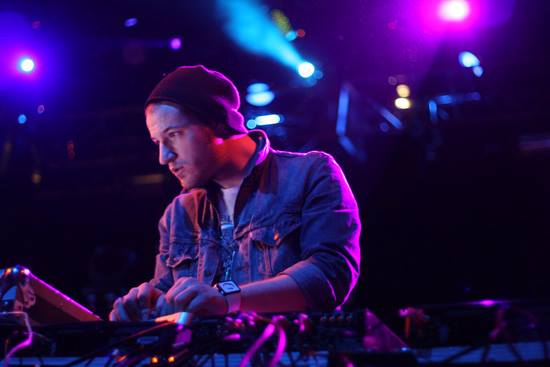 Tonight Denley hosts a tribute to the music and memory of Samuel "Sleepyhead" Pohner.
Some words from Denley:
I met Sam in about 2009, there was an event at Underground SF called Holy Thursday. It was organized by Egadz, Jel, Spinnerty, E Da Boss…apologies if I'm missing anyone…it was a long time ago.

I had played my first show with Keith Kubota as Broken Figures opening up for Dibiase and Devonwho the year before and we were both buzzing, making music, trying to ride the wave and enjoying the electronic scene and the show "circuit" at the time.

Keith and I went to one particular Holy Thursday where we met Sam (Sleepyhead) and his set blew us away. There was so much texture and nuance and attention to detail in his music and Keith and I left incredibly inspired. We made so many tracks in the weeks after that show.

We'd see Sam around at other events, like "Disco vs. Dubstep" at Poleng Lounge and he was always so personable and humble and willing to share techniques and introduce us to new tools. There were a lot of VSTs and synths coming out at the time that became heavily used in genres like glitch, dubstep and house in the years to come, and Sam was not in the slightest bit protective of his knowledge of them.

I credit Sam as one of a short list of people who inspired me to share my music more confidently, more readily….to own it…to be proud of it….and to feed off the feeling an artist gets when they see people reacting and moving to their music.

It's with that in mind that I'm doing this tribute show. It's the best way I could think of to honor him with the tools available to me.

I send my deepest condolences to his family and friends and to those who were composing and performing with him when I met him… artists like Mimosa, DNAEBEATS, NastyNasty, Bogl, Salva, Hej Fund aka Epcot, Grenier aka DJG….
R.I.P. Samuel "Sleepyhead" Pohner
Sleepyhead on Soundcloud, Beatport
Playlist
Lrdhvmrcy by Sleepyhead on

Endless Island

(Symbols Recordings)

Washed Ashore by Sleepyhead on

Unreleased

(N/A)

Cowboy Grime by KnowSleep on

KnowSleep

(Street Ritual)

Fiefdom by Sleepyhead on

(Soundcloud)

(N/A)

Rainbow Thorns by Sleepyhead on

Endless Island

(Symbols Recordings)

Endless Island by Sleepyhead on

Endless Island

(Symbols Recordings)

Untitled (Demo) by Sleepyhead on

(Soundcloud)

(N/A)

Lost At Sea (feat. HxdB) by Sleepyhead on

Endless Island

(Symbols Recordings)

Untitled by Sleepyhead on

Untitled (ASL Singles Club)

(ASL Singles Club)

8 13 2012 118 Bpm by Benito & Sleepyhead on

(Soundcloud)

(N/A)

All Night by Sleepyhead on

Broke City Summer Collection Vol. 2

(BrokeCity)

Go Back by Sleepyhead & CreamDream on

Broke City Summer Collection

(BrokeCity)

Be There by Sleepyhead on

Best of PGR

(Party Guy Records)

All Alone by Sleepyhead on

(Soundcloud)

(N/A)

Good Love by Sleepyhead on

Good Love - EP

(Party Guy Records)

Junglz by Sleepyhead on

Endless Island

(Symbols Recordings)

Say U 3 Me (feat. CZ) [Demo Cut] by Sleepyhead on

Untitled (ASL Singles Club)

(ASL Singles Club)

Hi-Five by Sleepyhead on

Motions EP

(Trouble & Bass Recordings)

Inamorata by Sexytime on

Naked Poetry EP

(False Idol Musik)

On the Phone (feat. Dunes) by Sleepyhead on

Motions EP

(Trouble & Bass Recordings)

Late Nights by Sleepyhead on

(Soundcloud)

(N/A)

Lion in My Bed (feat. DNAEBEATS) by Sleepyhead on

(Soundcloud)

(N/A)

Nothing Changes by Sleepyhead on

My Lyf / Together

(Embassy Recordings)

LA Kicks (feat. Ghostek) by Sleepyhead on

Motions EP

(Trouble & Bass Recordings)

Together by Sleepyhead on

My Lyf / Together

(Embassy Recordings)

Burial Ground by Sleepyhead on

(Unreleased)

(N/A)

Summer Lovin by Sleepyhead on

Motions EP

(Trouble & Bass Recordings)

My Lyf by Sleepyhead on

My Lyf / Together

(Embassy Recordings)