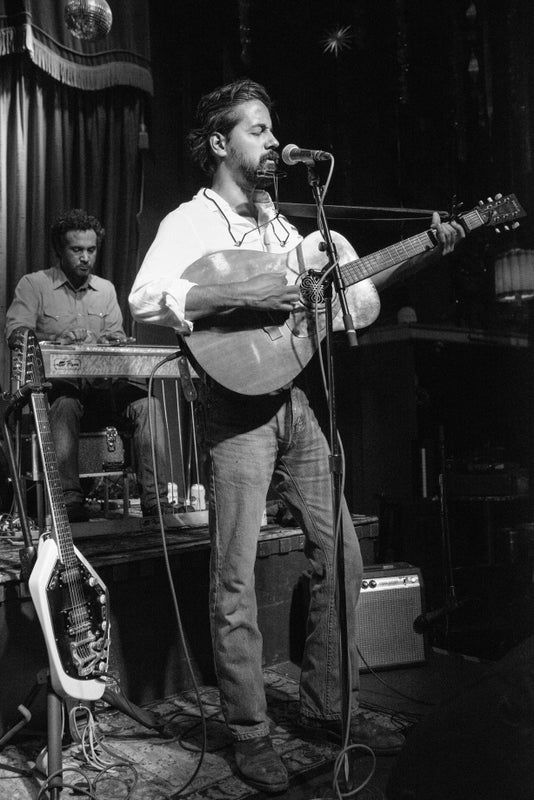 Jacob Aranda, photographed by Karen Goldman. Catch Aranda Weds Dec 12 at the Papermill Creek Saloon on Sir Francis Drake.
Top 40 of 2018 Part 2!
My feelings:
Field Medic, "Dock of the Harbor": The weightless yet monumental levitation of fog at certain moments in your life is palpably felt in Field Medic's shattered reckoning. He walked into Flywheel Coffee as I was typing this, dude is just that epic.
On "Really Real" Anna Hillburg builds a stirringly big question-- 'Was it ever really real?'-- and in the refrain there's an answer in finding love and knowing home.
Lola Lazer, "Honey Bear": A one minute song about your tummy and that oldest question, Why does love feel so funny?
Turqouiz Noiz, "Paperbag": Paperbag's tale of tragedy brings a simmering despair to stunning catharsis, channeling early Modest Mouse and a young Black Francis. (Related Records)
Francisco y Madero, "Jet Set": Jesse Sylvester aka Marinero's long-distance collaboration with Carlos Pesina Siller of Guadalajara yields an epically layered intercontinental fantasy.
Jacob Aranda, "Half Life": In Aranda Northern California has its own contemporary master of country songform, and "Half Life" offers reflective candor behind the strong, wry exterior.
Dot Vom, "Arroyo Burro": The heart muscle swells in the voice of Dany Ricci, and under the band's agile currents it all builds to a plaintive, brave declaration against being alone. (Textme Records)
Love Birds, "Kiss and Tell": A breeze of a tune whose sudden, cathartic climax captures that moment when you realize you've been hurt and angry all along.
Cindy, "Book in Heaven": The latest in a storied line of 'book of love' songs, drummer Simon Phillips rides haunting background vocals as lead singer KC Gill relates leftfield field notes like "I'll see you/ in the primordial ooze".
Rays, "Yesterday's Faces": A swinging rhythm section powers a blast of beatnik post-its with punchlines like "2000 miles away we break down". (Trouble In Mind)
Blades of Joy, "Be Free": Out walking one night the combination of the band going into that ecstatic gear and the uplifting melancholy of Inna Showalter's vocal made me well up right there at Steiner and Oak. (Melters)
Louda, "Family": One of the hardest working artists in town relates how she approaches community in a year when community seemed to matter more than ever.
Al Harper fashions songs with multiple sections but a straight line shot through them, and on "Sunny Somewhere" she uses nuanced shifts to render the reality of daily life in the Bay Area, where the weather might suck but it's actually lovely a mile and a half away.
Banzai Cliff, "Roshambo": Baffled by your every day personal clusterfuck, wondering if you're going to die, or pledging to live forever? Listen to the song I found myself humming every week of the year. (Tank Beach Tapes)
Screature, "North of Order": Sacramento's Screature lower the boom on the Bay Area with this massive caravan of 10,000 goth punks crossing the Delta.
Michael O, "Power's Out": It's self-care to unplug in the country and feel this way. (Fruits & Flowers)
Trash Vampires, "Heaven Patrol": A song about racist cops keeping you out of Heaven kind of says it all this year.
Las Dueñas' "5 in the Morning" builds by verse into a slow jam classic.
Them Are Us Too, "Angeline": Kennedy Ashlyn of SRSQ brought family and friends together to complete the final Them Are Us Too album, and it shimmers in the presence of those they love. Rest in Peace Cash Askew and all who perished at Ghostship.
Curling, "Still Green": I don't know a word he's saying but I believe them with all my heart, holy shit these motherfuckers rock. (Coppermouth Records)
instagram: @iluvmondaysbfffm
twitter: @iluvmondaysWill
email: iluvmondaysBFFfm@gmail.com