PRIDE is hot | Robyn, Kim Petras, Lizzo, Spice Girls, Shea Diamond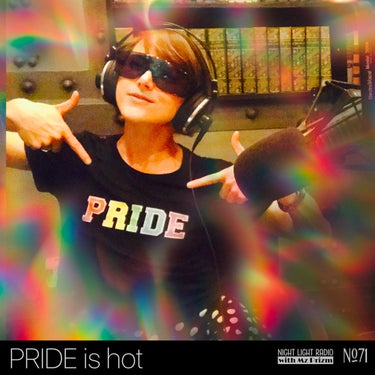 👨‍❤️‍💋‍👨🌈🏳️‍🌈it is PRIDE and it is HOT here in San Francisco! On the 50th anniversary of the Stonewall Riots that started the PRIDE movement, we are lucky to have the freedom to enjoy a spectrum of music together, from celebratory and sparkly, to raw and real, to nasty dirty pop, from lgbtq+ allies and supporters
I share stories from my own life and we talk about the way PRIDE flags are being handled by embassies around the word under the current administration vs. the Obamas.
Featuring Robyn, Kim Petras, Lizzo, Spice Girls, Shea Diamond, Kehlani, even Diplo, Billie Eilish, Sufjan Stevens and more.
Thank you for helping spread the word!!! <3
let's celebrate the freedom to dance, enjoy music, and connect with each other, that we are so lucky to enjoy here in the Bay Area, and beyond! 🍀🌈 xx mz prizm
MzPrizm.com/pride | Mz Prizm's PRIDE Episode Playlist on Soundcloud
Spotify playlist here | Soundcloud episode #71
~ ~ ~ ~ ~ ~ ~
CONNECT + SUBSCRIBE
stream anytime on soundcloud, itunes, google play, overcast, spotify + more - http://mzprizm.com/
weekly show email - http://eepurl.com/dD9Zmn
instagram @mz.prizm http://instagram.com/mz.prizm
twitter @prizmeyez http://twitter.com/prizmeyez
fb @prizmeyez http://facebook.com/prizmeyez
mzprizm@gmail.com // #nightlightradio // #mzprizm
~ ~ ~ ~ ~ ~ ~
🌈ABOUT MZ PRIZM
Mz Prizm shares this show to help remind us that music is a sound rainbow and YOU are a prism. Rainbowz are everywhere all the time! Especially inside you :)
🎙️NIGHT LIGHT RADIO
Every week enjoy two hours of music with Mz Prizm from a kaleidoscope of themes as far and wide as womxn power, disco, pride, party jamz, eclectic, jazz, funk + soul, etc. on San Francisco community radio station BFF.fm.