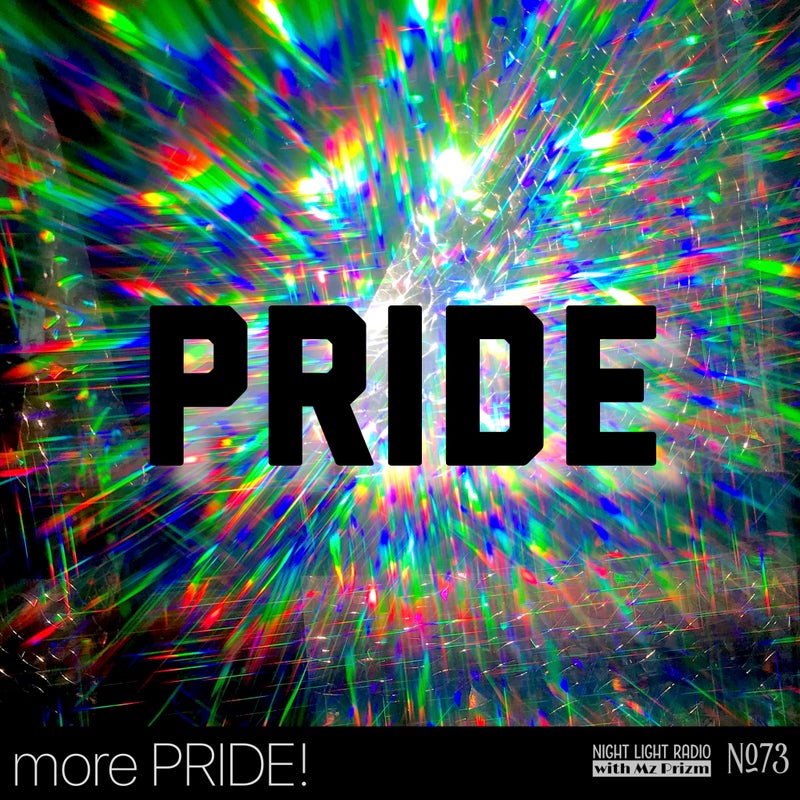 🎶👨‍❤️‍💋‍👨🏳️‍🌈 Live through the BFF.fm internet radio airwaves, Mz Prizm delivers you an upbeat selection of music from LGBTQ+ artists and allies, as well as around the theme of letting your freak flag fly!
Enjoy plenty of brand new tracks as well as eclectic surprises, from artists including The Magician, Troye Sivan, Big Freedia, Deee-lite, Betty Who, Madonna, Janelle Monae and more. See the full track list below!
Lizzo's speech from PRIDE Sacramento on Instagram is viewable here.
STREAM ANYTIME! itunes, google play, overcast, spotify+ more http://mzprizm.com (plus spotify playlists!)
Catch all my PRIDE episodes back-to-back in this soundcloud playlist. Thank you for listening, much love!!!
🌈xx mz prizm
~ ~ ~ ~ ~ ~
🎙️About NIGHT LIGHT RADIO: Mz Prizm shares this 2-hour weekly show to enjoy reminding us that rainbowz are everywhere all the time! Music is a sound rainbow and YOU are a prism. Explore past episodes from a kaleidoscope of themes as far and wide as womxn power, disco, pride, party jamz, eclectic, jazz, funk + soul, etc. on San Francisco community radio station BFF.fm, live Mon. 2 - 4pm PST!
Playlist
Groove Is In The Heart by Dee-Lite on

Single

(Elektra)

Boys by Lizzo on

Cuz i love you

(Nice Life Recording)

Karaoke (feat. Lizzo) by Big Freedia, Lizzo on

3rd Ward Bounce

(Asylum Records)

Make Me Feel - EDX Dubai Skyline Remix by Janelle Monae, EDX on

Single

(Bad Boy Records LLC)

You Make Me Feel (Mighty Real) by Sylvester on

Step II

(Concord Music Group, Inc.)

Good Old-Fashioned Lover Boy by Queen on

A Day at the Races

(Hollywood Records, Inc.)

Cream by Prince on

Diamonds & Pearls

(NPG Records)

Early by Allan Kingdom on

Early

(Yebo/Opposition)

Onda by Mc Tha, Jaloo, Felipe Cordeiro on

Rito de Passá

(Jaloo, Elemess)

Late Night Feelings - Krystal Klear Remix by Mark Ronson, Lykke Li, Krystal Klear on

Late Night Feelings (Krystal Klear Remix)

(Mark Ronson, Sony, UK Limited)

My My My! - Hot Chip Remix by Troye Sivan, Hot Chip on

My My My! (Hot Chip Remix)

(Universal Australia, EMI Australia)

I Love You Always Forever by Betty Who on

The Valley

(RCA / Sony)

Let's Have A Kiki by Scissor Sisters on

Magic Hour Deluxe

(Polydor)

Ready To Love by The Magician on

Ready To Love

(B1 Recordings, Ministry of Sound, Ultra Records, Fingers Crossed Prod.)

Love Break by The Magician, Hamza on

Love Break

(B1Recordings, GmbH, Sony)

Party Up The Street by Miley Cyrus, Swae Lee, Mike WiLL Made-It on

SHE IS COMING

(RCA, div. of Sony)

FUKWITME by Saturn Rising, davOmakesbeats on

Darkest Dream

(Molly House Records)

Bruised Not Broken (feat. MNEK & Kiana Ledé) by Matoma, MNEK, Kiana Ledé on

Bruised Not Broken (feat. MNEK & Kiana Ledé)

(Big Beat Records)

Through Enough REMIX (feat. MNEK) by VanJess, MNEK on

Through Enough REMIX (feat. MNEK)

((none listed))

See Through by Ängie, Harrison First on

Each Other

(JRNY FIRST)

Pieces of Us (feat. King Princess) by Mark Ronson, King Princess on

Pieces of Us (feat. King Princess)

(Mark Ronson u/l to Sony UK)

Raining Glitter by Kylie Minogue on

Golden

(Kylie Minogue/Barenote/BMG)

Yet Another Dig (feat. Alaska Thunderfuck) by Bob the Drag Queen, Alaska Thunderfuck on

Yet Another Dig (feat. Alaska Thunderfuck)

(Producer Ent. Group)

Sissy That Walk by RuPaul on

Born Naked

(RuCo, Inc.)

Love Song by Madonna on

Like A Prayer

(Sire Reco)

Vogue by Madonna on

The Immaculate Collection

(Sire Records Company)