THE FATHER OF BOSSA NOVA | Joao Gilberto, with Stan Getz, Antonio Jobim, Astrud Gilberto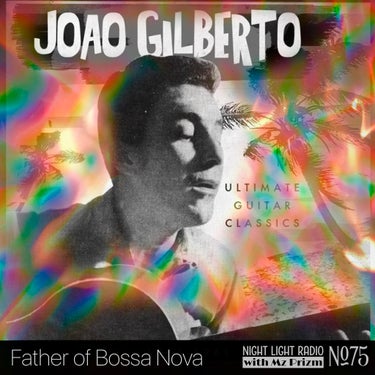 🎶🇧🇷🌈Rest in peace Joao Gilberto, the father of bossa nova! From being best known for wearing his pajamas, to being the cats pajamas in jazz around the world, with his unusual new style that became known as bossa nova. Hope you enjoy this selection of Joao's music and stories about his life!
This episode was recorded live through the BFF.fm internet radio airwaves by Mz Prizm for you to enjoy! It is mostly Gilberto's music, but kicks off with two remixes and there are a few surprises in the mix. See the full track list and artists below!
STREAM ANYTIME! itunes, google play, overcast, spotify+ more http://mzprizm.com (plus spotify playlists!)
Thank you for listening, much love!!!
🌈xx mz prizm
~ ~ ~ ~ ~ ~
🎙️About NIGHT LIGHT RADIO: Mz Prizm shares this 2-hour weekly show to enjoy reminding us that rainbowz are everywhere all the time! Music is a sound rainbow and YOU are a prism. Explore past episodes from a kaleidoscope of themes as far and wide as womxn power, disco, pride, party jamz, eclectic, jazz, funk + soul, etc. on San Francisco community radio station BFF.fm, live Mon. 2 - 4pm PST!