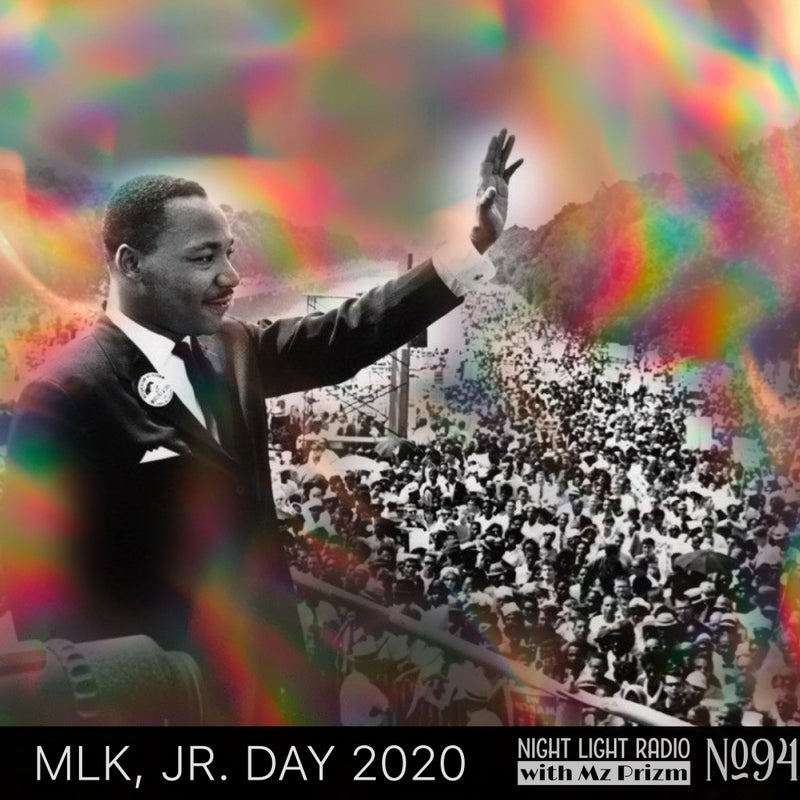 "I have a dream..." said Rev. Dr. Martin Luther King, Jr., "that my four little children will one day live in a nation where they will not be judged by the color of their skin, but by the content of their character."

Today's episode #94 remembers Martin Luther King, Jr., including some clips from his speeches, as well as a song Nina Simone performed live not too long after his tragic assassination, and other powerful tracks from black musicians in a variety of genres, from hip hop, to soul folk, to pop, including artists like Fantastic Negrito, Shea Diamond, Miss Eaves and many more.

With Black History Month around the corner, I hope to share more along this theme so we can keep taking it deeper, to inspire ourselves through music to have the energy to fight the good fight and understand different perspectives better, and achieve MLK JR's dream as soon as we can! I am grateful for the opportunity to share this episode. I welcome suggestions for future episodes, ideas, songs, musicians, stories, and more.

For more I have shared on this theme, check out my People Power episodes (#25, #44) or last year's Black History Month episode (#58).

Today's Spotify Playlist
---
Podcast links, Spotify playlists + more at MzPrizm.com
Enjoy, share, feel the LOVE 🌈♡ Night Light is recorded live on Best Frequencies Forever nonprofit radio in San Francisco and is made possible thanks to the support of our listeners and community like you!
~ music is a sound rainbow and YOU are a prism ~
Playlist
Click buy to purchase tracks from this playlist and BFF.fm will receive a small percentage. You can also support BFF.fm with qualifying purchases made via Amazon Smile. Every bit helps!
Fight The Power by Public Enemy on

Single

(Def Jam)

$ Buy

Racism And Injustice by Martin Luther King, Jr. on

Civil Rights Leader

(SoundWorks USA)

$ Buy

Say It Loud - I'm Black And I'm Proud by James Brown on

20 All-Time Greatest Hits!

(Universal / UMG)

$ Buy

Django Jane by Janelle Monae on

Dirty Computer

( Bad Boy Records LLC)

$ Buy

Respect by Aretha Franklin

(-)

$ Buy

Mississippi Goddam - Unedited version from original live concert by Nina Simone on

Forever Young, Gifted And Black: Songs Of Freedom And Spirit

(BMG)

$ Buy

Freedom - MLK Jr Day 2020 by Nina Grae

(self-released)

$ Buy

Break

Final Speech - April 3, 1968 by Martin Luther King, Jr. on

I Have A Dream

(-)

$ Buy

Don't Shoot by Shea Diamond on

Don't Shoot

(east west records LLC)

$ Buy

Break

Plastic Hamburgers by Fantastic Negrito on

Please Don't Be Dead

(Blackball )

$ Buy

Long Walk to D.C. by The Staple Singers on

Soul Folk in Action

(Concord)

$ Buy

Barry & Joe: Bromance (Gonna Save The World) by Miss Eaves, Lea Anderson on

single

(Miss Eaves)

$ Buy

The Revolution Will Not Be Televised by Gill-Scott Heron on

Pieces of a Man

(Ace)

$ Buy

Everbody Is Going to Make It This Time by Funkadelic on

America Eats Its Young

(Westbound)

$ Buy