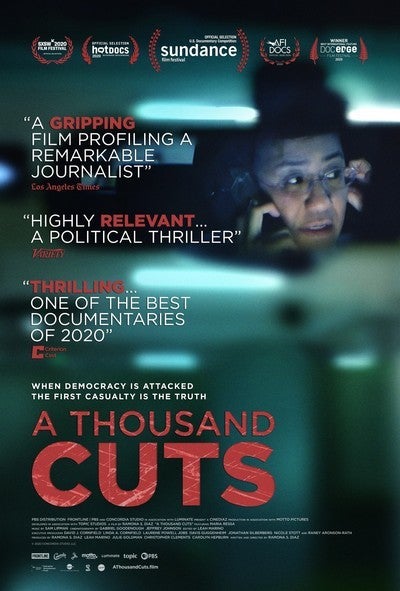 We return to Park City for a Sundance Film Festival 2020 conversation with director Ramona Diaz and musician Ruby Ibarra from the documentary A Thousand Cuts.
A Thousand Cuts is an important and timely documentary about the trials and tribulations of Maria Ressa, prominent journalist and founder of Rappler, the top online news site in the Philippines. Her criticism of the government, particularly under President Duterte's rule, has led to death threats, time in prison, and in June 2020 she was found guilty of cyber libel in the Philippines. Her tenacity and fearless journalism is one of the reasons she was named Time Magazine's person of the year in 2018.
Director Ramona Diaz discusses the importance of this documentary, and the parallels between attacks on freedom of the press in both the Philippines and the US. Bay Area lyricist Ruby Ibarra created an original song for the doc., and shares her thoughts on the importance of activism in this moment. This is a scary time. Watch this documentary, stay informed, and support freedom of the press. Not all heroes wear capes.
A Thousand Cuts is available in theaters and virtual cinemas nationwide NOW.
Be well, stay safe, and thank you for wearing a mask .
--
Subscribe to our NEW channel on YouTube for behind the scenes footage!
Rate and review us wherever you listen to podcasts!
Let us know how we're doing: therealbtpod@gmail.com
Visit our BRAND NEW website! www.bitchtalkpodcast.com
Follow us on Instagram, Facebook, and Twitter.
POWERED BY GO-TO Productions
Subscribe to Podcast
Subscribe to Podcast
https://feeds.simplecast.com/jU_gleUJ
Or, search for "Bitch Talk Podcast BFF.fm" anywhere you listen to podcasts.