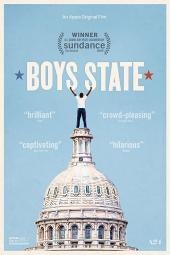 A big welcome to filmmakers Amanda McBaine and Jesse Moss of the documentary Boys State - now streaming on Apple TV + .
The A24 film, Boys State is physically jarring and hopeful all at once. It's a story of youth, how teenage boys talk about politics, how most of these boys are influenced by their parents politics, future change makers, and speaking from the heart. It's a glimpse into our collective future and as hard as it is to hear some of the boys talk about politics that are completely out of their lane, it's necessary for us to listen and digest.
We get into the making of this film and more with our guest co-directors Amanda McBaine and Jesse Moss, who also happen to be our "neighbors" here in San Francisco. It's a small world.
Be well, stay safe, and thank you for wearing a mask .
--
Buy us a cup of coffee!
Subscribe to our channel on YouTube for behind the scenes footage!
Rate and review us wherever you listen to podcasts!
Visit our website! www.bitchtalkpodcast.com
Follow us on Instagram, Facebook, and Twitter.
POWERED BY GO-TO Productions
Subscribe to Podcast
Subscribe to Podcast
https://feeds.simplecast.com/jU_gleUJ
Or, search for "Bitch Talk Podcast BFF.fm" anywhere you listen to podcasts.