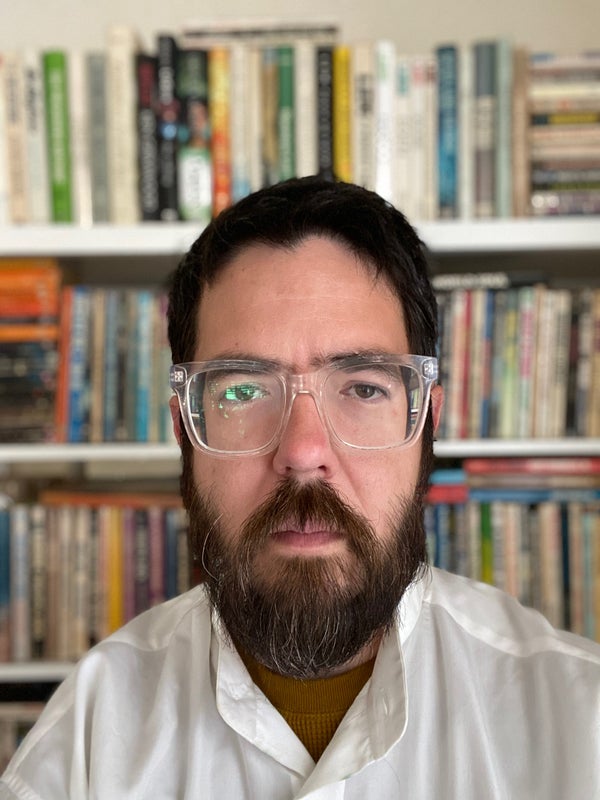 Episode 98 is a tribute to Aaron Harbour. He is the host of "Timber" on KGPC Radio, and directs Et al. Gallery with his wife Jackie, and Kevin Krueger. He curated a monthly, "Knitworks" from 2009 - 2011 at the beloved Tenderloin bar Koko Cocktails (R.I.P) [The owners of Koko Cocktails would go on to open Hi-Lo Club] where myself and many other Bay Area electronic musicians tried out new compositions in an intimate and inviting setting.
"Harbour keeps his cuts appealingly brooding, too. He claims Jim O'Rourke, Alan Lomax, Harry Smith, Autechre, and "Dicky James" (aka Aphex Twin) as influences, and he isn't bluffing. Weird folk elements creep into Harbour's sublimin-ill funk foundations, lending his cuts a stark eeriness reminiscent of Sixtoo and cLOUDDEAD's most eldritch creations. I didn't know Harbour till I noticed Stop Biting had booked him, but I now rank him among the highest echelon of American underground-hiphop producers."
-Dave Segal of Seattle's The Stranger (July 15th, 2010)
Aaron is incredibly important to Opal Heights host Denley's growth as a musician, and undoubtedly many others. He continues to intrepidly support the arts in the Bay Area.
Playlist
standard (extended) by harbour on

Unreleased

(Self-Released)

Local

snaps by harbour on

Unreleased

(Self-Released)

Local

one speaker demo by harbour on

Unreleased

(Self-Released)

Local

Sunsmell assembly by harbour on

Unreleased

(Self-Released)

Local

fly over by harbour on

Unreleased

(Self-Released)

Local

hear me by harbour on

Unreleased

(Self-Released)

Local

Randal Kennedy's arms and eyes by harbour on

Unreleased

(Self-Released)

Local

Have you ever by harbour on

Unreleased

(Self-Released)

Local

uncertain by harbour on

Unreleased

(Self-Released)

Local

0c. Super Close by harbour on

Unreleased

(Self-Released)

Local

The Wishbone by harbour on

Memex

(Self-Released)

Local

pray alone by harbour on

Unreleased

(Self-Released)

Local

this mime piece by harbour on

Memex

(Self-Released)

Local

overheard mariposa by harbour on

Unreleased

(Self-Released)

Local

et al. (ghosts of eagles) by harbour on

Unreleased

(Self-Released)

Local

test sketch by harbour/Orbless on

harbour/Orbless

(Self-Released)

Local

dynamique de la résonance by harbour on

kappa mixes (grey beats volume 2.5)

(Them Records)

Local

toten by harbour

(Self-Released)

Local

dddbbb by harbour on

Next

(Self-Released)

Local

from my youth many passions have fought against me by harbour on

ephemeral creation (grey beats volume 2)

(Them Records)

Local

dayof by harbour on

Unreleased

(Self-Released)

Local

a second drink (plan to be) by harbour on

Next

(Self-Released)

Local

the story of our lives by harbour

(Self-Released)

Local

extra violet (sleep without rest) by harbour on

Unreleased

(Self-Released)

Local

stamped(demo) by harbour on

Unreleased

(Self-Released)

Local

nowayofknowingFinal by harbour on

Unreleased

(Self-Released)

Local

gassed break by harbour on

ephemeral creation (grey beats volume 2)

(Them Records)

Local

trimble by harbour on

Sinthome

(Self-Released)

Local

thebrash by harbour on

Next

(Self-Released)

Local

files by harbour on

kappa mixes (grey beats volume 2.5)

(Them Records)

Local

sslslslls by harbour on

Memex

(Self-Released)

Local

0g. forms filled by harbour on

Unreleased

(Self-Released)

Local

misdirection by harbour on

Memex

(Self-Released)

Local

a mixed group of confused business people by harbour on

Memex

(Self-Released)

Local

strangle stones by harbour on

Unreleased

(Self-Released)

Local

star (ed) by harbour on

Unreleased

(Self-Released)

Local

Cologen by harbour on

NY's

(Self-Released)

Local

yticadua by harbour on

Unreleased

(Self-Released)

Local

For Laurie Spiegel by harbour on

Unreleased

(Self-Released)

Local

water beat (i stood on the beach) by harbour on

Unreleased

(Self-Released)

Local

startingcampfiresBeats by harbour on

Unreleased

(Self-Released)

Local

curtains by harbour on

Next

(Self-Released)

Local

always is always by harbour on

ephemeral creation (grey beats volume 2)

(Them Records)

Local

thrownoff (theme?) by harbour on

Unreleased

(Self-Released)

Local