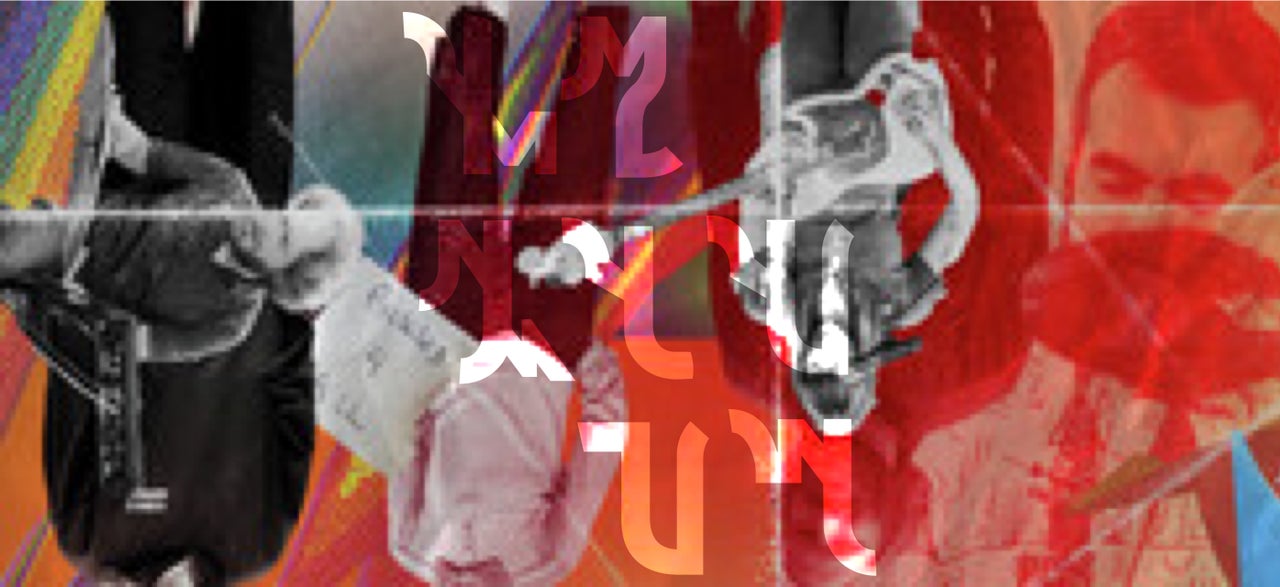 Did you know that Christmas Day is actually the 300th day of March? Our silly little "time is meaningless" meme has a major milestone to coincide with the worst Christmas ever. Also, did you know that time is not, in fact, meaningless and that very real things continue to happen inside of it? Of course you did, you're living it too. I just really needed to emphasise it this week.
So, what to do for a Christmas party where all the mince pies got filled with literal shit? This week's show will attempt to take a number of different theraputic paths simultaneously: Firstly, there will be some sadness to wallow in. My God, there's a lot of really good sad music. Some of it's even about Christmas! Also, we're going to try and out-right ignore it: There's lots of really good not-sad music too, hard as that is to believe sometimes, and even one of those picked tonight is seasonal.
Finally, we're going to glance bittersweetly at something hopeful. Our record of the week is the new With Love EP from Sylvan Esso. Songs from their record of earlier this year (Free Love), recorded with a group, performend in isolation. The result is songs that are a touch less electronic than the studio editions, a little barer and clearer, yet filled with warmth from its participants and physical instruments. It's a tiny glimmer of transcendence at the end of a shitty shitty year.
It's penultimate show of 2020. Next week we'll do a recap, such that we may never have to speak of it again.
Playlist
The New by Interpol on

Turn On The Bright Lights

(Matador)

You Said by Fountaines D.C. on

A Hero's Death

(Partisan)

Break

Reptilia by The Strokes on

Room on Fire

(BMG)

All I Want For Xmas is Rock & Roll by LA WIse Man on

All I Want For Xmas is Rock & Roll

(Domino)

Break

Liberty Bell by Darkside

(Matador)

New

I Don't Recognise You by NewDad on

I Don't Recognise You

(Fair Youth)

Like a Lady by Pom Poko on

Like a Lady

(Bella Union)

Break

Featured

Train by Sylvan Esso on

With Love

(Loma Vista)

New

Temporary by Dream Wife on

So When You Gonna...

(Lucky Number)

The Fight (Caroline Rose Remix) by Overcoats on

The Fight (remixed)

(Loma Vista)

New

Break

The Chocolate Conquistadors by BADBADNOTGOOD & MF DOOM on

Grand Theft Auto Online: The Cayo Perico OST

(Rockstar Games)

New

Lost Song by Sea Oleena on

Weaving a Basket

(Self Released)

His Rope by Burial & Four Tet & Thom Yorke on

Her Revolution / His Rope

(XL Recordings)

New

Break

Featured

Numb by Sylvan Esso on

With Love

(Loma Vista)

New

Red Sock Pugie by Foals on

Antidotes

(Sub Pop)

5 Flucloxacillin by Los Campesinos! on

Sick Scenes

(Wichita)

All Alone At Christmas by Slow Club on

Christmas, Thanks For Nothing

(Moshi Moshi)

Have to Hide by The Afterglows on

The Afterglows

(Salinas)

Break

The Divine Chord (feat. MGMT, Johnny Marr) by The Avalanches on

We Will Always Love

(Modular Recordings)

New

Puppet Clubbing by A Grape Dope on

Puppet Clubbing

(Dangerbird)

Camille by Ana Roxanne on

Becase of a Flower

(Kranky)

Break

True Love Waits by Radiohead on

A Moon Shaped Pool

(XL)

Helix III by Kelly Moran on

Chain Reaction at Dusk

(Hospital)