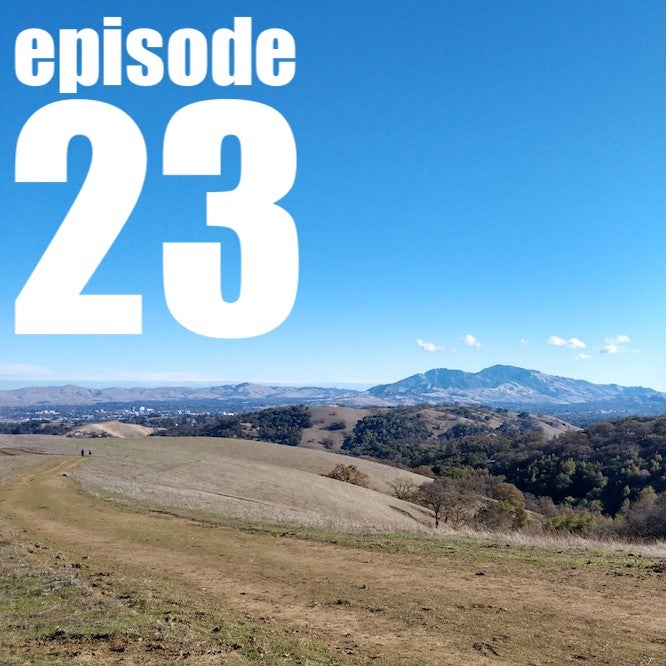 Dedicated to my hike-loving partner and all the keepers of the parks – national, regional, and municipal – who have kept us sane during this year of lockdowns and social distance, this week's episode is inspired by a recent ramble along Franklin Ridge near Martinez.
The East Bay's crumpled topography is beginning its seasonal turn from sepia-stained gold to vivid, glowing green, with grass and wildflower seedlings poking up out of the course, heavy, rust-brown soils. Cows lowed low their displeasure at our approach, while chubby ground squirrels flitted from burrow to burrow, scooping up the last of the acorns and bay nuts. Bloody-headed turkey vultures shakily coasted weak air thermals, and tufted flycatchers, on the hunt, hovered a few feet above the trails. We found signs of a mountain lion kill – easy prey: a small calf – stripped down to tendon and bone and still tacky and red with gore. Overlooks were dominated by Mount Diablo stabbing upwards in the near distance, the shaggy oak forests of the northern Briones slopes, and the teeming tidal wetlands and salt marshes of Grizzly Island, looking so empty from so far. It didn't take long to also notice that the panorama holds jutting tanks and towers and ventstacks of the Shell Refinery, the swelling sprawl of suburban Contra Costra, and the bright white windmills standing at attention in the Montezuma Hills. And then you hear it: the incessant hush of highway traffic – the ubiquitous agglomerate of thousands of rubber tires clawing asphalt, millions of cycles of tiny explosions, and billions of cubic feet of air displaced by hurtling plastic, glass, and metal. And you will perceive this intrusion of white noise for most of the rest of the hike.
Let's take a musical stroll together. Our trail markers will be JACK Quartet's recent recording of John Luther Adams' Lines Made by Walking as we meander classical and experimental works inspired by natural landscapes and ecologies. Today's playlist will will sing homage and elegy for geology and flora and fauna. Enjoy and happy New Year.