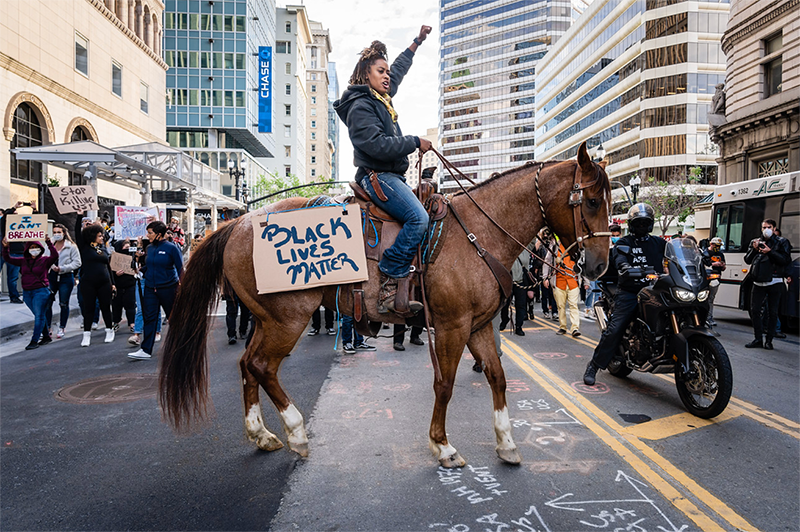 We had the good fortune to welcome one of the most noteworthy person of 2020, East Bay native, Brianna Noble. Brianna is the owner of Mulatto Meadows which is located in Martinez and also heads the non-profit Humble that uses horses to as a medium to inspire positive futures.
We talk with Brianna about her inspiration to get on her horse, Dapper Dan, back in May and ride during one of Oakland's biggest George Floyd protests, how horses are mood detectors, how the 2009 death of Oscar Grant affected her activism, how the focus on her non-profit has exploded since her new found fame + more.
Thank you Brianna for your time and affecting the kind of positive change we need to see in the world. We can't wait to ride horses with you this year!
Thanks for listening!
--
Be well, stay safe, Black Lives Matter, and thank you for wearing a mask.
--
Buy us a cup of coffee!
Subscribe to our channel on YouTube for behind the scenes footage!
Rate and review us wherever you listen to podcasts!
Visit our website! www.bitchtalkpodcast.com
Follow us on Instagram, Facebook, and Twitter.
POWERED BY GO-TO Productions
Subscribe to Podcast
Subscribe to Podcast
https://feeds.simplecast.com/jU_gleUJ
Or, search for "Bitch Talk Podcast BFF.fm" anywhere you listen to podcasts.