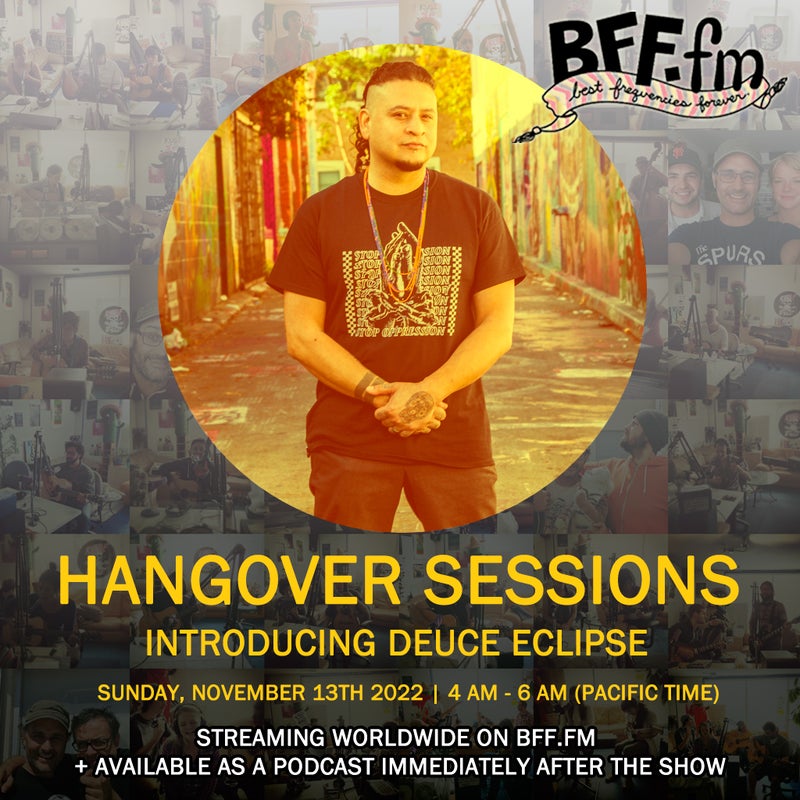 The debut Hangover Sessions on BFF.fm features the A-mazing Deuce Eclipse recorded LIVE from DJ Webbles' barn studio, in Oakland, CA!
Deuce joins us 28 minutes into this show on the crest of a new wave of songs including Time Is Now (released on November 2nd) & Silent Kick (released on November 24th).
Time is Now is a song that speaks on taking advantage of the time we have with our loved ones. A track about living in the moment and appreciating those we love today and not tomorrow. An uplifting soundtrack with lyrics to match. The concept of living in the moment and telling our loved ones that the time we share is an honor and cannot go untold for another time. The Time is Now.
Emcee Deuce ECLIPSE writes from the heart telling those who have passed and those who are still here that they do not go unnoticed. Lyrics that involve being present in the life of someone who has been there through thick and thin. Produced by AG one of San Francisco's strong and up and coming Music Producers, the soundtrack to these verses match perfectly, giving it a
Latin vibe with a universal sound, subject and appeal. Set to be released Nov. 2nd for Dia De Los Muertos it's the perfect song for those who long for the ones they lost and for those who want to make a connection to their loved ones now, and not later. The light and happy vibe of the track speaks on a subject matter that hits the heart of many, and gives us a chance to celebrate those sentiments through music.
Playlist
Break

Break

Break

Break

Break

Break

Break

Break

Break

Break

Break

Break