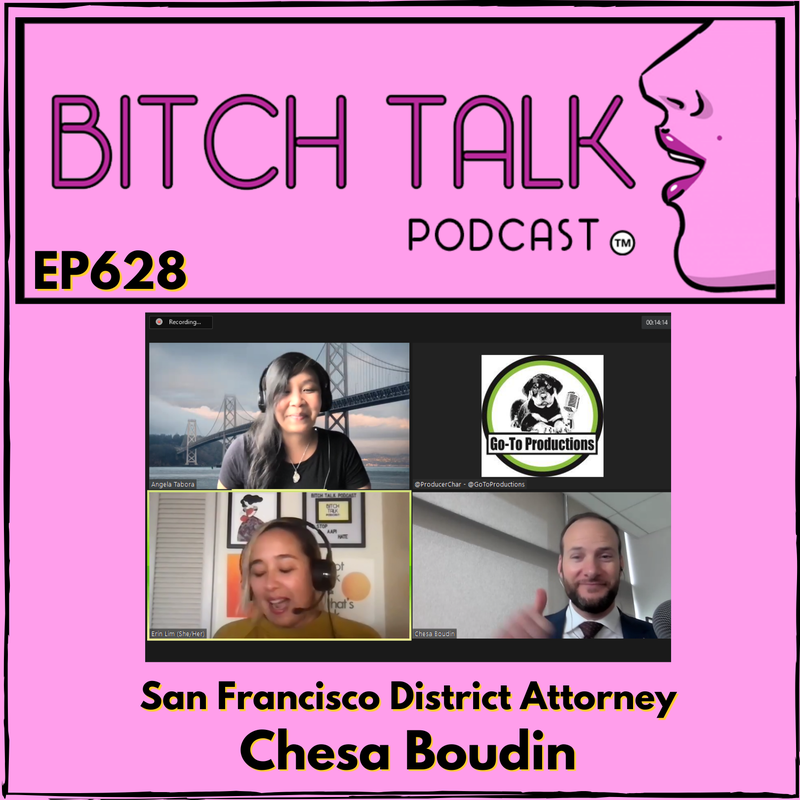 Over here at Bitch Talk, we were very happy to welcome San Francisco District Attorney Chesa Boudin onto the podcast. If you're not familiar with him, here's the basics. In 2019, Chesa Boudin ran for the open seat of District Attorney of SF and won by a narrow margin. Chesa ran on a progressive platform talking about the elimination of cash bail, ending mass incarceration, and eliminating racial bias in the criminal justice system. While he was running for office as well as after he won, his very vocal (and heavily funded) opponents have turned to not one, but two recall attempts (the first failed to get enough signatures) to remove him from office for purely political reasons. In our opinion, he's been scapegoated on topics such as car break-ins, theft, and the increase in San Francisco's unhoused population. Hello! Remember that little ol' global pandemic that we all are living through? Anyway, if this recall succeeds, San Francisco Mayor London Breed would appoint a replacement DA. Does that seem like a democratic process?
In this interview, we get to know who Chesa is and where he's from, what the District Attorney's job is and what it isn't, why SF crime stats don't lie (violent crimes are down, btw), his office's achievements, and what he looks forward to. We are thankful for the time Chesa had for us and we hope to have him back again closer to the recall election in June.
Read up folks, there's a lot of dark money out there wanting to take away our voting power, even in San Francisco.
Need more info about the recall? Here ya go:
https://www.sfexaminer.com/news/the-dangerous-joke-of-the-chesa-boudin-recall/
https://www.newyorker.com/news/annals-of-inquiry/the-trial-of-chesa-boudin
https://www.sfchronicle.com/sf/article/Here-s-what-the-people-behind-the-Chesa-Boudin-16616934.php
https://www.nytimes.com/2021/11/10/us/san-francisco-recall-chesa-boudin.html
https://sfist.com/2021/11/18/recall-chesa-boudin-campaign-releases-first-tv-ad-featuring-paid-campaign-staff/
https://www.sfgate.com/politics/article/Chesa-Boudin-San-Francisco-crime-statistics-recall-16268178.php
Follow Chesa Boudin on Twitter, Instagram, and at his website
--
Thanks for listening and for your support! We couldn't have reached 600 episodes without your help!
--
Be well, stay safe, Black Lives Matter, AAPI Lives Matter, and thank you for being vaxxed!
Subscribe to Podcast
Subscribe to Podcast
https://feeds.simplecast.com/jU_gleUJ
Or, search for "Bitch Talk Podcast BFF.fm" anywhere you listen to podcasts.