Latest in Folk and Dream Pop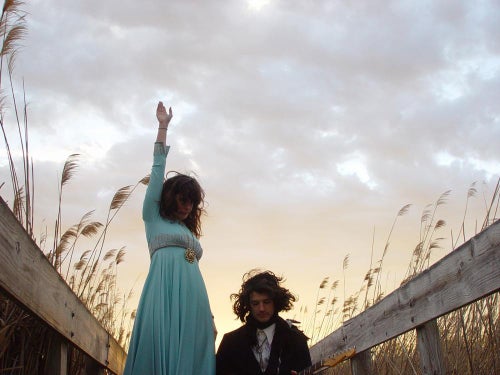 Reality can be daunting, perplexing, and irritating... yesterday's release of a few escapist albums offer relief from the infectious murky juju that the monotony of everyday life can bring. Try not to pinch yourself too much while listening to these collections, as you'll likely get lost under their enchanting power and wonder "am I in another sequel of The Neverending Story or am I dreaming?" The merciful dimension of music extends yet even more magic to our ears through the latest reverie-like works from Jess Williamson, Beach House, and Aidan Moffat & RM Hubbert.
---
Jess Williamson
The central theme of Jess Williamson's third album reveres the eternal euphoria of falling in love. The work consists of minimalist instrumentation, and elegant lyricism that create a deft, passionate folk quality. Williamson's voice is full of philosophical awe and emotion, while the lyrics venture around poetic ruminations like "love in the afternoon, love in December, love when I can't go on." The album evokes a curiosity to explore consciousness in its fullest, embracing amorous unity within nature and in relationships.
Below is "I See The White"
---
Beach House
Album: 7
This two-piece rock dream-boat never fail to create a transfixing sound. The new album embodies a disarray of hypnotizing scenes and melodies, with transcendental lyrics like "sunshine in your hair / comes in rainbows and leaves a gift." This collection is a fantastical journey that promotes a sense of invincibility, with a supernatural-sounding symphony comprised of rapturous vocals, a trance-like organ, occasional interludes of bells, violins, and spell casting synthesizers. There's no cherry picking songs out of this collection, each individual piece is its own unique experience that would be a sore mistake to skip to the next track.
Below is "Dive"
---
Aidan Moffat & RM Hubbert
Album: Here Lies The Body
Scotsmen, Aidan Moffat and RM Hubbert, teamed up to compile a folk album with hints of jazz and rock. It turned out to be the closest equivalent of an instrumental piece of literature. If you're torn between reading a book or listening to an album, "Here Lies The Body" will solve that particular dilemma. Moffat's vocals carry a deep timbre that narrate folklore, at times telling the stories of various female personas with enchanting lyrics like "she hides her fear behind the fringe, or she tries to." Most pieces convey a brilliant crestfallen, nostalgic mood, yet turn to glimmers of merriment. The compilation also features the phenomenal singer and cellist, Siobhan Wilson in "Cockrow" among a few other tracks.
Below is "Party On"
You can also support BFF.fm with qualifying purchases made via Amazon Smile. Every bit helps!