Jenny Hval's "The Long Sleep"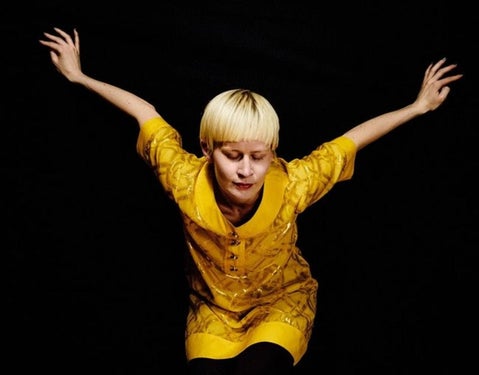 Previously known as Rockettothesky in earlier albums, Jenny Hval recently released an EP, The Long Sleep- a new league of mind blowing sound that you never imagined your brain was capable of traveling to. Hval's portfolio is prolific, through constant involvement in bands over the decades from her start in gothic metal band Shellyz Raven (until 1999), iPanic, and Folding For Air before breaking away to solo and collaborative projects. In the mid 2000s she studied creative writing and performance at the University of Melbourne, Australia, which is evidenced in her expansive incorporation of avant-garde lyricism. She's released 6 albums inclusive of jazz, synth-pop, experimental folk, and electronic genres, with each successive work offering a shift in unique influence. Especially the provocatively absurd and lovely Blood Bitch (2016) influenced by a fused fascination with vampires, menstruation and 70s horror films. Also Apocolypse, girl (2015) is a work that notably criticizes the capitalist/misogynist societal status quo with monologues sharing a desire to feel "less sub culturally lonely" and skeptical of "shaving in all the right places."
The new EP is a mere 23 minutes, but makes every last second count with its seductively suspenseful quality and an esoteric warmth. In these richly surreal four songs, Hval collaborated with multi-instrumentalist Håvard Volden, producer Lasse Marhaug, Kyrre Laastad (percussion), Anja Lauvdal (piano), Espen Reinertsen (saxophone) and Eivind Lønning (trumpet). The resulting product of this ensemble is what a dream-team panel consisting of Jim Henson, Buddha, and Disney's Fantasia would all give a solid 10. The opening track "Spells" lures you in with a modest saxophone that gradually blends ominous synth then a fluttery strumming guitar. Hval's signature vocals resonate with Dolores O'Riordan's cadence and Fiona Apple's vibrato that pristinely outpours the song's mantra "You will not be awake for long" building momentum with an angelic chorus. It's seriously pretty, like hearing a cocoon unravel into its sparkly sonic metamorphosis. The murky, hesitant feeling of poignantly placed sharps and flats slowly awakens into a jubilant natural pitch, accentuated with maracas and a calm piano interlude. These beautiful, varying webbed instrumental sections create an orchestral pop elegance that if the pearly gates exist, one of Saint Peter's micromanaged tasks is to throw this tune on and crank the speakers to welcome the newly deceased. The track named after the EP, "The Long Sleep" captures the falling-floating quality of dreams akin to the transitioning states of consciousness in The Beatles' "A Day in the Life." The song includes extraterrestrial sound effects, rapid ticking, a hovering purr of what a sleeping flying saucer might sound like over a bubbly lily pad fairy tale setting. The push and pull of unnatural sounds like background vacuums, drifting into twiddling block percussion, then to a whispery voice memo, and purposefully untidy sounds of someone opening doors, unscrewing lids, all creates a holistically uneasy sense of vacancy. The final track is a mystical broken fourth wall monologue, with anxious questions "What am I doing here?…. am I promoting…?" This is followed by an anti-capitalist gnostic tone that the experience is not about the algorithms, the message, streaming, or products, and trails into an expression of gratitude. The listener knows it's the end, but there is a lingering magnetism that craves more.
This compilation in its entirety is tantalizing, disoriented, destitute, stoic, but flows into nuanced loving interludes of joy and hope. You would be superbly remiss to miss out on experiencing The Long Sleep, which you can purchase here. Take a listen to "Spells" below, and especially look out for Jenny Hval's forthcoming debut novel Paradise Rot, about Queer identity and the journey of becoming.
You can also support BFF.fm with qualifying purchases made via Amazon Smile. Every bit helps!