Stephen Malkmus and the Jicks, 'Sparkle Hard'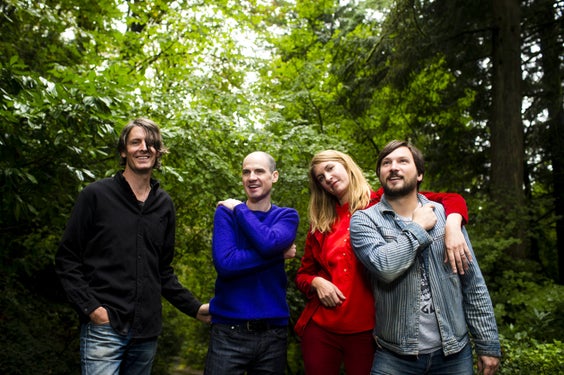 Type in "Sparkle Hard" and you might get top results for bedazzled phone cover ads, but keep scrolling a bit and you'll find Stephen Malkmus and The Jicks' beyond dazzling new album. Front runner, Malkmus, grew up in Santa Monica where his earliest influence stems from absorbing songs played on the radio, especially early 70s disco. In NPR's All Song's Considered interview, he recalls the genre's fever spreading like fire, "back then you were just in a trance, just mesmerized...you couldn't think about anything else." He went on through teenhood chiefly inhaling the work of Hendrix, Lou Reed, the Dead Kennedys, and the Replacements. Evidenced since the 90s as lead singer of Pavement to current work, he captures that feverish "it" factor within his genre/artist influences, creating a timelessness while threading through newer dashes of technique and style.
This amalgam of varied influences contribute to the widening umbrella term "indie." Despite the genre's at times obscure classification, Malkmus and The Jicks have a more particular, measured approach in Sparkle Hard as Malkmus says in contrast to previous albums that the album's process put more emphasis on "mind before body." This takes play in that songs' lyrical content are at times overtly socio-political in tone. Subjects include police brutality and the complacency of white middle class America, namely in "Bike Lane" on the murder of Freddie Gray.
This more strategic, consientious development in no way sacrifices the artistic rawness and vibrant passion in their signature sound. From start to finish, the style blends back-to-basics rudimentary rock elements with some nice experimental techniques, for instance a fading-out a capella in "Future Suite." In a few tracks, there's a bouncy disposition created by Auto-tuned vocals fluttering in unison with warped tempos, not completely unlike Beck's epic balance between electronic and acoustic in Mellow Golden and Colors. By midway through the album, you've traveled through a few different sub-genres, including boogie, grunge, and synth-pop, yet the most distinctive transition is the country western jauntiness in "Refute" accompanied with a lovely slide guitar and an even lovelier duet with Sonic Youth's Kim Gordon.
Overall this collection is mellow, hazy, at times emphatic, and a controlled dysfunction. The tracks weave in and out of whispering vocals and acoustic, that break into interludes of wah-wah guitar wailing bluesy anthems. It's not quite psychedelic with too conscious of a mindset that constantly makes lackadaisical first impressions but then turns to critique, or pulls you into a breezy violin instrumental with lyrics flashing back to sentimental memories of a kiss goodnight in "Solid Silk."
When asked what he tries to get out of music, Malkmus comments, "I just wanna get my mind blown, you know, like everybody I think." He thinks correctly. Get your mind blown by the indie group's new album here, as well as the videos listed below that preview Sparkle Hard.
You can also support BFF.fm with qualifying purchases made via Amazon Smile. Every bit helps!
Below is an acoustic version of "Middle America" from the new album
Here is a mini documentary about the making of Sparkle Hard