Meet the BFF.fm DJs: Kalen Bergado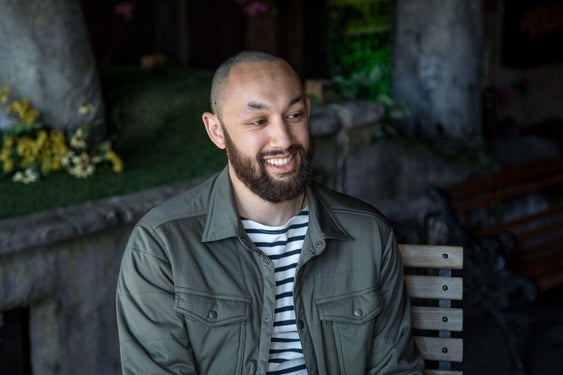 BFF.fm Studios, June 5, 2018 Photo by Jaime Borschuk | http://jaimeborschuk.photo/
Times May Vary is perfect for fans of the vast number of mainstream and underground styles that electronic music encompasses, or just folks who are looking for tracks to get lost in. One of BFF.fm's newer shows, it explores the multi-faceted nature of the EDM genre. Host, Kalen Bergado is a human encyclopedia of electronic music culture. The show has thematic compilations showcasing a gigantic variety from Acid House, Afro-Cosmic Disco, Ambient, Sino-Grime, Detroit Techno, to Gospel House. Times May Vary navigates through the old to new, underground to mainstream, and the talented Bergado uses his expertise to contextualize the music with in-depth historical and cultural background detail. Each episode has a crisp focus, with Kalen walking listeners through audio terminology, concepts, and nuance of featured tracks. The show also delves into influential DJ styles and techniques behind innovative movements, label scenes, philosophical analyses of why certain music gains popularity, and raises topics of debate in authenticity.
A bit about Mr. Bergado… he hails from Sacramento, California and has lived in the Bay Area for over 3 years. His radio calling took place his freshman year at Whitman College in Walla Walla, Washington, where he DJ'd and wrote album reviews for their station, KWCW 90.5. By his senior year he became the General Manager of the station, and learned the difficult ropes of coordinating between the college and the FCC. During his time as acting GM, he contributed enormously to the station's dramatic restructuring that won the New York-based College Music Journal award for 2015's most improved college radio station.
Here's a few more fun factoids about Kalen that we rounded up after having a lovely chat with him….
---
How long have you been a DJ, and how long have you DJ'd at BFF.fm?
4 years as a radio host in college, about 4 months at BFF
Outside of your DJ gig, what do you do?
For the time being I work in the restaurant biz, write reviews for the underground electronic magazine, Frisky Radio, and I have an LA comrade in trading cassette mixtapes. I'm also into Cyclocross and the game Pathfinder (a variation of Dungeons and Dragons).
Who are your favorite artists at the moment?
Currently into world music, specifically West African Saharan blues- I'm taken by the Tuareg guitar's technique/style which really captures a desert effect and feeling. Also Southeast Asian disco and psychedelic genres. Always down for hip hop and beat music.
What do you enjoy most about being a DJ?
Overall, being a DJ on the radio is a fulfilling creative outlet- although my show's following might not be huge at the moment, gaining popularity isn't the main reason I get on the mic every week.
What are you obsessed with?
Music. Reading through different blogs like Resident Advisor, Thump, and Redbull. Also I'm into the outdoors and adventure, (as mentioned namely through cycling and Pathfinder).
What song or artist do you like but rarely admit to liking? Is there such a thing as a guilty pleasure in music?
I try to not follow the sheep mentality of mainstream, but if a song/album gets me going, like Carly Rae Jepsen's Curiosity EP, (best known for "Call Me Maybe") then I'll own up to it.
What's the most immature thing that you do?
I use 2-3 linked straws to drink at restaurants, because I can't be bothered with leaning forward. Also, I try to get the gnarliest looking tan lines possible when out cycling in the sun. Particularly the flip flop, sock, and mid arm lines. Drives my mom berserk.
When did something start out badly for you but in the end, it was great?
When I became GM at my college radio station, I was immediately thrown into the fire of pre-existing and worsening problems with the FCC license not being filed properly, and other FCC requirements that the station had not been following. This almost led to the station closing down and the school being slapped with a $35K fine. But I helped pull some strings and worked with an FCC lawyer to carve out new implementations for the station's positions/accountability. All of this was an extreme personal accomplishment, but I take pride in that it also created lasting stability and power for the station after I graduated and moved on.
---
What drew Kalen to BFF most is its mission to provide a supportive platform for the Bay Area's vast community of artists and art lovers. He possesses a mutual passion in a quest to discover and share new sound to grace your ears over the air. As Kalen says, "stay locked" each week to groove to and learn more about the multitudinous elements of electronic music on Times May Vary, which airs Sunday mornings from 6-8am.
Also...
We highly recommend this intriguing episode that features Lo-Fi House music, which offers a close examination on whether it's a new genre or merely a copied aesthetic. Homeboy does his homework and gives an intricate, fascinating talk about its debatable authenticity in lieu of Lo-Fi's growing audience. For further reading, he references a neat article called "Is Lo-Fi House the First Genre of the Algorithm Age?" The playlist includes Perfume Advert, DJ Kush Boogie, Hidden Spheres, DJ Seinfeld, Blair Sound, Ross from Friends, and Bergado highlights some favorites, Karen Gwyer and Terekke. Listen to it here.