Sasha's overenthusiastic review: LUMP EP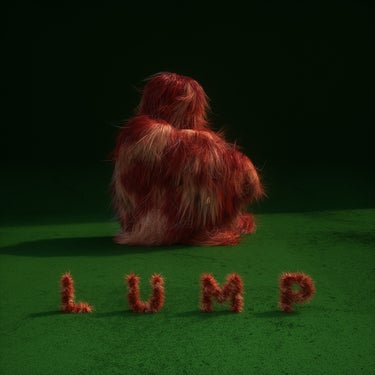 This is the first installment of Sasha's overenthusiastic review, an excitable weekly column that can barely be called a review. You will not find anything even remotely resembling objectivity in this space. This is a column dedicated to the music that has surged, for the moment, to the surface of the private soundtrack that tosses endlessly inside of me. Sometimes these will be new albums, sometimes these will be old songs. Today, it is a new album...
My first introduction to this album was a surreal video of a seemingly forlorn pink-and-yellow yeti dancing at an increasingly manic pace on an empty stage –
The song made me want to move, dance like no one was watching. I had this album in my hands within days.
It opens with an low, wavering drone; a slow, introspective melody on acoustic guitar; a pause for breath; a held tone that struggles to be sustained; and then a woman's voice reaches out. I am transfixed – "You look like a crooner in crisis / Shaking your hips like it's hot."
The drone is a lead line; it invites me to follow it deeper into the melancholic dream state. The next song pulses in stereo with fidgeting electronics that underscore a desperate chant, before a opening into a cathartic chorus with bright flute – "It's a sign of the times, you know / May I be the light."
The drone takes on a glimmer, and I cannot help but chase it blindly around the corner. "I'm a piece of light stuck in your spine / I'm a noble thing you had to write." Patiently plucked electric bass, a propulsive drum fill that hovers quietly at the fringes of the mix, and a distant horn hint at the inevitable satisfying anthemic turn.
And then – the single. I'm soft-shoeing in sock feet. Soprano vocals operatically tumble over funk riffs – "If you should be bored in California / I'm sure I'm not the first to warn you."
An ominous synth rolls in. A stormy folk melody tries to fight the electronic gale. The skies of this audio landscape darken: "Hey man, I know you. / How's your brother? How's your blues? / How's your shallow walking shoes? / Do they hurt you just the same?"
The last song. I have lost track of time and the track count. I realize the song will not be enough, even as it grasps for some kind of closure – "Shake in a shell / Feels like a cell / And you can't have that."
But the drone is cyclical, and encourages me to begin again. And I do.
LUMP is a new project from English musicians Laura Marling and Mike Lindsay, whose 10 and 15-year careers, respectively, have not intersected until this collaboration. Known for her poetic lyricism, Marling is an exquisite singer songwriter who released her sixth solo album – Semper Femina – last year. Lindsay is one of the co-founders of the experimental folk and electronica outfit Tunng, which will release their sixth album Songs You Make At Night this coming August. LUMP's self-titled debut, a six-song EP, was released this month on Dead Oceans. Get the LUMP EP wherever you get music (or, just to make it easier, click here).
In case you're as hypnotized by the movements of the motion capture dancer as I am: his name is Emiliano "Emi" Larea. He is an Argentine dancer and actor who specializes in a variety of movement techniques including mime and clowning. Here's more of him:
Sasha is the host of Boy with Girl's Name Morning Mixtape, which airs Tuesdays from 8:00 to 10:00 a.m. PT.
Listen to previous mixtapes
|
Connect on Twitter