Meet the BFF.fm DJs: Nino Msk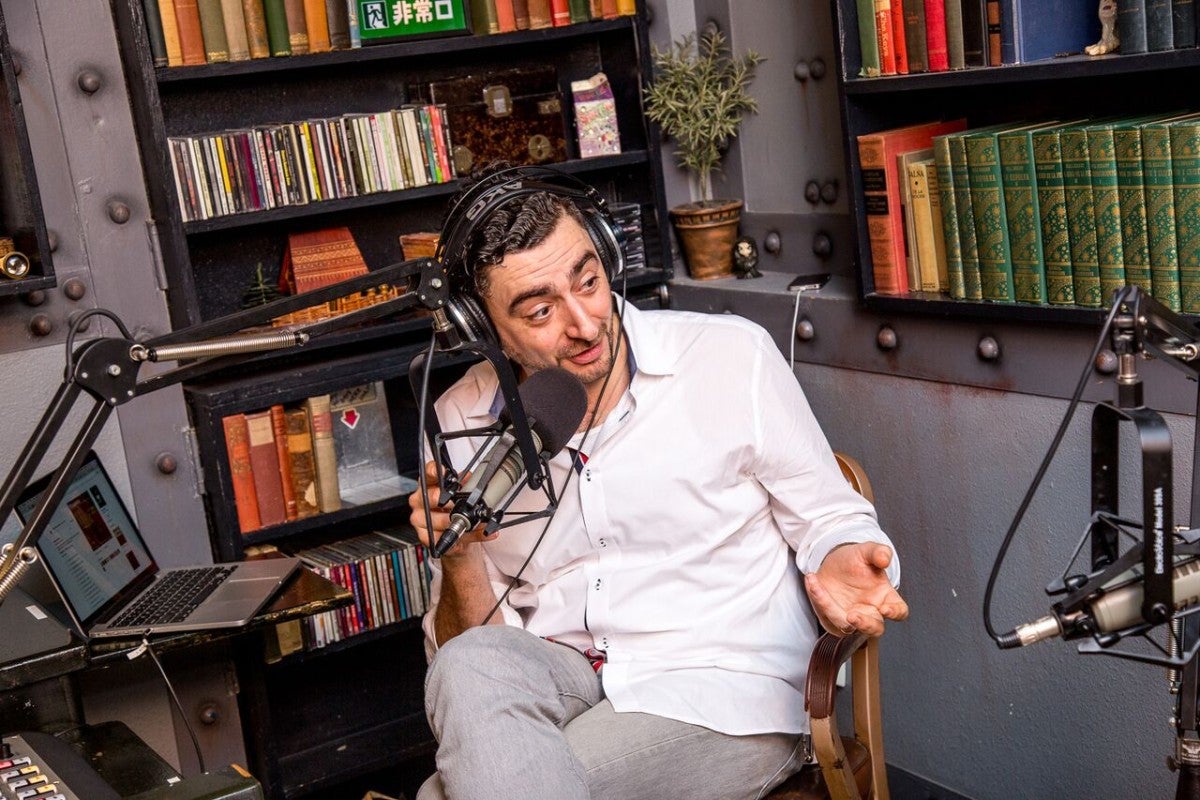 BFF.fm Studios, Photo by Jaime Borschuk | http://jaimeborschuk.photo/

Each week Espresso Sesh awakens listeners to the infinite possibilities of mixing various genres and languages. Featuring on-air performances and interviews with musicians of all walks of life, this show is a platform that both showcases the host's talent for crafting mood-driven tempos unique to each unfolding moment, while exposing his guests' music, processes, and influences. The DJ behind the charming Italian accent identifies himself on air as Nino Msk, and is also known as Antonino "Nino" Musco. Nino wears many musical hats working as a DJ on and off the air, producing and making his own music under his label Eclectic Electric Recordings, exploring demos/new releases, and researching upcoming guests on his show among other music related activities.
A bit about Nino Msk leading up to his show on BFF.fm.... He was born and raised in Sicily, Italy, where growing up, his major musical influences ranged from blues, jazz, dub, and electronic genres. In the mid 90s he played the guitar and gigged with local bands. Since 2003, he has been making original music as Msk and as the founder of an anti-mafia collective called the Sicilian AV Project. He has multiple releases, solo and collaborative, digital and vinyl (which you should check out here). In college, he studied philosophy, and for five years after graduation he wrote for a satirical anti-mafia publication called Erroneo which satirized Sicilian politics- a bit of his risky activist streak! He cut his teeth in radio with a station airing in Hudson Valley, New York which streamed from Italy a total of six years. He's lived in Bratislava, Prague, Rome, Catania before moving from Rome to San Francisco in 2010 and has been an active member of SF's underground music scene ever since. He studied broadcasting on a student visa, did a show at KCSF, SF City College radio station where he further developed his disc jockey skills on keyboards, electronics, and turntables.
Nino has an impressive balance of staunch diligence and a harmonizing light-heartedness that he incorporates in all aspects of his music life. His process is fastidious. He maintains a meticulous filing system, constantly organizing vinyl in crates or mentally compiling playlists which he eventually transmutes digitally or with a controller. And in on-air interviews, it is evident that he has a journalist's curiosity combined with a giddy passion for music.
Nino's prolific track record and impressive knowledge about all things music are matched with how insanely charismatic and down-to-earth he is. We had a fun and engaging chat while learning a bit more about him in the following interview...

_________________________________________________
How long have you been a DJ, and how long have you DJ'd at BFF.fm?
Msk:
I became a DJ in 2006, and started radio 2008. I have been a DJ at BFF.fm for about three years.
Who are your favorite artists at the moment?
Msk: Too many to mention, honestly!
What's the most meaningful thing about DJing?
Msk: What fascinates me most is the intersection of information and entertainment from my background in European/Mediterranean culture that draws connections to music around the world.
What's a fun fact about yourself?
Msk: I've lived in San Francisco for 8 years and have managed to never get a single piercing or tattoo.
What are your obsessions?
Msk: Good vibes. This manifests itself in my obsession with music. I strive to mix it up, pull out records from all directions in the studio. Action is needed to smoothly transition and match the moment with the mood in sound. It requires attention to what will make others vibe in the moment, too.

What song or artist do you like but rarely admit to liking? Is there such a thing as a guilty pleasure in music?
Msk: There is good and bad music. It doesn't matter who it's by or where it came from. If I like it, I like it. If I don't like a track, I continue on to the next song or musician in my collection.
What do you like about other shows, and what do you feel is most meaningful about the station and the SF scene?
Msk: I like the variety, the commitment- the shows are versatile/diverse. BFF.fm hosts anything from the "Roll Over Easy" talk show to electronic themed shows. The most valuable shared qualities are everyone's passion for music and the Arts, as well as serving as a supportive community for different artists. I enjoy seeing other people just as passionate as I am about music. The BFF.fm studio space itself is beautiful. It's always great to be here and it's inviting to guests. The website and the format/tech support are very well organized. Also the environment, the tone of the station is fresh, contemporary. It's a very San Francisco environment, open and weird and a great place to be.

When did something start out challenging for you but in the end, it was great?
Msk: I'm a Sicilian immigrant who moved into the U.S. without knowing anyone in San Francisco. There's a 9 hour time difference between myself and my family back home. I've experienced a lot of loss and an extreme transition into solitude. There have been ups and downs, but I believe nothing is impossible. On encountering struggle, I remind myself to not panic. I keep my mind set on how to realistically resolve problems. I've developed a personal filter, an enormous sense of responsibility- and in 8 years (*this is where Nino knocked on the wooden floor below our table), I haven't had any major problems. My music studio is in Tenderloin, and I witness a lot of the city's homelessness, addiction, and mental illness, which act as reality checks of what struggle can become for me if I don't work hard to maintain safety and responsibility.
_________________________________________________
His show is always a party, more than a radio show. He believes music in its most sheer form is an equalizer. He has interviewed higher profile names like the Go-Go's Jane Wiedlin, yet can get just as much enjoyment from someone busking in the street. He always has the same approach in how he orchestrates interviews, whether the guest is a street performer or a famous rock star. Nino says "music is a universe" which is apparent based on his ear for various sounds from the world's nooks and crannies and his beaucoups of diverse musical guests over the years. He is genuinely attuned to each moment, saying "we all identify with a medium to express ourselves, and for me, it's music." And he does it in the most badass and kind way possible. His positive and inspiring energy shines through his work, creating a unifying element, a true carrier of contagious good vibes.


Where else can you find Nino Msk?
On the fourth Friday of each month, he performs in hybrid sets with resident and guest musicians for the "Freestyle Fiesta" at Revolution Cafe in the Mission. This event space is a terrific place to network, vibe with and learn from other people in the Arts community, and where he has worked with well over 50 different musicians. In addition, he has been the resident DJ at the Elbo Room (since 2013), Vina Enoteca in Stanford with the Italian Funk band, Sonamo'. Check out his upcoming show from 9pm on Friday, July 27th. And stay tuned each week for Msk's Espresso Sesh on Tuesdays from 2-4 pm on BFF.fm!
Recommended Episodes...
Make Sure To Check Out...