Meet the BFF.fm DJs: Nino Msk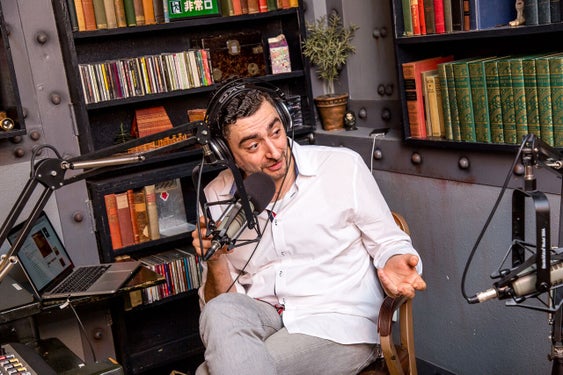 BFF.fm Studios, Photo by Jaime Borschuk | http://jaimeborschuk.photo/

Each week Espresso Sesh awakens listeners to the infinite possibilities of mixing various genres and languages. Featuring on-air performances and interviews with musicians of all walks of life, this show is a platform that both showcases the host's talent for crafting mood-driven tempos unique to each unfolding moment, while exposing his guests' music, processes, and influences. The DJ behind the charming Italian accent identifies himself on air as Nino Msk, and is also known as Antonino "Nino" Musco. Nino wears many musical hats working as a DJ on and off the air, producing and making his own music under his label Eclectic Electric Recordings, exploring demos/new releases, and researching upcoming guests on his show among other music related activities.
A bit about Nino Msk leading up to his show on BFF.fm.... He was born and raised in Sicily, Italy, where growing up, his major musical influences ranged from blues, jazz, dub, and electronic genres. In the mid 90s he played the guitar and gigged with local bands. Since 2003, he has been making original music as Msk and as the founder of an anti-mafia collective called the Sicilian AV Project. He has multiple releases, solo and collaborative, digital and vinyl (which you should check out here). In college, he studied philosophy, and for five years after graduation he wrote for a satirical anti-mafia publication called Erroneo which satirized Sicilian politics- a bit of his risky activist streak! He cut his teeth in radio with a station airing in Hudson Valley, New York which streamed from Italy a total of six years. He's lived in Bratislava, Prague, Rome, Catania before moving from Rome to San Francisco in 2010 and has been an active member of SF's underground music scene ever since. He studied broadcasting on a student visa, did a show at KCSF, SF City College radio station where he further developed his disc jockey skills on keyboards, electronics, and turntables.
Nino has an impressive balance of staunch diligence and a harmonizing light-heartedness that he incorporates in all aspects of his music life. His process is fastidious. He maintains a meticulous filing system, constantly organizing vinyl in crates or mentally compiling playlists which he eventually transmutes digitally or with a controller. And in on-air interviews, it is evident that he has a journalist's curiosity combined with a giddy passion for music.
Nino's prolific track record and impressive knowledge about all things music are matched with how insanely charismatic and down-to-earth he is. We had a fun and engaging chat while learning a bit more about him in the following interview...

---
His show is always a party, more than a radio show. He believes music in its most sheer form is an equalizer. He has interviewed higher profile names like the Go-Go's Jane Wiedlin, yet can get just as much enjoyment from someone busking in the street. He always has the same approach in how he orchestrates interviews, whether the guest is a street performer or a famous rock star. Nino says "music is a universe" which is apparent based on his ear for various sounds from the world's nooks and crannies and his beaucoups of diverse musical guests over the years. He is genuinely attuned to each moment, saying "we all identify with a medium to express ourselves, and for me, it's music." And he does it in the most badass and kind way possible. His positive and inspiring energy shines through his work, creating a unifying element, a true carrier of contagious good vibes.

Where else can you find Nino Msk?
On the fourth Friday of each month, he performs in hybrid sets with resident and guest musicians for the "Freestyle Fiesta" at Revolution Cafe in the Mission. This event space is a terrific place to network, vibe with and learn from other people in the Arts community, and where he has worked with well over 50 different musicians. In addition, he has been the resident DJ at the Elbo Room (since 2013), Vina Enoteca in Stanford with the Italian Funk band, Sonamo'. Check out his upcoming show from 9pm on Friday, July 27th. And stay tuned each week for Msk's Espresso Sesh on Tuesdays from 2-4 pm on BFF.fm!
Recommended Episodes...
Some of our favorite Espresso Sesh episodes include the chilling folk singer-songwriter Cassie Levy, Brooklyn's psychedelic rock group The Narcotix, and Msk's groovy dedication show, Ode to The Secret Alley.
Make Sure To Check Out...
Here's a glance at Freestyle Fiesta (4th Fridays at Revolution Cafe)
https://m.youtube.com/watch?v=nyloo3uNzHk&index=9&t=0s&list=PLwFIfqwK5hjoyyaQHpFnSqpPufQ42ku_g
Sicilian AV Project's "Jumbo Rocks" from the Panchamama EP