Concluding June with Pride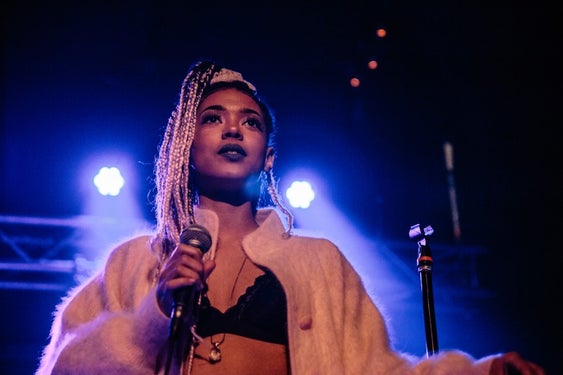 We're at the tail end of June but not at the tail end of fresh music. To commemorate Pride month, we'd like to dish out a few more recommendations that have released this month as well as some earlier 2018 LGBTQ+ albums that are sure to astonish your ears. The parade has adjourned, yet Queer music/culture never ceases to pulse its influential power into the Arts community. The compilation below consists of TWINKIDS, Ssion, Dizzy Fae, Jesse Saint John, and the Queer Songbook Orchestra. Also, we've highlighted other LGBTQ+ artists and activists including Darnell L. Moore, Hannah Gadsby, and Jonathan Van Ness.
TWINKIDS
This electropop duo, Gene Fukui and Matt Young, are inspired by the earliest appearance of J-Pop in the 70s and 80s. Fukui has stunning vocals and blended with Young's classical piano training/production background, their sound makes for a captivating artistic technique, and a riveting emotional experience within the lyrics which they strive to invoke us to question "Do I cry or do I smile when I'm listening to this?"
Below is "I'm Sorry"
---
Ssion
Ssion is creeping on legendary status what with close to two decades of pumping out extravagant tunes and other creative works in visual, performance, and video artistry- and they don't show any sign of slowing down with their new explosive trance-travelling-into-dance album, O.
Below is "Comeback"
---
Dizzy Fae
This album has a timeless funk, electronic and soul quality along with Dizzy Fae's impassioned vocals that seep, soothe and enthrall the listeners' spirit. The album is about her journey of falling in love with a woman, while also holding her own in an experimental fashion which she says is about understanding identity.
Below is "Her/Indica"
---
Jesse Saint John

He's primarily been behind the scenes as a prolific creative director, record producer, and has written songs for mega pop stars like Britney Spears. But scoot over, Brit, because Jesse Saint John has stirred a dazzling and robust blend of commanding party beats.
Below is "Move"
______________________________________________________
Queer Songbook Orchestra

Album: Anthems and Icons
Genre: Pop/Classical
This is a 12-piece ensemble that explores queer narrative through pop music. QSO is not only insanely musically talented, but are also using their platform to make LGBQT+ identity more visible in their tour across Canada in areas where Queer identity is underrepresented. They also encourage everyone to share their story in order to spread awareness and empathy to the LGBTQ+ community.
Below is "We'll Reach The Sky Tonight"
______________________________________________________


Also....
Check out these superbly talented and inspiring artists and activists!
Darnell L. Moore is an activist who advocates for marginal identities- particularly Queer of Color representation and feminism. Read his phenomenal new book, No Ashes in the Fire: Coming of Age Black and Free in America.
Below is a talk that unpacks the traumatizing invisibility that LGBTQ+ youth experience
Hannah Gadsby's new Netflix special, Nanette, has shifted standards/perceptions of comedy. Read more on the show and her bio here.
Below is Gadsby's brilliant art history coverage
Jonathan Van Ness, is one of the five incredible hosts on the new Queer Eye, and host of the podcast Getting Curious with Jonathan Van Ness- check out his latest episode, "How to Cut Suicide Rate Among LGBTQ Youth?"
Below is Van Ness in all of his radiating, positive energy
You can also support BFF.fm with qualifying purchases made via Amazon Smile. Every bit helps!