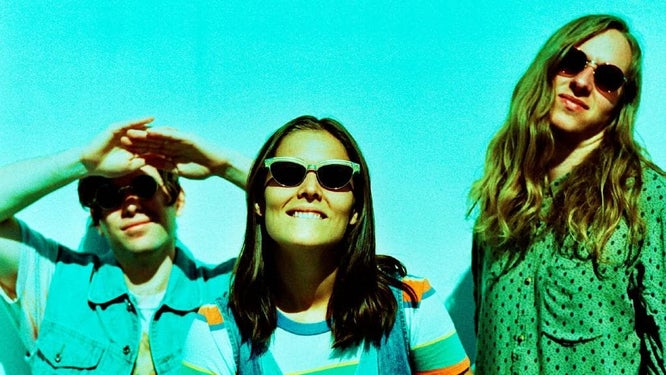 Head down to the beach, park, your front room- or wherever you like to roll for summer shenanigans- and stick these recommendations in your pocket. DJ Mr. Darcy has made a proverbial music picnic basket full of fresh seasonal delicacies that'll hit the spot. It's a spread of bedazzling albums from various genres including Gabriella Cohen, Sugarplum Fairies, Middle Kids, Calpurnia, and the Self Defense Family. Grab a blanket, frisbee, snack treats, and one or all of these albums to make your next summery endeavor a jail-break for those endorphins.
You can also support BFF.fm with qualifying purchases made via Amazon Smile. Every bit helps!
Sugarplum Fairies
This collection has a timeless rockabilly meets 90s soft grunge feel. Its mood is a fuzzy puppy dog tail quality with its mellow saxophone, bells, trumpet, silk bass, jovial hand-clapping to amicable drums, all of which make for the perfect album to throw on next to a campfire.
They've yet to release any of the album's tracks online, but here's a sample of "Malta Smile 55."
And below is "Sunday, Suddenly" from the 2015 album Sunday, Suddenly
---
Gabriella Cohen
Cohen has a very Monkees' rock sound combined with a staccato, West coast shoegaze quality. This album has a spectrum of tones and vivid lyrical subject matter, but all center around a theme of unconditional love.
Below is "Make Music"
---
Self Defense Family
This album is more of an introspective, emotionally vigilant narrative in its lyrics and tone compared to SDF's past work. The sound expands from their distorted punk roots to jangly, psychedelic variations.
Below is "Have You Considered Punk Music?"
---
Middle Kids
This album is invigorating, a dreamy folk-indie trip with vocals/lyrics that seem like an adaptation of Sarah McClachlan if she had more pizzazz and less depressing abused dog commercial vibes.
Below is "Edge of Town"
---
Calpurnia
Calpurnia is a teenaged Canadian band (lead singer, Finn Wolfhard, is also one of the main actors from Stranger Things), manifest influences from 60s/70s classic rock and 90s indie/grunge in this brightly endearing garage collection.
Below is "Louie"