Italian Psychedelic Rock Band, Bee Bee Sea, Hangs at The Secret Alley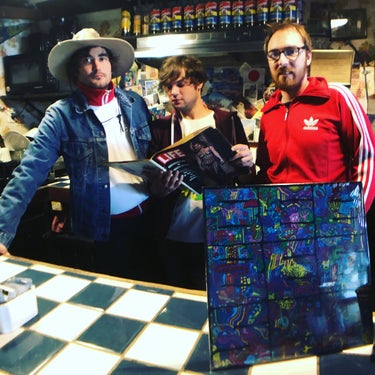 BFF.fm Studios, July 31, 2018 on Espresso Sesh with Nino Msk
Listen to/watch Nino Msk's full interview with Bee Bee Sea here
A few dudes in their late twenties toting guitar cases, Adidas track jackets, and polite manners shuffled onto the Secret Alley's elevator last week. These gentlemen make up the three-piece psychedelic garage rock band, Bee Bee Sea, who hail from Castel Goffredo- a small town near Verona in Northern Italy. This summer marks their debut U.S. tour, so when we heard they'd be swinging by San Francisco, we were all too ecstatic about snagging the opportunity to welcome them to the States. And even more stoked for the trio to jam out over BFF.fm's airwaves before their show at Elbo Room later in the evening. The honors were done by the one and only Nino Msk, host of Tuesday afternoon's Espresso Sesh. So, they hopped off our humble little elevator and proceeded to reverberate the studio with a vivacious performance of a couple songs, while shooting the breeze with Nino Msk about their background and some of the methods to their creativity.
While culturally rich in delectable food, Art museums, and gorgeous architecture, Bee Bee Sea says that Italy doesn't exactly have a prolific rock music history. They said there are about ten contemporary bands from all of Italy that are akin to their genre, as the punk/garage/psychedelic rock scene where they had first met in their small town a few years ago was tragically short-lived. A vacancy that inspired their slogan for pursuing Rock 'n' Roll- "when there's no good shit around, you better form a band."
They released their self-titled debut album in 2015, under their label Glory Records, and acclaim has been steadily building momentum. Especially since their 2016 EP release, 3 Songs & Jacques Dutronc, which gained international attention and so began touring across Italy, Switzerland, France and Germany. The third collection, Sonic Boomerang, is simply killer and deservedly getting their name spread even further across the map, as well as booking shows in cities/towns scattered all over the globe. The album reincarnates the manic pace of Dead Kennedys, accompanied with howling cool vocals and a wailing electric guitar akin to The Animals, while creating jangly psychedelic melodies in the same league as contemporaries like Thee Oh Sees, Black Lips, and Wavves.
Initially they were going to call themselves "Bee Bee Queen"- a wordplay on B.B.King, but changed it to the American slang-sounding name "Bee Bee Sea", a play on BBC broadcasting (to keep it in the pun family.) While working on their most recent album, they struggled to find the right title for a song. They were deliberating on a placeholder name for the opening track while writing and recording the latest album, still unsure about a title but moving on to the next song, "I don't know...Say Boom." Therein lies the simple conception to the naming of the opening song and album, "Sonic Boomerang."
When Nino Msk asked what they would be wearing at their next show, they laughed and said "whatever we can find clean in the bag." One of many pieces of commentary in the interview reflecting that the band is about chill vibes and feeling connected with their audience. They advocate stage diving, one member had even broken a guitar in the liveliness of a crowd surfing incident. Instead of getting bent of shape about it, the lead singer says, "I like it, it's so exciting, especially when you're still playing. I hope to see some crazy people at our shows."
If they're ever criticized for choosing English over their first language, they defend their choice as a natural imitation from influence- "we have always listened to American English songs." Their Italian accents add a cultural value to their raw musical talent on a technical and stylistic level without jeopardizing authenticity. They take great pride in their uniqueness- "We don't need to be anyone else. Most people have probably never heard of an Italian rock band, ever."
They claimed California has been the best place to play their style of music (woot!), given their affinity for a lot of West Coast garage, punk, surf, and psychedelic musicians and scenes. Their main influences include 60s beat music, namely The Beatles, The Kinks, The Who, and revere the unanimously deemed first garage rock band, Los Saicos. They spoke about the Peruvian pioneers' of punk on Espresso Sesh, pulling up "Demolición" (1965-6), which used to be one of their closing songs at shows.
California and Italy have a few things in common. Good wine, beautiful beaches, and now they've both had the honor of the Italian psych-rock group, Bee Bee Sea, make their soil vibrate. Whether you're at Verona Beach in Cali, or Verona in Italy, these fellows know how to make music that enlivens the vibe on whichever side of the world they happen to be blaring out rad sonic waves.
Follow Bee Bee Sea on Spotify and Bandcamp to support their impressively kick-ass collection of music produced within just three years.
Bee Bee Sea (2015, Glory Record)
3 Songs & Jacques Dutronc (2016, Glory Records)
Sonic Boomerang (2017, recorded at TUP Studio in Brescia under labels Dirty Water Records [cassette & digital], and Wild Honey Records (vinyl).
Look out for their upcoming EP, Repressed, expected to release later this fall!
From Sonic Boomerang, "This Dog Is The King of the Losers"