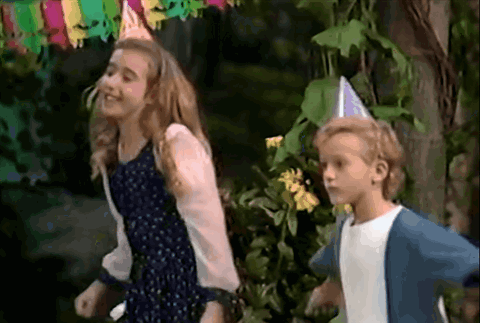 Happy birthday, BFF.fm!
BFF.fm turns five on September 1, and this year was a big one for us. It kicked off with the launch of BFF.fm 3.0, (a huge upgrade from our original site which is now hard to even look at) and continued strong as we've now gone 5 for 5 as Best Radio Station in the SF Weekly Reader's Poll. (seriously, it's almost getting embarrassing.) We sponsored more than 30 music showcases across the city, from Off the Grid to Great American Music Hall, and expanded our schedule to 158 hours of original programming per week.
But, the best part was getting closer to you, our listeners! With the launch of our Besties program, BFF.fm is taking the first steps toward long term sustainability. We truly want to keep bringing you the Best Frequencies...Forever!
Thanks, as always, for being such an important part of BFF.fm. With your continued support we're close to launching a new and improved stream, and we hope in the year to come we can both strengthen our station and its place in San Francisco culture. - Amanda & Forrest Guest, BFF.fm founders
Now, as is customary on our birthday, thoughts, reflections, and memories from our DJs:
"BFF.fm preserves the authenticity and voice of San Francisco like no other." - Kelsey Styles, C00L WORLD
"Music is a sound rainbow, and we all know the world can use some more rainbows! As a new-ish BFF.fm DJ, I have fallen so in love with sharing through radio. The freedom to play whatever I want allows me to highlight musicians and perspectives that normally lack representation in media (so proud of Woman Power III!). I am grateful that we have the ability to positively impact lives thanks to our freely accessible, legit Internet radio platform." - Caro Prizm, Night Light Radio
"My high school had a radio program as an elective and I did college radio in my twenties. Having been doing my show Altered Images for two years now in my forties, it is clear to me how greatly my thirties would have been, were there a BFF.fm around for me then. Serving the community with our vanishing Bay Area culture is THE COOLEST, and I take great pride in the work my peers and I do keeping our local knits tighter." - Powell Pressburger, Altered Images
"BFF.fm? Bella storia, veramente! In Italian that means most likely BFF.fm is cool." - Nino Msk, Espresso Sesh
"I started connecting to the community at BFF before I even thought of having my own show. But the more I got to interact with these smart, creative, hilarious people who really care about making the world a safer, kinder, more interesting place for everyone, the more I wanted in on the action. BFF.fm has become my actual BFF over the past year and a half. I've never found a community quite like this: inclusive, welcoming, compassionate, weirdos all excited to create something meaningful and fun. It's a space where I can really be myself while feeling like I'm adding value too. I'm grateful for that every day." - Lily Sloane, Radical Advice
"I can't imagine San Francisco without BFF.fm and community radio, bringing people together through music and random curiosity." - Kellie, LOUD & Local
"It's like organic radio, free from pesticides and GMOs (i.e. corporate/commercial sponsorship in the music and arts industry). DJs are encouraged to consume and share music, stories, and other forms of authentic expression in a judgment free, engaging space for any and all points of view. The weirder the better, and the main rule is don't be a butthole- support, become inspired by creative minds rather than compete against others." - DJ Mr Darcy, Sunny and Skeptical Air Show
"Most five year olds aren't this well behaved and neither are most radio stations. Even with DJ Sanspants and I (DJ Pants) purposely trying to disrupt things as much as we can each episode, BFF.fm remains to be an astoundingly great and sturdy institution. He and I are a coupla sneaky snakes and have more dad jokes than your dad and his dad combined but we're truly and eternally grateful we have a show that hasn't been kicked off the e-air yet. Recording the show is easily the highlight of my week. That's partly because I get to hang with the Sanspants family and eat tacos at their house but mostly because of the creative outlet BFF.fm has provided to let us do everything we want. To everyone at BFF.fm and to both of our listeners, we tip our hats to thee!" - DJs Pants and Sanspants, We Let The Hats Decide
"Becoming an radio DJ on BFF.fm has been one of my favorite new adventures. Almost two years ago, Amanda and Forrest (the station managers) let me go on the air and do my thing with literally no experience, trusting me to figure out how to make a radio show as I went, giving me the space and freedom to try something totally new. It's rare to get this type of opportunity in adult life. Just one reason BFF.fm is a very special place!" - Erica, The Monday Lineup
"Community radio is love and community radio is live. Why let an algorithm pick your ear fare when you can tune in and connect with someone who is picking and playing the tunes for you, for me, for us all. Long live BFF.fm." - Christopher Wind, HORIZONS
"BFF.fm was my first family when I moved to San Francisco. Five years later and I'm still so proud to be a part of this community of awesome like-minded people. If I ever leave San Francisco, BFF.fm would be the thing I missed the most. Also I'm so glad we have two aux cords in the studio, that was really a game changer." - Nora, I Rock I Roll Radio
"BFF.fm has given me an opportunity to express my deep love for an obscure corner of the music universe, Icelandic pop music. A genre, when discussed socially, is usually met by side-eye and protestations that there can't possibly be enough content to fill a radio program. TL; DR - BFF.fm allows me to indulge in music nerdom without judgment for two hours every Saturday." - Mai, Mai + Charlie