Bay Area Hip Hop meets Grassroots Activism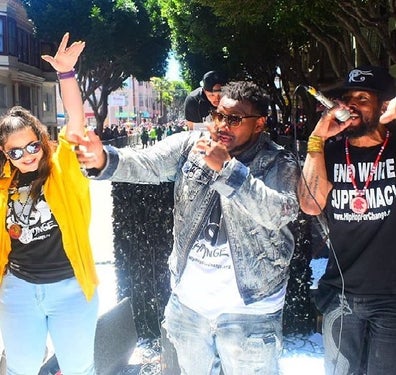 In the spirit of fellowship in Bay Area music, BFF.fm was stoked to invite Oakland's nonprofit HipHop4Change for an on-air interview. Earlier this month, The Sunny and Skeptical Air Show featured their Education Director, Marlon Richardson, who shared in revitalizing depth the belief that "Hip Hop is a vanguard of the spiritual and political revolution of humankind." This organization strives to help our communities unlearn the oppressive perceptions toward Hip Hop that is perpetuated by the corporate music industry. HipHop4Change uses grassroots activism, informing local neighborhoods about problematic perceptions about People of Color and in turn promotes solutions through Hip Hop culture. Marlon's role and the organization's mission is to persistently engage with the community in advocating Hip Hop as a means of illuminating social awareness in a way that empowers and honors artists. To say in the very least, this group serves as the beacon for which our collective consciousness has a continued need. They nourish a liberating counter-narrative to the mainstream media's negative portrayals of People of Color in Hip Hop music and culture, by using its platform to inform and uplift.
One of the main pillars of HipHop4Change is their education outreach in Bay Area schools for K-12 students, providing a curriculum entitled "Theory of Hip-Hop Evolution, Music and Culture." It is a 6-week program that allows students to learn the historical and cultural significance of Hip Hop as an envoy for racial tolerance, multiculturalism, diversity, and inclusion. The students take part in beat making and rapping workshops that by the end of the program allows them the opportunity to perform their work before a school-wide audience. This program has conducted over 200 workshops and so far has impacted approximately 12,000 students. Find more information about the program here.
Some examples of the organization's revolutionizing ethos are manifested in the work of the following Bay Area Hip Hop artists that we highly recommend to queue in your music library… (and check out more local artists here)
"Rent Money" featuring Rocky Rivera
---
"Free Me Fast" featuring Black Achilles
---
"Fake President"
---


(*Founder and Executive Director of HipHop4Change)
"Black Y'all"
---
"Thieves Theme"
---
Many thanks to Marlon for dropping by The Secret Alley! In keeping with Star Wars axioms, "Many of the truths that we cling to depend on our point of view." So, may we shape how we listen to music with a willingness to improve perception through education, compassion, and in celebration of the infinitely unique voices in Hip Hop.
Learn more about HipHop4Change, including how to make a donation and volunteer. Listen to the interview with Marlon at The Secret Alley here.
Upcoming events & other places you can find HipHop4Change