BFF.fm Impact Stories: Eddie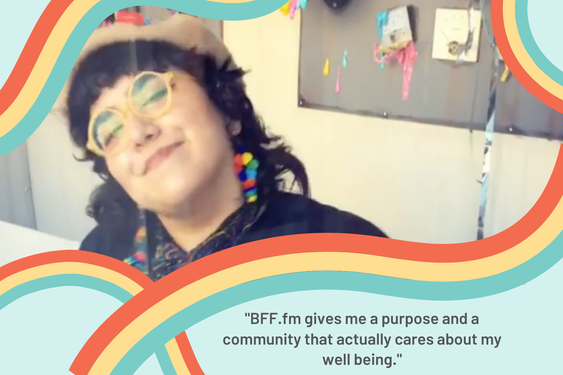 You are the community in community radio- a magical thing that Sequoia of Roll Over Easy describes as "one part us, one part you, and a little bit of coffee." In a time where the idea of creating for creativity's sake feels like it's slipping away, your support gives a voice to those who may not have it otherwise and empowers people to learn new skills, all while helping you discover awesome new music.
Each week during our end of year fundraising campaign we're sharing the story of one BFF.fm DJ and the impact community radio has had on their lives. This week, we'd like to tell you about Eddie.
Eddie/Erika is the genius behind our monthly Besties Bashes, a concert series, free to our monthly supporters, that highlights the local music scene. Their careful curation ensures that there's always a diverse line up of great bands, a safe space for both artists and attendees alike, and a platform for some of the most magical moments BFF.fm has ever been a part of. On top of that, Eddie hosts a weekly show called Abuela's Pantry as DJ Space Abuela, a persona they describe as "the kindest, most liberal, and loving human on the Interwebs."
Soon after joining BFF.fm in 2016, Eddie began to suffer from lingering depression and undiagnosed illnesses crept up on them...but doing a weekly radio show remained a priority. "I stopped writing, I stopped working, but I did not stop going to my show," says Eddie, "I showed up to tell strangers I loved them and play them good tunes."
There may have been days that Eddie couldn't leave the house, or even bed, but the supportive community at BFF.fm meant others filled in, and user-friendly technology allowed them to schedule reruns or pre-record for the really bad days. "For a while my show was the only thing I had, it was what kept me tethered to the (local music) scene when I was barely able to leave the house. One time I was just laying on the floor of the studio the whole time. I once even recorded a show from my bed."
Luckily, Eddie's health is more stable these days, and they've been able to expand their role at BFF.fm to take on booking our Besties Bashes. But, if things ever get tough again, Eddie knows there's still space for them at BFF.fm. "BFF.fm gives me a purpose and a community that actually cared about my well being."

Community radio not only creates vital connections, but can bring out the best in people, even when they're not feeling their best.
Join more than 850 of your friends and neighbors who also believe in the power of community radio to bring people together by making a donation to BFF.fm by December 31 so that people like Eddie can keep creating that same sense of sanctuary and solidarity for others that BFF.fm was able to provide to them.