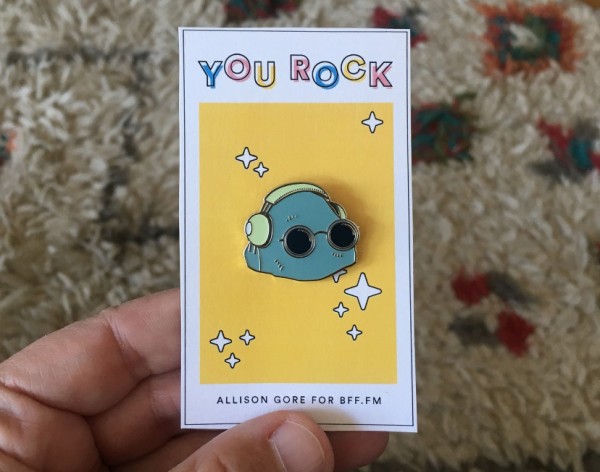 Make a recurring monthly donation of $10 or more and you'll join the ranks of our Besties, which means you'll
amplify the voices of local artists and musicians who are underrepresented in mainstream media
enable us to book or sponsor more than 30 music showcases at venues big and small across the city
help keep BFF.fm running for years to come
Also, being a Bestie entitles you to cool perks like
our exclusive Bestie Badge when you first join, plus an annual thank you gift
a special heads up about upcoming shows and ticket giveaways
admission to our Bestie Bash events, held at our studios, to celebrate our supporters
NOTE: due to COVID-19, and our lack of regular access to our studios, rewards are delayed indefinitely. We'll catch up as soon as we can!
You can adjust your level of giving at any time, and your donation will be deducted automatically each month. As Ron Popeil would say, "set it and forget it!"

Rewards:
$10/mo: Bestie Badge (You Rock enamel pin pictured above)
$25/mo: pin + tote bag (choose from Bat Frequencies, Summer Dogs, or Sutro designs)
$50/mo: pin + tote bag (choice) + t- shirt (Summer Dogs design)
$75/mo: pin + tote bag + t- shirt + hang out on your favorite show!
Become a Dedicated Listener Bestie and Support Your Favorite Show/DJ
Each one of our volunteer DJs pays monthly dues to cover BFF.fm's rent, streaming expenses, and music royalties. Become a dedicated listener Bestie by clicking the "Support This Show" button on your favorite show's page. It's the best way to say "thanks for keeping me company during my day!" You'll get all the same perks as a regular Bestie, but your donation will directly support the program you choose, up to their full dues amount each year. (donations above that amount benefit the entire station.)