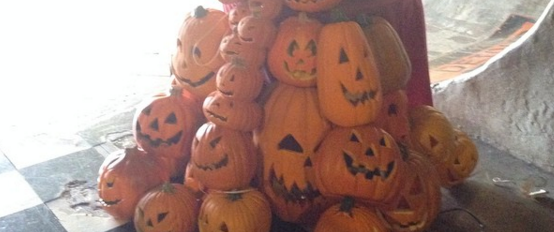 Here's a full listing of all of our Halloween programming...and check back because more is sure to be added as the spooky night approaches!
Monday 10/26
8-10am Anti-Gravity Bunny: creepy af (listen)
10am - 12pm Festival Talk: Focusing on the weirdest festival of them all- Voodoo Fest (listen)
4-6pm Radioculars: Halloween anthems and other creepy crawly things with spooky sound effects (listen)
10pm - midnight Genre!: songs about fear (listen)
Tuesday 10/27
4-6pm Astral Projection Radio Hour: our most beloved witchy, feminist, occult-themed, female driven radio show (listen)
10pm - midnight HORIZONS: the only fear is dying alone, lonelyhearts. But, there might be John Carpenter soundtracks.
Wednesday 10/28
6-8am No Slaw in the Freezer: Annual Halloween Special (listen)
4-6pm Hang the DJ: Zombies, thrillers, skeletons, witches, the (un)dead, wearing black on the outside 'cause black is how you feel on the inside, lunatics, devils, dead man's parties, monsters, ghosts….
6-8pm Tuff Signals: creepy garage rock
Midnight - 2am Music For the Masses: all spooky 80s, at the witching hour no less! (listen)
Thursday 10/29
Noon - 2pm The Hanging Garden Radio Show: when you're goth, every day is Halloween.
2-4pm Under the Atlantic: Wampire talks about what they did for halloween last year, plus there will be a selection of dark cuts from the black grail.
10pm - midnight Dig This!: Semi-scary show with a secret guest DJ!
Friday 10/30
8-10am Stuck in Thee Garage: two hours of creepy rock
4-6pm Music Ninja Radio: dark and spooky bass-driven electronic, plus some sinister indie rock
6-8pm hello cheetle.: spinning some freaky rock n roll numbers
8-10pm Radio Shoe: Rocky Horror Picture Shoe (Halloween goes glam rock)
10-11pm Too Cold to Cry: HORROR SYNTH- spooky minimal synth stuff
11pm - midnight Teenage Tragedies: a solid hour of "monster mash" ripoffs and spinoffs
Saturday 10/31
8-10am Mod Lang: Scary Monsters and Super Creeps
Noon - 2pm Radical Dreamers: witch house, 80's horror soundtracks, murky lo-fi Memphis raps, industrial, noise, etc.
Sunday 11/1
10pm - midnight The Midnight Prowl: Halloween Hangover