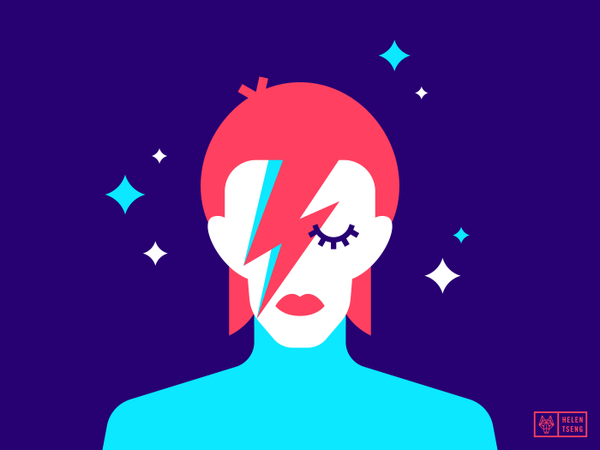 Where Bay Area radio stations failed today, @BFFdotfm is beautifully nailing it right now. #bowie #bff.fm

— Renee Crawshaw (@TheseLeanTimes) January 12, 2016
In honor of David Bowie's 73rd birthday, please enjoy our tribute content from 2016:
The loss of David Bowie hit a lot of us hard. Over the next few weeks we're commemorating the life of such a magical, other-worldly musical genius the only way we know how...with radio.
Keep checking back, as we'll be updating this post as commemoration plans develop and archives are posted.
"David Bowie understood the night... its allure, its power, its urgency, its mystery. And his gift was to make that understanding come to life in songs of both hope and desperation... and sometimes both at once. Wild was the wind that Bowie drifted on, and now as we hear that wind rushing out at last, and we watch our sails go slack, it is for us all to refill them with his music and his memory." --Christopher Wind
Here is our full listing of BFF.fm David Bowie Tributes:
Radioculars honored Bowie with a collection of obscure but lovely (plus some well-known and worthy) Bowie covers.
Listen here.
Burrito Justice Radio welcomed guest Brock Winstead and together spoke of Bowie and made some listeners cry.
Astral Projection Radio Hour was found "channeling the spirit of our beloved space weirdo."
Listen here.
Eclectic Kettle: Co-host Ben Ward and Bowie superfan Tom Coates reminisced on the life of a legend.
HORIZONS flew a black sail for Bowie, with deep cuts that show just how much he understood the night.
Hang the DJ paid tribute to "a hero to several generations of music fans and aliens of all stripes."Listen here.
Music For the Masses: Bowie tribute show.
Jon Digital spun Bowie's deepest cuts, because his loss cuts the deepest.
The Hanging Garden Radio Show included a spotlight on Bowie with rare interview clips.
Dig This! mixed Bowie's hits, covers, and music from other weirdos.
Listen here.
Too Cold to Cry reflected on the miracle which is one man's contribution to global art and culture.
Listen here.
The Midnight Prowl: all-Bowie Prowl
Radio Shoe celebrated the Thin White Duke's birthday with a dual Bowie/Elvis tribute (as the former was a huge fan of the latter.)
Listen here.
Deep Listening also celebrated Bowie's birth with a solid hour of Bowie favorites.
Listen here.
More to come:
Digging in the Crates: 1/25 6-8pm
David Bowie cover illustration by Helen Tseng