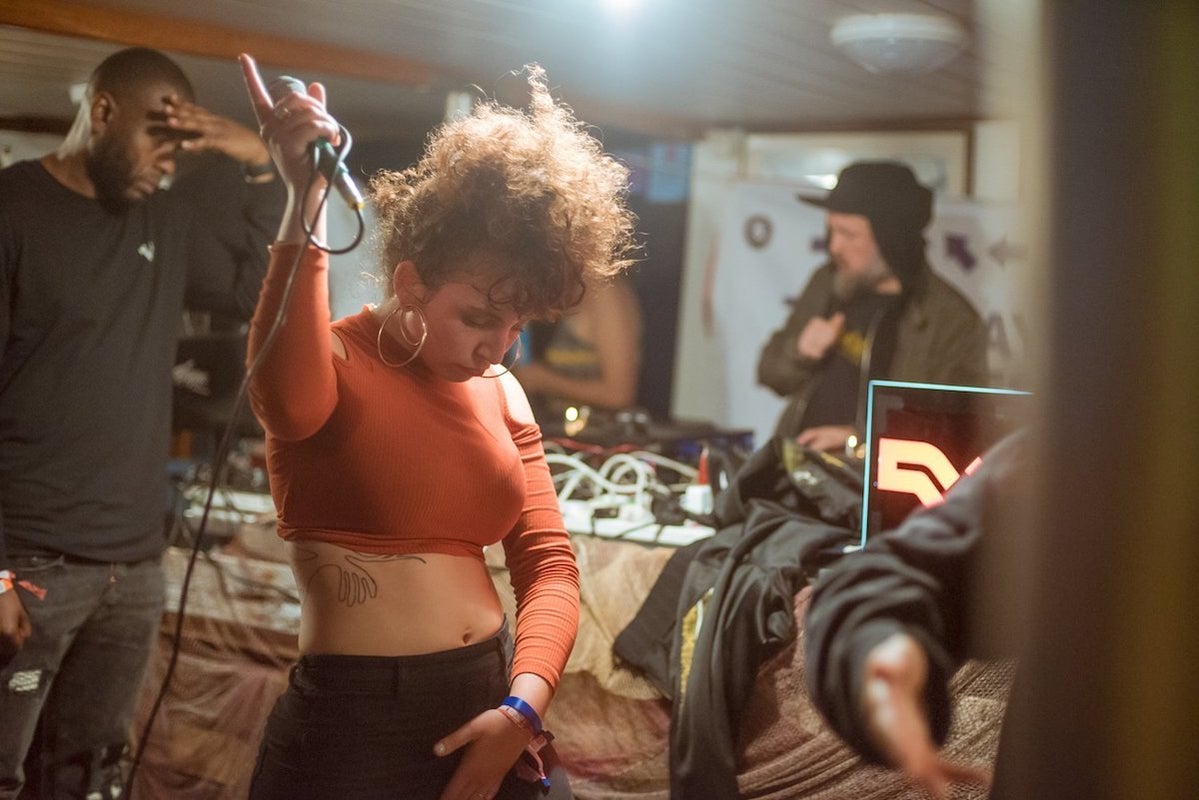 Moroccan-Polish MC and singer, Miss Red (Sharon Stern) has the swankiest electronic dancehall persona since M.I.A. Miss Red first crossed paths with London-based musician Kevin Martin, aka The Bug, in 2012 at one of his shows, where she very sporadically (and riskily) asked to hop on stage and snag the mic during an impromptu set. From then on she became a constant affiliate of his collaborating MCs in live shows and made international appearances traveling through Britain, Europe, Russia, USA and Brazil. She broke from The Bug's ensemble, going solo with a few self-released singles before dropping her debut album, K.O.
Its tone has a frantic, demented energy that simultaneously makes the listener overcome with a seductive darkness while inspired to dance. There's a dilapidated nihilistic 90s Fight Club aura while a couple songs, like "Memorial Day" scale back into an elusive, safari haze affectation. Start to finish, it's relatively audacious, militant in tempo and tone, ominously stimulating, and is perfect for the mind to enter ass-kicking mode if you're looking to get pumped before playing video games, going to the gym, or if you just want to feel on edge and don't necessarily need a reason. Most songs contain rapid lyricism with politicized content (with not-so-subtle track titles like "One Shot Killer", "Money Machine" and "War.")
Miss Red's vocals are arresting and sensationally different. She carries hints of a Joan Jett Rock N' Roll squeal, a raspy reggae timbre, and with the stamina of Die Antwoord's Yolandi Visser. Hear for yourself by checking out K.O., which you can purchase here, and enjoy the sultry music videos underneath.
You can also support BFF.fm with qualifying purchases made via Amazon Smile. Every bit helps!
Below is "Dagga"
Also, the hypnotizing 2016 single "Fever"