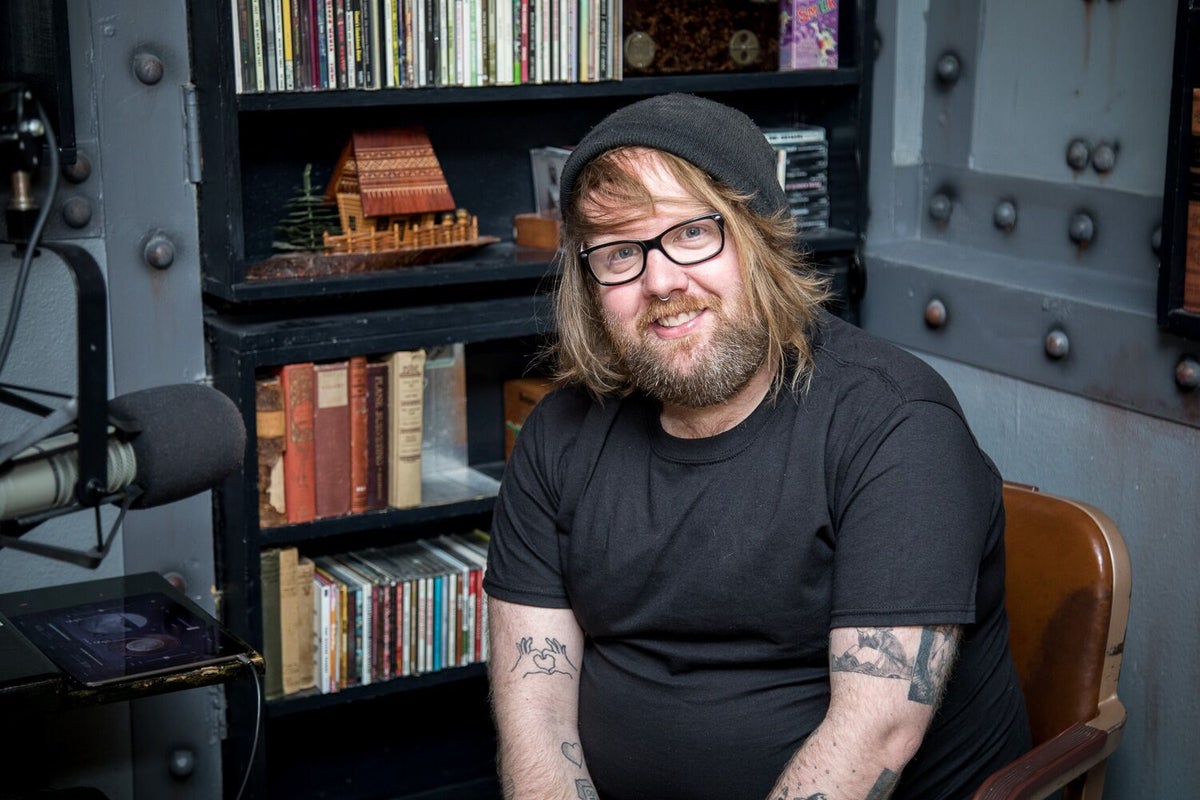 BFF.fm Studios, July 19, 2018 Photo by Jaime Borschuk | http://jaimeborschuk.photo/

Recommended Episodes...

The Revolution Summer hits the airwaves with sonic confessional intensity every week, hosted by the talented Douglock. In each episode, he creates a mixtape of the mid 80s to current Emo and Emo-adjacent artists, including genres from post hardcore to pop punk. As the title of the show suggests, Douglock pays tribute to the movement, The Revolution Summer, the single most influential event to the conception of Emo.

He gave us a history lesson on TRS, a phenomenon that took place in Washington D.C. in 1985, spearheaded by high schoolers who were influenced by 70s punk. They felt that some elements of the punk scene (ironically formed out of anarchist sentiment) projected some constricting standards of what music should sound like and what mood/emotions could be expressed. Bands like Minor Threat, Gorilla Biscuits, Rites of Spring and Embrace created a ripple effect of a new genre, Hardcore, which started to spread across the nation to the West Coast, influencing bands like Black Flag. This new sub-genre revolutionized music in its yearning to be more raw, to not repress feelings as they happen and without worrying if it "looks" punk. This new emotional energy incorporated in lyrics and delivery gave rise to Screamo, Grindcore, Grunge, and ultimately, Emo.

These sub-genres challenged and reinvented punk by pushing past the early dismissive, and lambasting of the sound "being too emotional" or "girly." These demeaning connotations proved to marginalize others' experience, submitting to society's rigid standards of what perspectives are acceptable and limited artists to talk about certain things and in what fashion they could portray emotion. Emo confronts misogynistic and heteronormative paradigms, kicking down doors for female and Queer musicians to express emotions, style, and identities outside of straight, white men.

A bit about the host… his civilian name is Douglas Slayton, who hails from Santa Rosa and has lived in San Francisco for the past 12 years. While he's a savant on the origins of Emo, he also focuses on the present by investigating and sharing work of underground Bay Area and nationwide artists. The Revolution Summer highlights a broad spectrum of Emo's sound and cultural influences behind their intensity, while breaking common stereotypical associations with the genre. He emphasizes that "scene" does not necessarily have a rivalry with "sound" in the Emo sphere, saying it's difficult to concisely describe what Emo is in a nutshell since it isn't exclusive to any specific scene and has created a disparate collection of bands. He says a better term to use is "community" to which these various sub-genres and scenes ascribe. The heart of the community promotes pushing a feeling forward, a deeply emotional experience which can address romance, heartbreak, depression, anger and anything else that provokes the need for vulnerability.

Douglock was super duper cool and let us sit down with him during a live show and pick his noggin on the thought process and philosophy behind his show, as well as some fun facts outside of his DJ life...

_____________________________________________


How long have you been a DJ, and how long have you DJ'd at BFF.fm?

DL: I've DJ'd at BFF.fm over a year, since May of 2017, and have been a DJ for over three years. I started at Knock Out in Middle Mission, then migrated over to Pops.

Outside of your DJ gig, what do you do?

DL: I've played in bands off and on. I also work at a comic book store and make comic book art myself. I love "slice of life" comics, especially Japanese Manga, and the underdog narratives like Scott Pilgrim.

Do you have any Manga or TV/film recommendations?

DL: I gravitate toward stories with characters I feel I can identify with- currently I really like Evangelion. Also I like You're The Worst, Nanette, and Bojack Horseman.

Who are your favorite bands/musicians at the moment?

DL: Julian Baker, Charmer, Retirement Party, Tancred, Charmer, Snail Mail, Sharptooth, The Cardboard Swords, and Ratboys. All time favorites are Dashboard Confessional and Rainer Maria, Moss Icon, Promise Ring, and Thursday.

What's your finest DJ moment(s), or your favorite thing about DJ'ing?

DL: When I host a show and play a song someone hasn't heard before, and they come up to me afterwards and strike up a conversation about loving the music, asking me more about a certain band.

What are your obsessions?

DL: Actual OCD. I will play the same song on repeat for days. It's a neurotic instinct to stay in that process, trying to stick with a feeling that inspires me to connect with or make music and Art. I'm from a small town mindset where obsessive tendencies can easily dwindle to destructive habits, but I instead try to shift this neurosis toward creative outlets.

What song or artist do you like but rarely admit to liking? Is there such a thing as a guilty pleasure in music?

DL: I'm not critical of music, be it Screamo or Taylor Swift. Whoever the artist and whatever the song doesn't always directly determine the momentary feeling that a song might strike the mood.

What do you like about other BFF.fm shows, and what do you find is most meaningful about the station and the SF community?

DL: I value the opportunity to talk about things I'm passionate about and in a setting where I can develop my ideas and thoughts by speaking them out loud. I've made friends with DJs at bars and clubs over the years, but at BFF.fm I like how easy it is to see so many radically different radio DJs within one space. My radio time slot motivates me to stay disciplined in the process of making a playlist for each week's episode. Each episode is like a recorded journal entry of the music I'm into within a given point of time. The audience relationship has a different balance- on the radio I feel like I have a one-one-one connection. It also helps me to be more vulnerable about my tastes, and when I'm in the studio by myself, it makes me more reflective about the songs I've chosen to share with the audience. Also there's more freedom in that the audience doesn't have certain expectations like they do at clubs/bars.
---
His livelihood slinging comic books geniusly pairs with the angle of his radio show in that both mediums explore the mundane, melancholy, or anguish of experiences and turn them into extraordinarily empathetic artistic expression. Emo and its adjacent subgenres offer a shared look at the absurdity of the world through thoughtful vibes, a willingness to release and work through pain, insecurity, and all those other negative nooks and crannies of the human journey. He says, "Art communities need to unlearn classicism" (amen), and that we need to not take so much stock in the technicalities of structure tethered around ideas of what makes for good/bad/important Art, but rather to simply let ourselves enjoy the things that move us.
Douglock's lush knowledge on music history and culture, familiarity with local bands, and his enormously kind spirit are just some of the marvelous qualities that he brings to the (turn)table at BFF.fm. Hop on the bandwagon of Douglock's mission to extend support in the vast community of Emo and Emo-adjacent musicians by joining The Revolution Summer each Tuesday from 12-2pm.
Where else can you find Douglock?
He co-hosts with Holly Hox every second Saturday at Pop's presentation of Sadderday, "an emo, pop punk and post hardcore dance party." They're on hiatus in July, but go check them out upon their return in August!