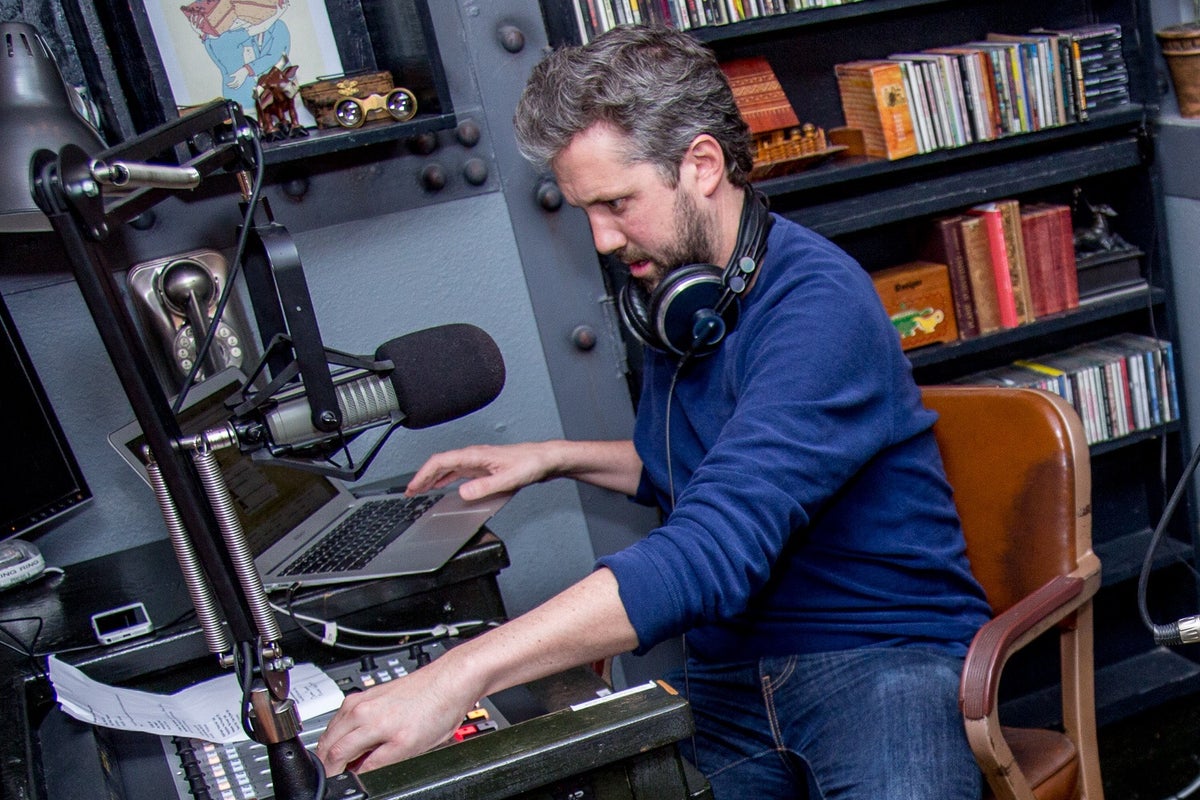 BFF.fm Studios, March 5, 2018 Photo by Jaime Borschuk | http://jaimeborschuk.photo/
Recommended Episodes...
Ep 35: 'You can't bullshit a Taurus' - includes Just Rese, Chastity, Cruel Summer, Rose Droll & TONER
Ep 34: 'Love unconditional' - includes Mae Powell, Flasher, Azuah, Topographies & Mean Jolene

Ep 28: 'We waited all summer for the weather to change' - includes Ötzi, Meernaa, Pllush, Free Paintings & Sagittaire
When a time machine is finally invented, The Boomtown Rats will go into the future, hear BFF.fm's I Luv Mondays, and immediately stop writing the 1979 hit "I Don't Like Mondays." That joke will not make sense if you read this post-time machine invention, but trust us, the song really did exist. The show's host, Will Craven, debunks the mundane aura that Mondays notoriously connote with each week's episode sharing the abundance of Bay Area music.
Within the first thirty seconds of listening to Will, it is astoundingly clear this guy has an articulate grasp on SF's music scene, playing a role similar to a radio concierge for local music. He marvels at our Arts community (as well as folks from out of town) and takes it upon himself to use his show as a platform to help make it grow and thrive. He describes his reaction to local hits as similar to his younger days when listening to FM pop radio, as an unfiltered reflex to catchy songs that simply grab you upon the first listen. This sort of love at first sound is what he experiences when selecting each episode's unforgettable works, which he credits as the primary success of the show, "I'm playing what I like, but it's basically their show." He features myriad genres including one-minute punk like Oakland's Patti, experimental R&B like SF's Bobbi Rohs, new wave goth like Oakland's Ötzi, and rambling slacker pop like Free Paintings. Songs played typically serve as a preview for upcoming live shows, with each mic break sharing musicians' background, the future and past dates of venues they're playing at, while adding a flavor of his own nostalgic associations/impressions of shows and their locations.
Some events leading up to Will's DJ-hood…. He grew up in Durham, North Carolina, where he recalls being as young as four years old when music first impacted him, and its impact continued to pervade throughout childhood. He brought a radio to his kindergarten show-and-tell, envied the older kids singing Tears for Fears together at day camp, and at the age of ten went to his very first concert, Bon Jovi. His mother was an opera and classical music aficionado (which isn't as much his cup of tea), from whom he adopted the obsessive habit of getting into a song, or a moving moment of a song, and would listen to it over and over. This habit manifests itself on I Luv Mondays, where you'll find him playing his favorite songs several weeks in a row. As teenagers, he and his friends were jazz snobs, which led to his radio debut on NPR's jazz affiliate WNCU in Durham. Here he hosted a show from 8pm until midnight during summers while attending WashU in St. Louis, Missouri. After graduating with a BA in English, Will moved to Japan for two years where he taught English as a second language. He relocated to San Francisco in 2002 and has yet to find a good reason to jump ship again. Throughout his Bay Area residency, he has worked extensively as a writer and producer to raise awareness and resolution for environmental issues. He produced over 150 episodes of EcoTalk, one of the progressive talk radio shows featured on Air America Radio. From there, he spent five years at ForestEthics (now known as Stand.earth) working to protect the world's forests, followed by five years spearheading solar policy campaigns for SolarCity.
Given this wide altruistic portfolio, it only makes sense that in 2013 Will was drawn to a new radio station that would set out to proliferate a compassionate, merrymaking local Arts' community. He supported BFF.fm in its first year, did a guest J-Pop show with Mai on the Mai + Charlie show, and within the lat year, joined the board and started I Luv Mondays.
Will was ultra kind and cool to let us sit in while he was hosting a live episode in the Secret Alley, where we got to know more about his style, process, philosophy, and other fun facts about him on and off the air…..
---
How long have you been a DJ, and how long have you DJ'd at BFF.fm?
WC: I hosted a show at NPR's jazz affiliate WNCU in Durham, North Carolina when I was a teenager in the late '90s. Then in 2005-06 I produced about 150 episodes of EcoTalk, a nationally syndicated show on the Air America network. I was a casual listener and supporter of BFF.fm, and did a special J-Pop themed show with Mai on the on Mai + Charlie show before "I Luv Mondays" began in November of 2017.
Outside of your DJ life, what other interests/activities do you have?
WC: Art is the best thing in the world, I try to consume a lot of it, but I the only thing I practice with any discipline is fiction writing.
Other than that I'm pretty basic so I like the basics: books, the outdoors, movies, live shows, etc.
Who are your favorite artists at the moment/of all time?
WC: There are probably 20 local bands I feel actively enthusiastic about right now, but to name five today: WARP, AhMerAhSu, Rays, K Skelton, Marbled Eye
All-time: R.E.M., Miles Davis and Guided By Voices
What's your favorite thing about being a radio DJ?
WC: The songs! I'm trying to break the habit of saying I have a new favorite song on every episode.
Have any particularly odd idiosyncrasies?
WC: I play bass badly but when I watch a movie by myself I'll play bass pretty much the entire time. I played bass to all six seasons of The Americans.
What was the last movie/book you watched/read? How was it?
WC: The Mr. Rogers documentary, Won't You Be My Neighbor was excellent. It's the antithesis of the isolation everyone feels, there is nothing like it today. He did a show on death like a week after the series started, engaging children on it as a real topic that they could understand, and approach with an open heart. For reading, I'm so into Donna Tartt right now. - Check out The Secret History and The Little Friend. She takes about a decade to write each novel and they are immaculate, and sprint practically the whole way. I usually say Don Delillo's Mao II is my favorite novel of all time.
How is BFF.fm most valuable/purposeful for you personally, as well as for the community?
WC: I think people listen because it's fun to hang out with people who are having fun, and if it helps people feel happy that's an intrinsic good. It is easy to feel alienated in the Bay Area, but BFF.fm feels like an antidote to that, it's a relationship to my community that feels healthy and affirming.
And the music gets me out of all my usual listening ruts.
---
Will has an uncanny prowess for Bay Area music as well as all things Art. He absorbs the infinite inspiring lens of others, and ecstatically shares their work with us. I Luv Mondays succinctly packages each show with various genres of local artists, nudging the audience toward their different and interconnecting pathways within our very own neighborhoods.
The show patiently takes us through music as collections, and doesn't cherry pick songs on albums (like most of us unfortunately do). Each succeeding episode develops a well-rounded rotation of every artist which Will can be heard proclaiming almost every week "this is my new favorite song"- which he thinks is a bad habit, but really just evidences how stellar the music is and how genuinely affected he is by these stellar songs.
So, defy the drab case of the Mondays by tuning in to I Luv Mondays each week from 10am - noon, where you can always expect to jam out to the majesty of Bay Area music!