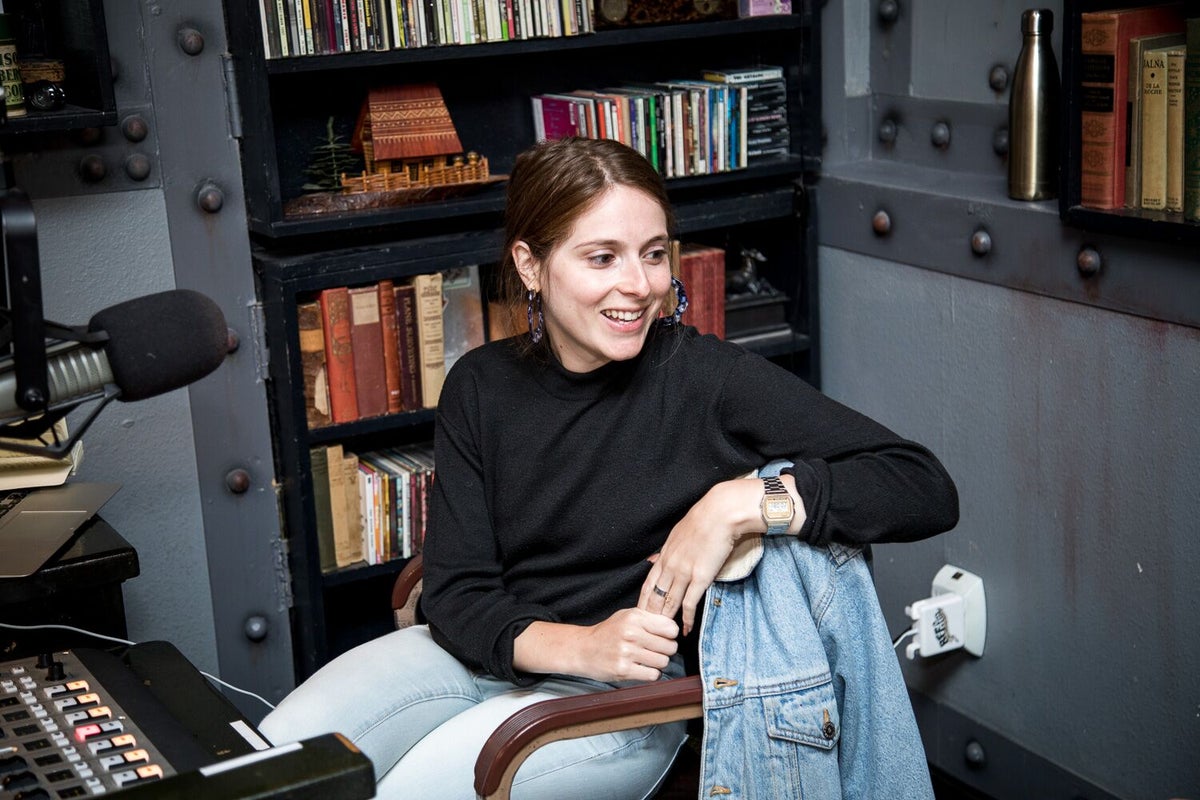 BFF.fm Studios, July 30th, 2018 Photo by Jaime Borschuk | http://jaimeborschuk.photo/
Recommended Episodes...
Monday brings out the utmost curmudgeonry in people's moods. After a weekend that seems to flash by in a blink, mustering up the motivation to drag your ass out of bed is a pill best swallowed with copious mugs of coffee topped off with revitalizing tunes. Said tunes can be found on The Monday Lineup each Monday evening, packed with feel-good jams of all genres, hand-picked from your convivial host, Erica Seidman.
TML is an adaptation of the still active and rad as ever weekly music-news website that Erica has consistently written and curated going on 4 years strong (since September of 2014, more info at the bottom). Her mission is to diffuse Monday's murky tension by replenishing the air with positive vibes through various genres and artists, including Chance the Rapper, Maggie Rogers, Beach House, Blood Orange, U.S. Girls, Anderson .Paak, and Jungle among a multitude of others in a format that blends new and old, while highlighting upcoming shows in the Bay Area. Her compilations harmonize elements of easy-going, relatable, upbeat, and catchy songs. They have a natural progression, grouped in phases that segue from more energetic, beat-driven disco/electronic, that move into poppier beats, and wind down with slower genres like singer songwriters as a nightcap. The show dabbles in a few different formats, including live studio performances and interviews with musicians like SUMif, guest co-hosts who talk about surviving festivals like Barcelona's Primavera Sound, or a one-on-one with the show's lovely creator. She makes no bones about sharing whatever she likes- you'll hear Let's Eat Grandma as well as Ariana Grande. The Cure as well as Melba Moore. Simon & Garfunkel as well as Escort. The show embraces all music, whether it's the top hits blaring in tweens' headphones or underground Afro Electro Funk.
On the air and online, Erica incorporates a Heavy Rotation, and a "Crush" section on the site- at the moment crushing on Kamasi Washington, Christine and the Queens, Jamila Woods, Mitski, among other heart throbs. TML refrains from treating every album like a Tinder one night stand- it doesn't dance to a new collection in one go and then let it fade away forever, hastily moving on to the next song or album. She promotes a genuine, engaging relationship with each new work and draws their meaningful connections to older and contemporary music, a process clearly reflected in her well-balanced weekly collections. She often brags with giddy fandom, describing her select musicians as "stupidly talented" or interlaces quips for pop choices describing them as "sugar candy coated...there's your 'unapologetic pop song' for the show." She develops context behind albums, sharing the artists' direct quotes, influences, cultural significances, as well as her own anecdotal journey with certain music and live shows over the years. She dotes on artists not only for their unique musical talents, but also digs into the personality and social events happening behind the music, and celebrates the kind of people that they are. Or offers commentary about how they're under public criticism (ahem, Kanye).
A bit about Erica leading up to her DJ life... She was born and raised in Sharon, Massachusetts, a suburban area located southeast of Boston. Her earliest musical influences partly stem from her father, who was a devout deadhead. She has vivid memories of the Flashdance soundtrack, the B52s, and being a 90s child she recalls the impact of Alanis Morissette's Jagged Little Pill, giggling at Nirvana's iconic nude baby on the cover of Nevermind, being corrupted by Napster, and getting hooked on making countless playlists when the CD burner was invented. She was in musical theatre throughout childhood, and by high school, began performing as a classical music vocalist at the New England Conservatory of Music in Boston.
After high school, she was ready for a new experience, and college was the obvious excuse to migrate from the East to West Coast. Without knowing a single person, she moved to California to major in psychology at Stanford. She says that she was no exception to something like a drastic move away from home making one suffer a bit at the beginning. But now, she's transitioned quite fashionably and fits like a glove in the Bay Area.
Erica was (and is) a kind soul to let us sit in on one of her incendiary episodes, where she dished out some fun deets about herself on and off the air….
---
When did you become a DJ (on/off air), when did you become a DJ at Bff.fm?
ES: I made my debut as a DJ at BFF.fm in September 2016. I heard about the station from a friend of Luke from Roll Over Easy. I'd had my website, The Monday Lineup, for a couple years and thought it'd be a cool idea to transfer its concept of having something to look forward to on Mondays onto a radio show.
Who are your favorite current artists? Of all time?
ES: I'm overwhelmed with how much great new music is out there...Right now I'm really into Serpentwithfeet, which I recently saw at the Swedish American Hall. I saw a captivating performance by Kamasi Washington at both Coachella and recently at the Greek Theater. I also currently love Janelle Monáe, Khruangbin, Father John Misty, and Against All Logic.
All time favorites: James Blake, Florence + the Machine, Fleetwood Mac, the Beatles, and Kanye West (although I'm still figuring out what my fandom looks like in this moment).
Outside of Dj life, what do you enjoy doing? What are your obsessions?
ES: I sing in an a capella choir, which is essentially like Pitch Perfect for adults. I really like the opportunity to sing in a group once a week. It's nice to make crazy harmonies with people, and to unleash my nerdy musical theatre side. I used to rarely ever go to movies, however MoviePass has made me visit the theatre more often, and need to make use of it more now that MP's days might be numbered…
I see a ton of live music- there was a period of 8 days where I saw 5 shows, including Phoebe Bridgers, Wye oak, Bicep, Sylvan Esso, and Kamasi Washington.
What shows/films/books have you seen/read recently? How were they?
ES: For books- The Power by Naomi Alderman and The Autobiography of Gucci Mane. And for movies and TV- Eighth Grade, Girls' Trip, The Good Place, Pose, The Great British Baking Show, 3 Identical strangers, and Hannah Gadsby's Nanette.
Have any particularly odd idiosyncrasies?
ES: I watch most movies in subtitles... I once watched two full seasons of House of Cards without subtitles and had zero clue what happened. I'm more of a rhythm and melody person than a lyric person. Another thing is I fold all of my clothes, including socks and underwear (read Marie Kondo's book on organizing, The Life-Changing Magic of Tidying Up). And I can fall asleep anywhere.
What are your pet peeves?
ES: When you ask a server at a restaurant (especially at tapas places) how many dishes to order and they tell you something crazy like 8-10 per person and you KNOW they are upselling you! Also people who scoff when I mention listening to house music, in a way that negatively stereotypes dance music.
What do you find most purposeful/of value about BFF.fm, personally and for the community?
ES: The station manager at BFF.fm lets me go on the air and do my thing with literally no experience, trusting me to figure out how to make a radio show as I go, giving me the space and freedom to try something totally new. It's rare to get this type of opportunity in adult life. The beautiful thing about BFF.fm is that it's judgment free. There are people of all different voices who use the radio station as a space to express themselves in the way they want to. There's trust in our community, the founders of BFF.fm let people have the space to experiment, which creates an endearing, fun, and meaningful environment for everyone. Also, It's different than the filtered realms of social media, you just press record and go. I like being around people who aren't pretending that things are perfect.
---
Listening to TML is like being part of a breezy chat with a friend while having your world rocked by both the latest and classic upbeat music. Each episode transitions fluidly from genre to genre, keeping it real with commentary that doesn't ramble, and we can rely on hearing music that simply makes us feel good. An added bonus is that she's an astute follower of current music shows and culture, so if you feel out of the loop on the buzz for national and Bay Area music events, make this show your grapevine to hear the latest.
Take Erica's advice by "making your mondays better, one song at a time." Use TML to shield your aura from the cantankerous spell that Monday tries to fling at us, and tune in every Monday evening from 8-10pm.
Where else you can find Erica….
The original The Monday Lineup...This weekly publication is a refreshing site to follow if you're overwhelmed by weeding through the majority of online music journals' scattered links and jarring format. Erica coherently steers readers in the direction of new albums, upcoming shows, and current music culture topics. Sign up for the newsletter, and also, follow her weekly Spotify playlists.
What's on deck?
DJs Unite! BFF.fm's marvelous Nora joins forces with Erica in a converged 4-hour show TBD (but some time soon) on a Monday from 6-10pm. Keep your ears perked for that sure-fire encore-worthy episode!
Upcoming themed episodes:
* A show entirely comprised of songs with key changes / modulations (nothing says mood boosting like 2 hours of key changes)
* A show pairing songs that have the same names- e.g. Mystery of Love by Sufjan Stevens and Mystery of Love by Mr. Fingers, Ain't Nobody by Chaka Khan and Ain't Nobody by Natalie Prass