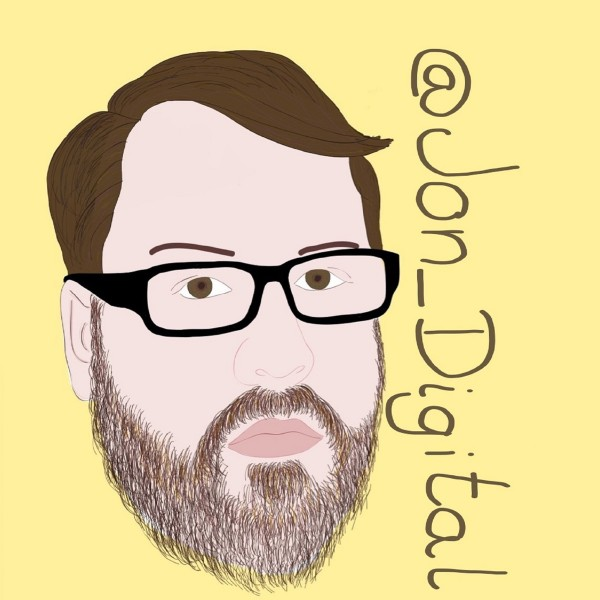 Recommended Episodes
EP 022: 'I'm gonna booglarize you, baby. Wear headphones.' — includes 79.5, Mr. Twin Sister, Kelly Lee Owens, Kamasi Washington, and Tropics
EP 018: 'Box fresh music for your aural enjoyment. Wear headphones.' — includes Ape Echoes, Nicodemus, Invisible System, Mountain Range, and Pusha T
EP 005: 'Music is food. Wear headphones.' — includes The Maghreban, Yally, Killtime, Laura Marling, and M-Cubed
Every Thursday morning, the radio waves transmit all the way to the United Kingdom, washing ashore the sole international BFF.fm show, @Jon_Digital. This show befits Bay Area listeners starting off their morning as well as UK listeners unwinding in the evening. Thanks to the miracle of communications satellite, the savvy host and veteran DJ, Jon Carroll is able to grace San Francisco (and the rest of the world) with his jocular radio persona to unveil a panoply of glossy tunes. Approaching nearly 20 years of DJ experience, he's become a music mixing surgeon, suturing songs together with fluid dexterity, harmonizing innumerable genres from various artists that cover all moods, techniques, and cultures. His endearing British levity ensues between mic breaks, describing sets as a "build-up, a quadruple decker of tracks... I hope you're feeling like you've just had your second breakfast as we pass the first hour of the show." Turns out the Bay Area's got a gargantuan appetite for cool new music, so we always have ears happy to devour whatever he's dishing out.
A bit about Jon leading up to his fraternization with US radio stations…. He grew up in the county of Cornwall, just outside of Plymouth, England. He began DJing back in 2000 at a Friday night club during sets that would last from midnight until the sun came up. His beginning influences are from the early 2000 American and UK indie guitar wave, chart topping hip hop tracks, a bit of classic punk/ska, and quite simply anything that made people dance. His strategy was to always go for "left turns" to surprise the crowds and jolt their tail feathers into action. He transitioned from these shows to a gig on Saturdays with his set "Funk and Disorderly" at a club called The Junction, a mere ten minute walk from his home. These evenings he would also raise the roof through the wee hours of the night, strolling back to his abode just before daylight.
He first encountered community radio by joining Plymouth's Eatmusic, an online broadcasting station. After six years of his involvement, he became intrigued about other radio communities, researching stations around the world, which is how he came across BFF.fm. In 2014, he visited San Francisco for the first time, went to a show at the Rickshaw Stop and happened to cross paths with a BFF.fm DJ. They struck up a conversation about how he could get an international foot in the door at the station. He pitched a syndication of his UK-based radio show to founder and GM, Amanda Guest, and launched his SF show the following spring of 2015. Currently, he no longer pulls all nighters in clubs, but stays actively engaged in his local music and Arts community along with hosting @Jon_Digital. One of which took place a few weekends ago at Cornwall's "Port Eliot Festival" on an estate that features craft workshops for writers, poets, comedians, musicians, among other Art mediums.
We had a lovely Skype chat with Jon and learned more about his journey as a DJ, as well as some other fun off-air deets...
---
When did you become a DJ (on/off air), when did you become a DJ at Bff.fm?
JC: I've been a club DJ since 2000, and have been involved with community radio since 2010. I regularly hosted live sets at a club called "The White Rabbit" which has sadly been knocked down, and rebuilt into a massive cinema. Nightlife has shrunk largely over the last 20 years, not even a handful of clubs are around my home anymore as Plymouth is quite far from other metropolitan areas in the UK. I had a live online radio show in UK, at a station called Eatmusic for 6-7 years (since 2010). My debut show on BFF.fm was April 30, 2015.
How do you find new/old music? What is your process like in making mixes?
JC: I subscribe to a lot of playlists on Spotify, then I make weekly updates based on scouring through new playlists. Currently I have over 200 playlists I've curated, all constructed out of a giant series of discovering tracks from different rabbit holes, then they're whittled down to just under two hours. Once the playlist is complete, I go back through to buy the music.
I have about twenty years of fine-tuning a feel for when a song follows another song at clubs. But with radio, I like having deadlines each week. With this structure, I'm afforded an advantage to focus more on the transitions, how they cross fade together, which is more difficult to do on a live set. This process makes the sound quite slick...the progression is more likely to have a raggedy sound when DJing live. But I also try not to edit what I'm saying. I'm not trying to sound like commercial radio. I think it sounds nice with that element of making mistakes.
Who are your favorite artists, of all time and currently?
JC: Sooo many and so different...I'm the only person I know in the UK who is obsessed with The Dead. I also love jazz fusion, yacht rock, progressive rock, namely David Bowie, Frank Zappa, Yes, and Genesis. And loads of newer music, but my favorite song of this year so far is, "Bad Bad News," by Leon Bridges.
Outside of DJ life, what do you enjoy doing?
JC: My interests intersect quite a bit, but to start, I love watching films- particularly 70s auteurs. I really love that period where they introduced very distinct kinds of visual ideas. Especially in Chinatown, The Godfather series, The Conversation, The French Connection films, Apocalypse Now, The Deer Hunter, Taxi Driver… really gritty great American films. On British films, noteworthy is Withnail and I, Monty Python, and on the indie realm, Shane Meadows' This is England, Danny Boyle films, especially Trainspotting and 28 Days Later, and Edgar Winter films. Also some of my favorite comedians are Marc Maron, Patton Oswalt and Stewart Lee.
What are your obsessions?
JC: Music. It's a lifelong obsession. I have a lot of cultural as well as music knowledge in my head, and I wish that I could monetize that knowledge somehow and not worry about working a 9-5 (*we feel his pain). Of course, first and foremost you have to be in the Arts because you love it, and then the worry of monetizing it comes second.
Read any good books lately?
JC: Amusing Ourselves to Death, written in the mid 1980s by Neil Postman, which aligns with Aldous Huxley's Brave New World. It discusses how communication has changed due to the changes in the way Art, information, and communication are transferred, from passing records down orally, the printing press, to the invention of the telegraph, television, and radio. (He co-hosts a podcast "The Hangout", and devotes an episode to an invigorating discussion on Brave New World, see the link below!)
Have any particularly odd idiosyncrasies? Or stupid human tricks?
JC: Not to sound pretentious, but I can recognize a song within the first five seconds. It's like an audio version of a photographic memory.
What are your pet peeves?
JC: I feel in a way, in a blanket, music has become very devalued. There is music everywhere all the time. If you go to the mall or a shop, there's music. We're so used to it being there all the time that we don't get value out of it. We used to go buy a record rather than retrieving it digitally. We had to be patient, going through the process pre-internet when buying music. When a record was out of stock, the employee at a record store would say "oh if you like that, you might like this."
Dare we ask your thoughts on Brexit?
JC: A lot of people here don't understand it. A lot of people don't think it's going to happen, and don't understand where we will be once it happens. There's a lot of anger, which makes it very difficult to have a conversation about it without people getting angry. The Guardian writes articles that can be hyper partisan, extreme one way or the other. When we look back to the 1930s, Germany's fascism happened so quickly, and history can repeat itself. The Internet can hemorrhage the problem, in that people are drawn to archetypes created by intellectuals to have discussions at a distance. Somebody who's angry can punch at their keyboard, untethered from a sense of humanity. It still can be an incredibly rich and diverse planet, but people just don't want to think about what they're saying. We're in a barbaric period of time, and artists should say something about it.
What do you find most meaningful about BFF.fm, personally and for the community?
JC: I like being part of a community that loves music as much as I do. I love the passion of all of the shows on the station. I think every single show, every single one, is making truly great radio. Radio is such an amazing form of communication. You can do so much with two hours. You can create a mood, help people discover new music, and people can give feedback on what else to listen to. It's a good way to connect music fans in ways no other medium can.
---
Even more impressive than his killer playlists of shiny discoveries, is Jon's approach to participate as well as value community radio on a grander scale. He is an outstanding radio citizen of the globe, evidenced that despite a 7-hour time difference, his passion found its way to BFF.fm. His involvement is mutually impactful, and validates the intrinsic need everyone has to connect through radio stations, dive bars, record stores, or even rabbit hole Internet searches in order to share and feel fulfilled by music within a community. @Jon_Digital never fails to deliver a fresh conglomerate of infinite types of music, which is universally sure to blow listeners away every Thursday morning 5:30 - 7:30 am.
Where else can you find Jon?
The Hangout is a podcast hosted by Jon Carroll and Lauren Maidens (you can also subscribe via iTunes or Spotify)
Stupendous episodes
Deep Dive - Kanye West, Yeezy Does It, with guest Odette Treadwell, discussing the unfiltered and "flammable" ball of controversy that is Kanye West. Offers a psychoanalysis of the rapper from album to album with a comprehensive overview of his impact in the hip hop community, while branching to a broader socio-cultural context.
Bibliothèque- Brave New World, a richly philosophical talk on Aldous Huxley's Brave New World, and its seminal impact on culture and its relevance in the 21st century given technology's growing prominence.
Follow @Jon_Digital and The Hangout on Twitter