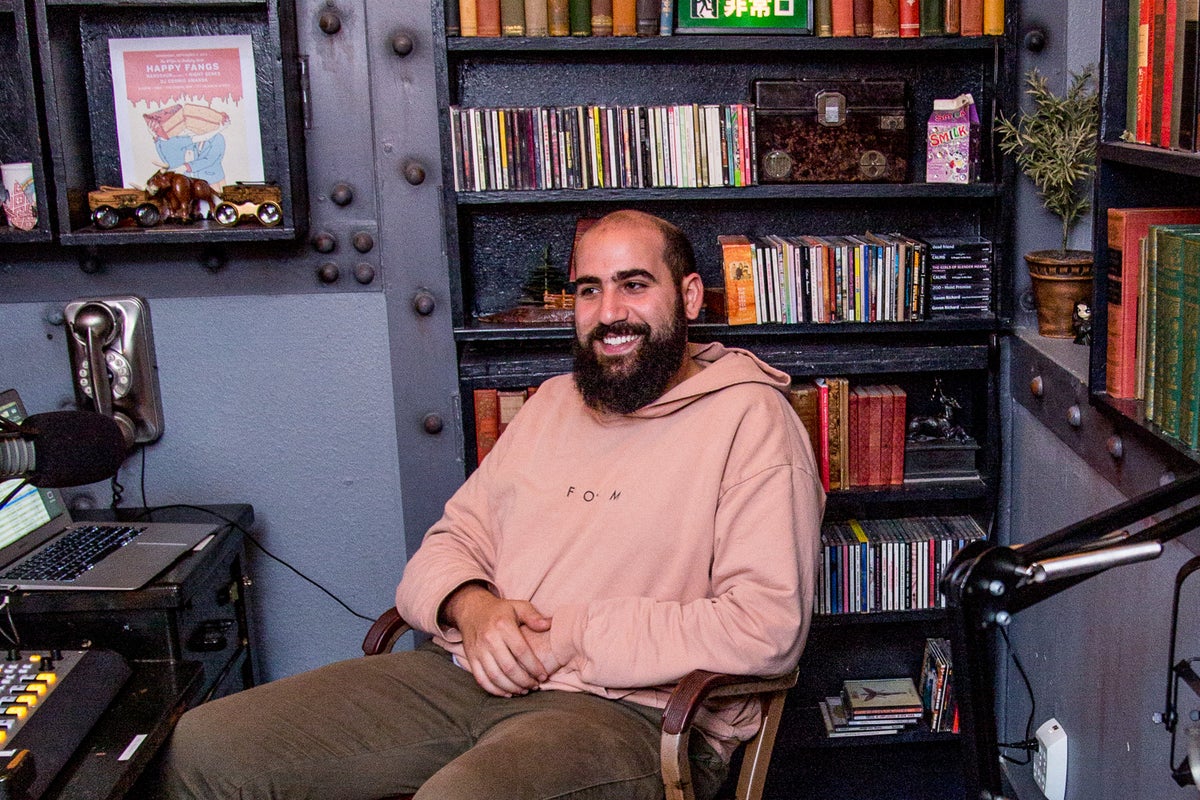 BFF.fm Studios, Photo by Jaime Borschuk | http://jaimeborschuk.photo/
Recommended Episodes...
Each Friday around the time folks clock out for the weekend, Music Ninja Radio picks up where the work week leaves off as a guiding sound for listeners to unwind with its stealthy discoveries in all-embracing, innovative compilations. The vigilant host, Ashraf El Gamal (who goes by Ash) shares his recent favorites in contemporary music while cross-stitching influential past artists' work that inspire the current scope within their common genres. This show is a transmutation of The Music Ninja, a site founded in order to resurrect the authenticity of music and deliver it to the masses since commercial radio, as stated within their credo, has "committed suicide for repeating the same hits over and over." Their team of writers, photographers, and editors are spread across the nation and have established a well-oiled machine working to aid music lovers' internet scavenging, which is most often obscenely clogged with subpar music. TMN and Ash take it upon themselves to sift through these virtual obstructions, clearing up pathways for audiences to more easily find worthwhile music beyond the dominant music industries that infest SEO. They break up the corporate monopoly of mainstream music, yet not completely to genre-shift fans from popular artists like Pitbull and Ke$ha, but rather to expand upon what those artists only scratch the surface of in the vast universe of music.
The radio show's structure blends a couple different formats and themes. Ash occasionally includes TMN contributors from all over the nation, who at times guest host, send recommended tracks, or phone in during a live show to make a collective mix. One theme in rotation is his coined "Dojo by the Bay" segments that highlight and support Bay Area musicians. Also, while Ash has an astounding encyclopedic lens in his comprehensive talks on multi-genre featured tracks, he also demonstrates a no-nonsense approach. The mic breaks have a more pithy nuts and bolts focus on technique, style, and a poignant compare/contrast assessment of featured songs.
A bit about Ash leading up to his involvement in TMN and BFF.fm...He grew up in Palo Alto, where his parents had immigrated from Egypt. Early encounters with music take root in recalling his dad's love of jazz and classical music. His older brother had a giant collection of cds, in the thousands (!), that served as his first music library. One of his earliest discography binges was The Beatles, and thereafter he dove into an alternation of new and older music. Tupac served as his introduction to hip hop, which he credits as the connective tissue to his discovery of Soul and Electronic. He also embraced the unavoidable 90s pop-punk era, namely bands like Blink-182.
He went to college in Los Angeles at Claremont McKenna, but moved back to San Francisco six years ago. Ash had started his own personal music blog, "Very Legendary, Very Rare" before reaching out to The Music Ninja in his sophomore year of college. Over the past 7 years he has undertaken a variety of journalistic roles from conducting artist interviews, writing festival reviews, photography, and is currently TMN's Bay Area editor. He discovered BFF.fm through a high school friend, one of the "Make it Funky" DJs, and was invited on their show to host a monthly segment called "9@9." He continued this series for about 8 months before proposing the idea for "Music Ninja Radio" to founder and station manager, Amanda Guest. The proposal received a green light, and the syndicated radio show launched in July of 2015. He originally co-hosted with a TMN staff writer and photographer, Dominic Powell, who bittersweetly resigned as a result of leaving the Bay Area for London. These days Ash is regularly joined on-air by other TMN staff members Baseer Ahmad (editor), Clayton Warwick (co-founder) and Blas Yaselli (founder).
We recently sat down with Ash at The Secret Alley and learned about his process and journey as a DJ, as well as some other intriguing off-air deets about his life...
---
When did you become a radio DJ? Have you ever performed live sets?
AEG: My debut was as a radio DJ here at BFF.fm, but I also organize parties and do live sets once or twice a month in the city. "The Disco Den" is a DJ collective I started recently with a few friends, which includes a good childhood friend, Adrian Augmon (aka DJ Chad) who is also a frequent guest on the radio show. (*check out The Disco Den)
Are you a musician, or have any other music involvements?
AEG: I began rapping at a young age, and I've dabbled in producing a little bit. My friends and I made our first rap song at the age of 12, when Fruity Loops came out. I stopped making rap music in high school, but came back to it in college. I did one live performance as a rapper in college. I have friends who are still making music and I've hosted them on the show a few times. Namely, rapper Tyler Hawkins and producer, Yung H33M are returning guests. I use a lot of Yung's beats for break music.
How do you find new/old music?
AEG: I discover music through PR email pitches, Soundcloud, Band Camp— I really like their editorial who usually point me in a cool direction, YouTube for going through production credits, following artists on Twitter especially helps inform me about their work, and I follow certain labels. I don't use Spotify or Apple for recommendations because I think these applications have the tendency to take some of the fun out of searching for new music. There's more enjoyment out of finding music yourself. When particular curators are involved with music discovery, their write-ups are really personable and offer transparency on why they like a song, which is what I loved about the short-lived blog era.
Who are your favorite current artists? Favorite artists of all time?
AEG: I like most genres, but typically have never gotten super far into anything extreme, like metal, dubstep, or mainstream pop. Here's a breakdown below of my favorites...
Classic Favs - Curtis Mayfield, Gil Scott Heron, Nina Simone, Parliament / Funkadelic, Pink Floyd, Jimi Hendrix, The Beatles, Tupac, Outkast, Madlib, Redman, Methodman
Contemporary (Established) Favs - Kanye West, Kid Cudi, Frank Ocean, Kendrick Lamar, The xx, Toro y Moi, Four Tet, Moderat, Beach House, Angel Olsen, James Blake, Kaytranada, Mount Kimbie, Beach Fossils, Anderson .Paak, Blood Orange, Solange, Autolux, Earl Sweatshirt, Tyler the Creator, Danny Brown, Avalon Emerson, Leon Vynehall,
Up n' Comers - Channel Tres, Yaeji, Jay Som, Brockhampton, Mick Jenkins, Innanet James, Empress Of, Noname, Tierra Whack, Tanukichan, Kero Kero Bonito, Mall Grab, Loods, Moses Sumney, Nick Hakim, Tash Sultana, Frits Wentink, Ross from Friends, GEOTHEORY
Labels I really like- Shall Not Fade, Awful Records, Green Ova (based in Oakland), Carpark Records and Stones Throw.
Outside of Dj life, what do you enjoy doing
AEG: My job is also in music and I really like what I do. I work in Artist Relations at YouTube Music— basically helping artists and artist managers navigate the YouTube platform. I also enjoy sports, especially basketball, the outdoors, camping, going to parks— my family is into hiking and traveling. During the summer I was in Berlin for six weeks. Germany's club scene is really cool, especially for electronic music. I enjoyed a lot of parks, and rivers running through the city. Berlin is a really special and exciting place because it feels like the principle of pushing culture and art forward is really the top priority, which isn't something you get often in the U.S. There's a certain patience for experimental art and music there, which was incredible to experience.
What shows/films/books have you seen/read recently? How were they?
AEG: Atlanta is by far my favorite new show, and there's a bunch of movies out I still need to see! Also recently finished HBO's Shiny Objects which is a super unsettling, but incredibly well done while using music masterfully to add to the vibe. I really like musician autobiographies, my current recommendation is George Clinton's Brothas Be, Yo Like George, Ain't That Funkin' Kinda Hard On You?: A Memoir. I also really enjoy readings on Eastern Philosophy- I'm currently reading The Wise Heart and a past favorite is Zen and the Art of Motorcycle Maintenance.
Have any particularly odd idiosyncrasies?
AEG: I dislocated both pinkies, separate times. And I dislocated both shoulders, also separate times, while playing football.
What are your pet peeves?
AEG: When people form lines unnecessarily, talk loudly at concerts, and when people are on their phones all the time— which even I'm guilty of that, and being removed from others. Our cell phones are a form of consumption, and people are over consuming it. Everybody does it because phones are like cigarettes, it's an addiction. Decades ago, science wasn't far enough to analyze how smoking was bad for you, and we're at a similar juncture with cell phone use. It has to be bad for us, but we don't have enough scientific data yet to explain exactly why.
What do you find most purposeful/of value about BFF.fm, personally and for the community?
AEG: For me personally it's a really therapeutic thing coming here every week. It pushes me to continue with this passion of finding new music and to not let that die. It's an easy thing to not have the time for it, but the show forces me to have the time for it. It also makes me feel less alone being a part of a broader community. Especially seeing what's happened in the Bay Area- it's pretty sad to see how full of art and culture it was, and that's not the case anymore. Any platform like BFF.fm that can provide a place for music and art to thrive I think is a very precious thing.
---
Ash's radio persona carries the spirit of TMN's collective mission to simply "feature the best music we come across." And he certainly does just that with out-of-the-box discoveries in genres all across the board, through avid research and staying connected to authentic music sources. This show is aptly named with its aerodynamic track transitions and lithe commentary. Each set demonstrates uncanny divergences, thanks to the guest hosts and Ash's astute scavenging skills that never fail to reveal surprising finds in the Bay Area as well as across the globe. Listeners can infiltrate the best kept hidden treasures in music by tuning into "Music Ninja Radio" every Friday from 4-6pm.
Where else can you find Ash?
Follow him on The Music Ninja and Twitter