Sasha's overenthusiastic review: #MWE Week One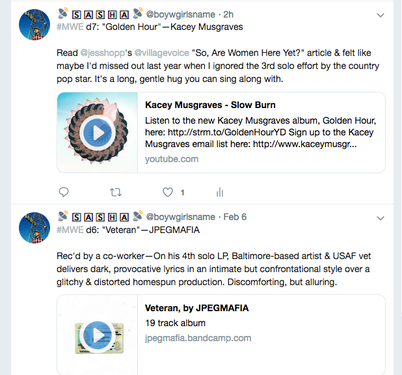 At the beginning of this month, I learned about the Music Writer Exercise (#MWE) for the first time. Launched five years ago by New York-based freelance music journalist and critic Gary Suarez, the Twitter-based writing challenge is simple: each day in February, listen to one album you've never heard before from start to finish and write one tweet about it. I thought 'what the hell, why not' and here's the recap of my first week:
#MWE d1: "A Sacred Bore"—Kapil Seshasayee
Still digesting this complex album suggested by @_anupa in https://t.co/ecevyZSf38, so I don't have a clever summary. It's an album I wouldn't have given a chance without being guided there by a passionate appeal. https://t.co/tmdZvIIAfp

— 📡 🅂 🄰 🅂 🄷 🄰 📡 (@boywgirlsname) February 2, 2019
#MWE d2: s/t—case/lang/veirs
Putting together an all-@lauraveirs mixtape together for pt. 2 of my "Deep Dive" Series for @BFFdotFM. I'm finally listening to her collab w/ @NekoCase & @kdlang. Three songs deep and my grin is so big I'm squeezing out tears. https://t.co/O8BgANaFCR

— 📡 🅂 🄰 🅂 🄷 🄰 📡 (@boywgirlsname) February 2, 2019
#MWE catch-up (d3): "Spirit of Eden"—Talk Talk
Thanks to Pitchfork's recent Sunday Review and research for my recent all-DMST @BFFdotFM mixtape, this album became impossible to ignore. It turns out to be the auditory missing link for so much music I love. https://t.co/tp6GJzUttV

— 📡 🅂 🄰 🅂 🄷 🄰 📡 (@boywgirlsname) February 5, 2019
#MWE d4: "God Bless the Grass"—Pete Seeger
Revolutionary for focussing on themes related to environmental activism, the folklorist's 1966 album feats. traditional songs & contemporary ones by Malvina Reynolds. The message resonates, the delivery doesn't. https://t.co/K1tqYonKau

— 📡 🅂 🄰 🅂 🄷 🄰 📡 (@boywgirlsname) February 5, 2019
#MWE d5: "Coat Of Many Colors"—Dolly Parton
It's the album Parton stepped confidently out of Wagoner's shadow, cemented her reputation as a songwriting heavyweight & changed country's relationship to pop music. Heartbreaking honesty & beautiful resilence. https://t.co/QhOSk61jwm

— 📡 🅂 🄰 🅂 🄷 🄰 📡 (@boywgirlsname) February 6, 2019
#MWE d6: "Veteran"—JPEGMAFIA
Rec'd by a co-worker—On his 4th solo LP, Baltimore-based artist & USAF vet delivers dark, provocative lyrics in an intimate but confrontational style over a glitchy & distorted homespun production. Discomforting, but alluring. https://t.co/aHl98nmCoo

— 📡 🅂 🄰 🅂 🄷 🄰 📡 (@boywgirlsname) February 7, 2019
#MWE d7: "Golden Hour"—Kacey Musgraves
Read @jesshopp's @villagevoice "So, Are Women Here Yet?" article & felt like maybe I'd missed out last year when I ignored the 3rd solo effort by the country pop star. It's a long, gentle hug you can sing along with.https://t.co/6bEdoy9SXw

— 📡 🅂 🄰 🅂 🄷 🄰 📡 (@boywgirlsname) February 8, 2019
Are taking part in #MWE? Let me know, and I'll follow your progress.
And, if this sounds fun, why not start today?