Sasha's overenthusiastic review: #MWE Week Two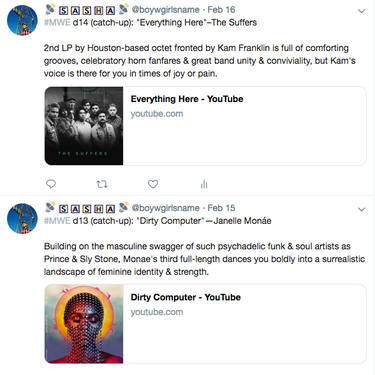 This month, I've been taking part in the Music Writer Exercise (#MWE). The Twitter-based writing challenge is simple: each day in February, listen to one album you've never heard before from start to finish and write one tweet about it. Here's the recap of my second week (and, in case you missed it, my first):
#MWE d8: "Light As a Feather"—Azymuth@Bandcamp Weekly featured Ivan Conti, founding percussionist of the 45+ year Brazilian Samba Doido trio last wk. Thier 1979 recording remains a masterpiece, w/ single "Jazz Carnival" ranking w/ "Maggot Brain," "Djed."https://t.co/bzRjageMAg

— 📡 🅂 🄰 🅂 🄷 🄰 📡 (@boywgirlsname) February 8, 2019
#MWE d9: "'Nuff Said!"—Nina Simone
3 days after the death of MLK Jr, Simone headlined the Westbury Music Fair. She memorialized the tragedy in a powerful performance in tribute to the King of Love that still moves listeners to grief & brings them solace.https://t.co/cvIWTJcQHB

— 📡 🅂 🄰 🅂 🄷 🄰 📡 (@boywgirlsname) February 9, 2019
#MWE d10: "Florence Price: Concerto In One Movement/Symphony In E Minor"—New Black Music Repertory Ensemble
1st has a hook to rival Copland, 2nd a power to rival Beethoven. Due to classical canon's inherent racism/sexism these masterworks are rarely heard https://t.co/SoWfZT1T6u

— 📡 🅂 🄰 🅂 🄷 🄰 📡 (@boywgirlsname) February 14, 2019
#MWE d11 (catch-up): "Stand!"—Sly & the Family Stone
Released shortly before the SF-based band's epic Woodstock appearance that would help make this one of the best-selling albums of the 60s, this is a magnum opus of funk humanism; bouyant in its optimism https://t.co/w1fkQbw9e1

— 📡 🅂 🄰 🅂 🄷 🄰 📡 (@boywgirlsname) February 15, 2019
#MWE d12 (catch-up): "Sensual World"—Kate Bush
The UK icon's 6th LP is loaded w/ lush pop vignettes she described as her most "honest, personal." I esp. liked the rich arrangements that mixed her characteristic synths w/ strings & Irish folk instruments. https://t.co/VRerYkwiZb

— 📡 🅂 🄰 🅂 🄷 🄰 📡 (@boywgirlsname) February 16, 2019
#MWE d13 (catch-up): "Dirty Computer"—Janelle Monáe
Building on the masculine swagger of such psychadelic funk & soul artists as Prince & Sly Stone, Monae's third full-length dances you boldly into a surrealistic landscape of feminine identity & strength. https://t.co/sJ2R3SRMkb

— 📡 🅂 🄰 🅂 🄷 🄰 📡 (@boywgirlsname) February 16, 2019
#MWE d14 (catch-up): "Everything Here"–The Suffers
2nd LP by Houston-based octet fronted by Kam Franklin is full of comforting grooves, celebratory horn fanfares & great band unity & conviviality, but Kam's voice is there for you in times of joy or pain.https://t.co/IXkFGfj5Vf

— 📡 🅂 🄰 🅂 🄷 🄰 📡 (@boywgirlsname) February 16, 2019
Are taking part in #MWE? Let me know, and I'll follow your progress.