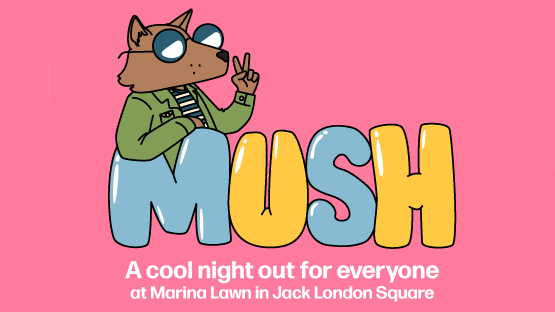 We're stoked to announce MUSH!
Join us on the Marina Lawn (across from 55 Harrison St., Oakland, CA) at Jack London Square for a FREE bi-weekly festival featuring bands that represent the vibrant, eclectic, and positive energy of the Oakland indie music scene.
MUSH will also feature grab-and-go food specials from local restaurants, a beer and wine bar, and Bay Area underground artists and crafters selling their wares along the Marina Lawn.
"The name MUSH is our tongue-in-cheek reference to Jack London's sled dog-focused novel, 'The Call of the Wild,' but is also representative of the concert series as a whole," says Amanda Guest, Founder and Station Manager of BFF.fm."Each concert will demonstrate that when we all pull together we can create something positive for the community."
Here's the first batch of line ups:
May 9: Same Girls and Samplelov with BFF.fm DJs Miles Otway and Transfiguration
May 23: Ah Mer Ah Su and Maya Songbird with BFF.fm DJs Mr. White and Brother Kris
June 6: Stephen Steinbrink and Thriftys with BFF.fm DJs Cosmic Amanda and Ash
June 20: Headliner TBA and Chaki the Funk Wizard with BFF.fm DJs Nino Msk and Lil Data
Sound fun? Join ussssssss!