Reasons to Visit the Ferry Building in 2021

By
BFF.fm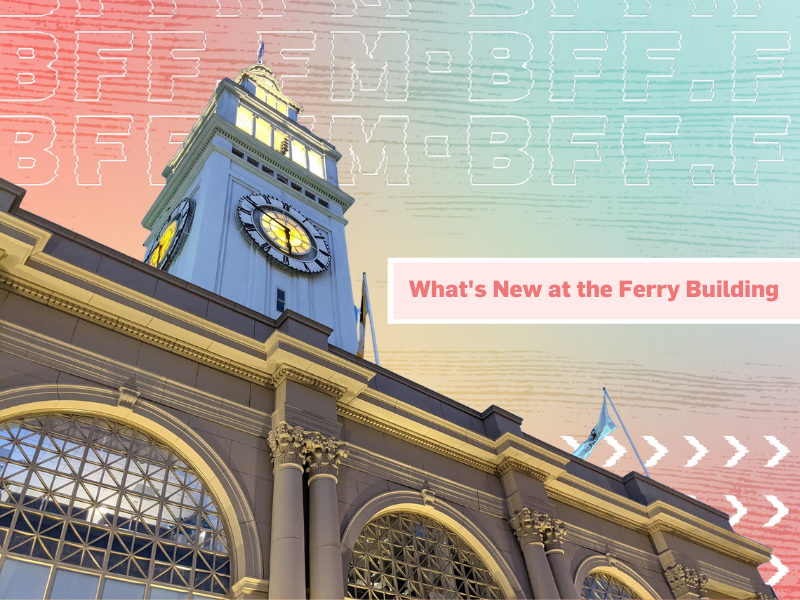 Sponsored content from our partner The Ferry Building
The new year brings new offerings to San Francisco's landmark food hall and marketplace, the Ferry Building. Located on the Embarcadero with waterfront views, the Ferry Building is open for business seven days a week with health and safety measures in accordance with guidelines from the San Francisco Department of Public Health.
Recent openings include The Epicurean Trader, a hyperlocal, artisan-focused shop and café dedicated to bringing shoppers the highest quality food products for any occasion. The shop is now open at the northern end of the marketplace, next to Blue Bottle Coffee. The Epicurean Trader is open daily from 7:30 a.m. to 5:30 p.m.
Founded by 17-year-old high school student, Jake Reisdorf, Carmel Honey Company is now open at the center of the Ferry Building marketplace, across from the Bay Crossings shop. Carmel Honey Company carries four distinct honey varietals made by hand in Monterey County, as well as honey-infused food products, teas, and bath and beauty products. Store hours are Tuesday and Thursday from 10 a.m. to 2 p.m., and Saturday from 8 a.m. to 2 p.m.
Maison Verbena is a local, San Francisco producer of hand-pouredsoy candles, wine candles, and all-natural soaps made from 100% soy grown from American farms that are FDA and USDA-regulated. Maison Verbena's kiosk is open for business at the south end of the Ferry Building Marketplace, across from Boulibar. Hours are Tuesday, Thursday, and Friday from 11 a.m. to 4 p.m., and Saturday from 8 a.m. to 5 p.m.
Smooch Tartshop merges traditional and innovative dessert recipes from around the world to create unique, Instagram-friendly, and extremely tasty tarts. Their team proudly makes each tart from scratch using the highest quality organic ingredients. Smooch Tartshop, located in the center of the Ferry Building Marketplace, is open Saturdays from 9 a.m. to 6 p.m.
---
For more information about the Ferry Building, visit ferrybuildingmarketplace.com