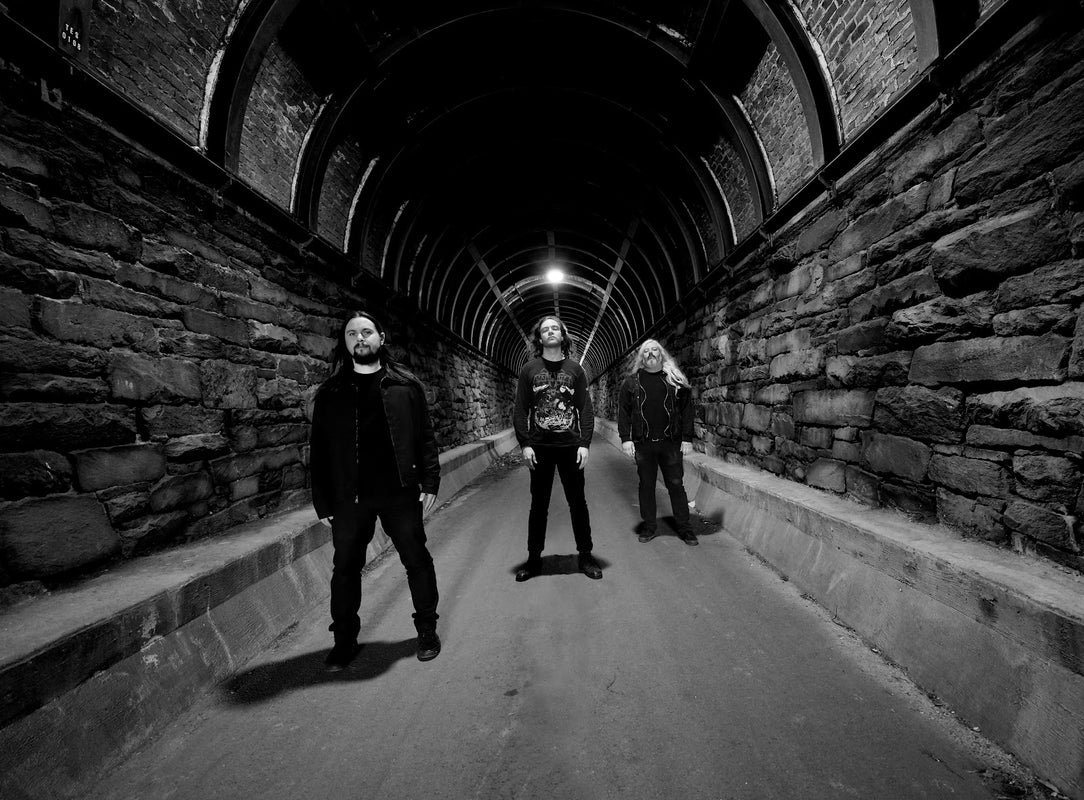 The origin story of ULTHAR is a familiar one; bassist/vocalist Steve Peacock, guitarist/vocalist Shelby Lermo, and drummer Justin Ennis decided to start a band after crossing paths at shows across the Bay Area. What emerged from their friendship: blistering technical death metal infused with the ferocity of black metal. With two lauded albums already under their belts, the originally Oakland-based band is re-emerging with two more chapters to their twisted saga. Anthronomicon, a 'traditional' ULTHAR album with eight tracks, and Helionomicon, featuring two monolithic songs approximately 20 minutes long.
According to Shelby, the dual release just made sense. Anthronomicon and Helionomicon are both natural extensions to ULTHAR's story, yet each album represents a different ambition from the band. Distinctive yet complementary, the two even have corresponding album art.
Album artwork for Anthronomicon (left) and album artwork for Heliononicom (right)
Though writing and creating the twin albums was a different experience after band members moved from Oakland to Portland, Oregon and Richmond, Virginia, ULTHAR's collaborative spirit transcended the distance to retain their complex and caustic style. Steve and Shelby, the primary songwriters for the band, continued to work on new material long distance. Said Shelby: "At this point, I can mimic Steve's songwriting as well as he can mimic mine. There really isn't 'my' sound versus 'his' sound; it's just ULTHAR."
That sound? Harsh, jagged technical death metal rife with black metal influences. ULTHAR has always stood out for complex, impeccably executed songs that never allow listeners to fully settle into a rhythm. Each fresh turn of the record only reveals new nuances and new notes to discover in Anthronomicon and Helionomicon. The latter in particular packs a heavy punch with two 20-minute tracks that are simply supercharged versions of ULTHAR songs.
The seemingly chaotic feel of ULTHAR is no accident. Shelby shares: "I think people would be surprised to hear how much krautrock the band listens to. When we're on tour, we're jamming to krautrock more than anything else in the van."
Anthrononimicon and Helionomicon will be released on Friday, February 17th on 20 Buck Spin.
Listen to ULTHAR's latest single on Rise & Rage on Monday, February 13th. Buy the digital album, vinyl, and more from 20 Buck Spin's Bandcamp.
Want to help us spotlight more SFBA artists? Support local radio and become a Bestie by supporting BFF.fm!