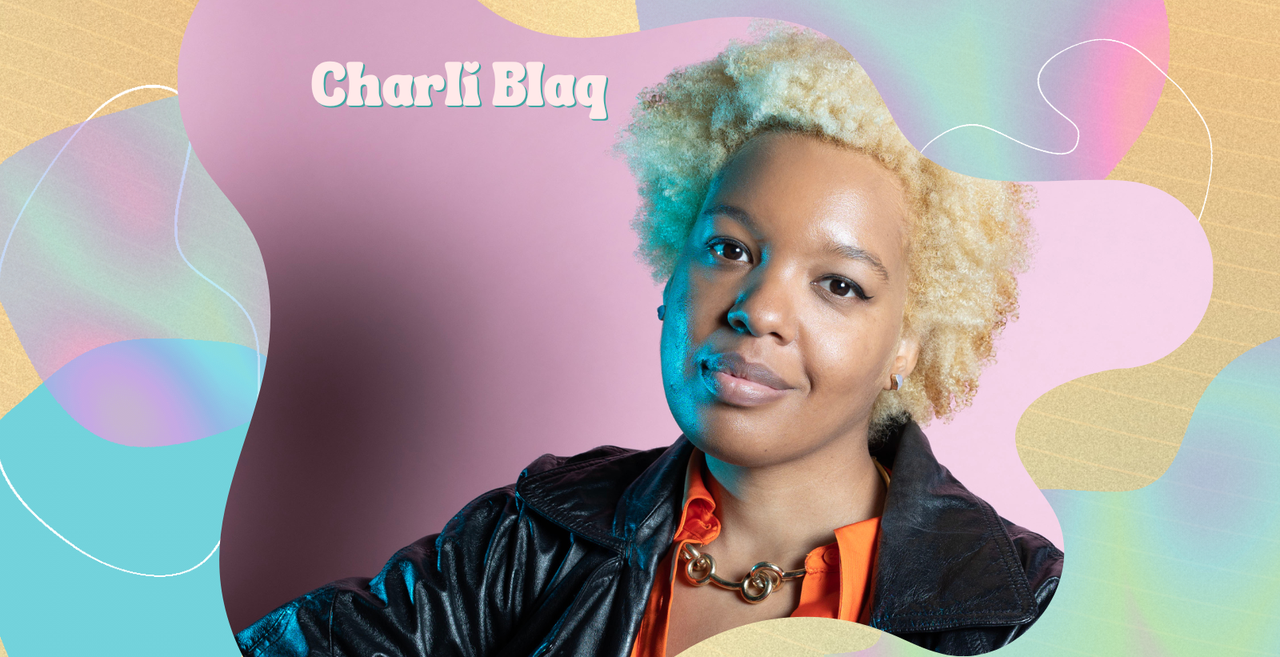 Charli Blaq offers an eclectic mix of Black music from the past, present, and future on Black Girl Joy, airing Thursdays from 12-2pm on BFF.fm. In her own words: "Whether it's chilled reggae, sugary sweet pop or rap française, so many artists and genres bring this Black girl joy, and I can't wait to share them with you too. Cocoa butter, sage and incense not included. Black artists deserve their flowers while they're here to enjoy them. Period." Time to give Charli her flowers, too! Read on to learn more about Charli and what inspires her show:
Tell us a lil bit about yourself! Like first up, where are you from?
I'm from the Bay Area, born and raised in California. I really love reading and movies. I think just being exposed to that in my youth is why I'm so into music as well. I definitely got my love of reading from my mom, and my love of music from my dad.
What kind of music was your dad into?
A lot of soul music. He had a huge CD collection that I would always go through. One of my favorite CDs of his was the soundtrack to one of the Batman movies, like the older Batmans that people don't like. Those soundtracks are pretty amazing. It had, like, a lot of different music on it, so I was exposed to a lot of different genres through that as well.
The movie does not need to be good for the soundtrack to be good for sure. That perfectly leads into what I wanted to ask next: how did you first get deep into music? What are some of your big musical inspirations and influences, aside from your dad?
I had so many different influences. KBLX, which is a Bay Area R&B channel, was a big influence. But I also was exposed to the music that was in, like, Tony Hawk's Pro Skater. So I just had all of these influences that made me really open to music and really excited to learn about new music. That's why I love my show because I can share music and not clog up all of my, like, friend chats with music I think they'll like.
That struggle is real. I like how you describe the way that you were surrounded with music in all of these different ways, from your parents to movies and video games. With all of those different mediums and methods, what made you interested in DJ'ing radio, specifically?
The person that got me into this was Eddie, their show is Abuela's Pantry. Back in 2020, when everything was locked up, they posted something on their Twitter calling for ideas. I didn't even think that I would have my own show, I just gave Eddie an idea, but then they encouraged me to apply. At first, it was kind of just a distraction from the pandemic, but now I really like being able to share music.
Starting during the pandemic, what did BFF mean to you then, and has that evolved?
It kept me tethered. It prevented me from doom scrolling because I was actually on a mission, looking for new music. BFF.fm also put on several events on Twitch, so it was nice to be connected to music that way, too. Now, it's just nice to have a hobby.
What's one of your current favorite artists, and what are some of your all-time faves?
Well, definitely Beyonce! I definitely love Renaissance. The messages in that album really resonate with me. So I've been listening to that and also a lot of soul music from the past. I really like Big Maybelle. She has a nice cover of "96 Tears" that I really like.
Do you have a guilty pleasure song?
Oh, I don't really believe in guilty pleasures. If it brings you joy, then it shouldn't make you feel guilty. But you know, as someone from San Jose, I do love "All Star'' by Smash Mouth because they're from San Jose too.
We should all feel free to love Smash Mouth without guilt [laughs]. You shouted out Eddie already, but do you have other BFF.fm shows you love to listen to or DJs you want to shout out?
Bop Island! I can always listen in to that and hear something I've never heard before. I think they changed their name from LOUISE [to tapecase radio], but I really like them as well.
Do you have any burning questions for other BFF.fm DJs?
Yeah! What epitomizes BART music to you? For me, for example, PinkPantheress gives me, like, pink sunset on the BART vibes. So what gives you BART vibes? Your BART playlist is important!
---
Thanks for chatting, Charli! Tune in to Black Girl Joy on Thursdays, 12-2pm, and listen to previous episodes on Black Girl Joy's show page.