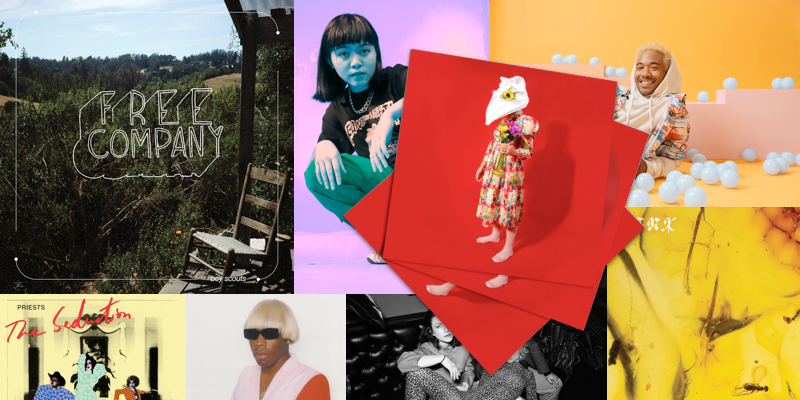 2019 was a fantastic year for new music from the Bay Area and beyond. Here are a few of Cheap Beer's favorites across genres (okay, really just more of the twee you've come to expect from me):
 Wowow what peaches and what penumbras. Gauche is pushing the envelope on arty punk in very cool ways reminiscent of The B-52's (greatest compliment I can give). Not only that, but they share a member with Priests and help run the fiercely independent Sister Polygon label in DC. Catch them live where they swap instruments between every song! This album presents irrefutable evidence that dancing your heart out and getting mad about the state of politics are not mutually exclusive activities.
 RIYL: Priests, The B-52's, Downtown Boys, French Vanilla
 Boy Scouts are a local band from Oakland that dropped some fantastic hits this year. Free Company is a really easy album to listen to, which is part of why I've listened to it SO. MANY. TIMES. That and the dreamy guitars.
 RIYL: Angel Olsen, Sharon Van Etten, Girlpool, Jay Som, Andy Shauf, Florist
 Wow. What a fantastic debut. Lealani is out of this world, but still sorta local (Los Angeles). Dig into her Youtube to watch her build the beats from scratch - it is absolutely sick and probably the most innovative album on this list.
 RIYL: Cowgirl Clue, French Vanilla, Coco & Clair Clair, GFOTY
4. Jinx - Crumb
 Another easy-listening album. Bedroom pop has been a favorite genre to watch for a few years now, but Crumb really takes it to the next level with their use of the saxophone.
 RIYL: Homeshake, Mild High Club, Inner Wave, Drugdealer, Cosmo Pyke
5. Feelgood - Winona Forever
 If the title didn't give it away, this is the feelgood album of the summer. Twee as all get-out and deliciously groovy.
 RIYL: Crumb, Vundabar, Scooterbabe
HONORABLE MENTIONS
IGOR - Tyler the Creator
 Ugh. What a romp! So much energy throughout this album, a lot closer to "old Tyler" than the poppier Flower Boy.
Schlagenhein - black midi
 Absolute opposite of easy listening. Unless you enjoyed calculus. This is mathematical but brings that genre forward in exciting ways.
Cut Your Teeth - Necking
 As if you needed further proof that riot grrl rage is burning brighter as the years go on, Necking's debut goes hard and fast. Please watch the music video for "Big Mouth."

The Seduction of Kansas - Priests
 I wept when Priests announced that they'll be taking a hiatus in 2020. All the more reason to dig into them immediately. The Seduction of Kansas is their most polished album to date, which is normally a bit of a con to me as I love the grungier sound. After hearing it live at Starline though, I am stoked on this album. (Priests also share a member with Gauche and were originally on this list, but I thought if I had two of Daniele's bands on here my crush cover would be blown).
Outer Peace - Toro Y Moi
 Bay Area! And one of two releases this year; staggering! Outer Peace has some solid bops with poppy hooks, and is easy to listen to.
All Mirrors - Angel Olsen
 Angel Olsen's voice is incredible, the world needs more of her albums.
Thanks for tuning in to our end of the year list!
Cheap Beer is currently on a hiatus, but we'll be back sometime eventually! Until then, if you dig the list you'll dig our broadcasts: so check out the extensive backlog online and keep it locke