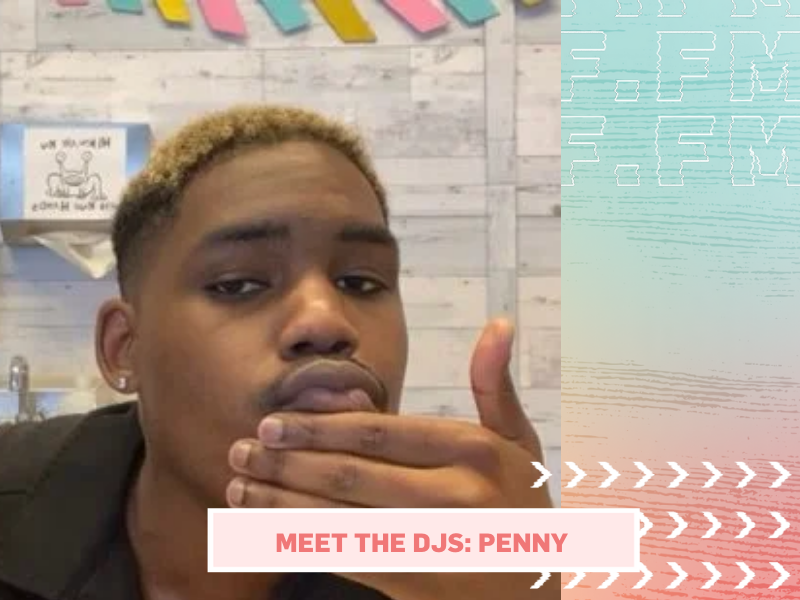 Penny's show Pennies Radio, airing Wednesdays Noon - 2pm, is most known for its Heavy Mellow (hip hop/r&b, indie, alternative, with jazz influences) music playlists. But as things start to reopen post pandemic, hopefully we can hear more of the local artist interviews and social topic discussions that truly makes Penny's show a platform for local artists to connect, support, and empower each other. Now, it's time to turn the focus on Penny himself! Here's our conversation:
---
You seem to have such a strong connection to the Bay. Are you a native?
I was born in Oakland but I grew up all over California, spent a couple years in Texas and a summer in Atlanta. I would say that I'm from LA but I've made so many places my home.
Of all the places you've lived, what makes San Francisco so special?
I would definitely have to say it's the food and the weather. Most people have to go to a different state to have what we have here but we might have to just cross a bridge or two maybe.
Tell us about your relationship to radio. How did you get into it?
My relationship with radio Is definitely the longest relationship I've had with anything. Growing up I moved around a lot, seeing a lot of new places and faces. Everything was always new and fresh but the one thing that that stayed the same was that no matter what city I was in there was always a radio station I could tune into that had songs that I knew and liked.
This is such a through line for all of our DJs! (Though I'm probably the opposite- I used radio to think beyond my little world.) When did you go from being a listener to becoming a DJ?
I became a DJ in middle school! I DJd my cousin's school dance, which was horrible (laughs). From there I'd do family parties and block parties. I started DJing on the radio in 2018 when I got my first show at Radio Valencia.
So, you got started as a radio DJ at Radio Valencia, but how did you find BFF.fm?
I was walking around the Mission District after inhaling pupusas from Taqueria Los Coyotes and and I walked past this building with a huge window and inside the window was this person DJing...
Oh, yeah, that was our month long pop-up in the ATA gallery window!
They were playing Thinking About You by Frank Ocean and I ran up to the window to sing the song with the DJ and after it was over I told them they were amazing and they gave me a card...now I have my own show, so yeah.
Yeah, now here you are! What has it been like for you at BFF?
I feel like the most Important a value at BFF is respect. Everyday we include and respect everybody within our community. We are always finding new ways to include everybody in our community from doing interviews with local artists and playing their music to throwing live and virtual events to bring everybody together. It's really the safest place in the Bay Area.
What artists can we expect to hear on Pennies Radio and what artists inspire you just in general?
Oh man, I have the longest list. Currently I'm into Frank Ocean, Solange, Yves Tumor, Matt Martians, Erykah Badu, Tyler The Creator, KAYTRANADA, Toro Y Moi, Mac Demarco, Snoh Aalegra.
My all-time favorites are Jamiroquai, Pharrell Williams, and Beyoncé.
Outside of DJ life, what do you enjoy most?
I watch hella anime. I just finished Demon Slayer and rented out a movie theater so me and the homies could watch the movie. (laughs) It's a real big deal! I'm also really big on playing Pokémon competitively, I'm literally gonna be 80 years old playing Pokémon everyday.
So, whenever I write one of these profiles I always ask people what their idiosyncrasies are...just because I feel like radio DJs are particularly idiosyncratic people. Sooooo?
(laughs) I'm embarrassed to say but I every time I get into my car to drive I take my shoes off cause it's easier for me to drive barefoot.
Also, I absolutely hate traffic I don't understand why people drive slow on the FREEWAY.
OMG now I just have this mental image of you driving down the freeway barefoot, trying to catch a Charizard. 😅 Thank you so much for chatting with me!
Thank you!
---
Check out Penny's BFF.fm DJ
profile, tune into Pennies Radio and consider supporting the show with a donation.