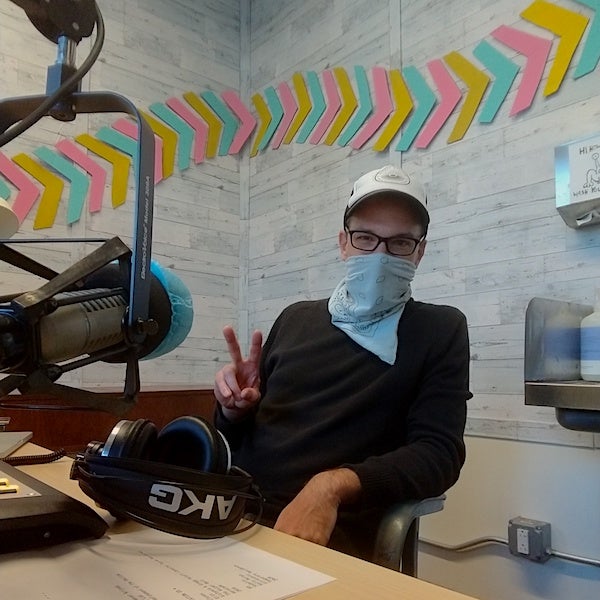 2020: such a nice round number, seemingly auspicious, a fitting year to try something new. So I launched an experiment in January: Loose Canon Listening Club, BFF.fm's first classical music show. It lasted a whole 14 weeks. Producing it at home in my ramshackle pillow fort studio became too complicated. Until live broadcasts were possible again in October, I brought back my long-running eclectic show Boy with Girl's Name Morning Mixtape. In all, I cobbled together 50 episodes, split almost evenly between the two formats. So, I have, not one, but two top five lists to share with you –
LOOSE CANON LISTENING CLUB
Invisible Ritual by Jennifer Curtis & Tyshawn Sorey (Tundra/New Focus)
North Carolina violinist Jennifer Curtis and NYC percussionist and pianist Tyshawn Sorey are bandmates in the International Contemporary Ensemble and composers of their own music. Throughout this eight movement collaboration, they pull from a jaw dropping range of influences to improvise a surprisingly cohesive and dynamic album.
Dawn Chorus by Grand Valley State University New Music Ensemble (Innova)
This Michigan student ensemble, directed by Bill Ryan, has an impressive commissioning program that asks composers to respond to America's national parks. Featuring 11 different composers (including the next one on this list) as they find inspiration at Arches, Badlands, Capital Reef, Grand Teton, Wind Cave, and Yellowstone, this album is a lovely and loving tribute to the outdoors (where I certainly have spent my sanest hours this year).
Breaking and Entering by Molly Joyce (New Amsterdam)
When Pittsburgh-based composer/performer Molly Joyce speaks of finding her instrument, it's not in the typical half-mystical tone of many artists, but rather in very practical terms. Vintage Magnus electric toy organs fit her differently abled body, uniquely supporting her creativity. Throughout this highly personal and moving album, she mines this complex symbiosis.
Music for Hard Times by The Living Earth Show with Danny Clay (self released)
Bay Area-based guitar and percussion duo The Living Earth Show (Travis Andrews and Andy Meyerson) collaborated with San Francisco composer Danny Clay to create the perfect album to help cope with 'the shit that came down and fell by the bucketful' this year. Clay, who is also an educator, often uses elements of play in his work. His experimental score (which comes with the Bandcamp album download) consists of eight loosely related relaxation exercises that, in the hands of Andrews and Meyerson, become a comforting ambient masterpiece.
Mass for the Endangered, composed by Sarah Kirkland Snider, libretto by Nathaniel Bellow, performed by Gallicantus(Nonesuch/New Amsterdam)
Brooklyn-based composer Sarah Kirkland Snider has crafted a six-movement work for chorus and chamber ensemble that is as subversive as it is gorgeous. With Bellows, she takes the traditional sung Catholic masses of Bach, Mozart, and Brahms and flips the perspective of the prayers. Rather than asking for mercy from God for the faithful, it seeks mercy – from us – for the land and the plants and the animals. "World forgive us."
---
BOY WITH GIRL'S NAME MORNING MIXTAPE
Sucker's Lunch by Madeline Kenney (Carpark)
Oakland's Madeline Kenney is, to be forthright, one of my favorite local artists. Again supported by Jenn Wasner (Wye Oak), her third full length shimmers with a glittery melancholy and easy, swinging pace that is both consoling and infectious. I am inevitably swaying in my sweats, a one-man lockdown slow dance.
A Drip Is All We Know by FAKE EYES (New Morality Zine)
Inlet by Hum (Earth Analog)
Any other year and the debut EP from the young Charlotte, North Carolina, quartet FAKE EYES would not have had to share a spot on this list. Then, their elder statesmen, after more than 20 years of silence, returned. Both albums roar melodically with the stratospheric guitar riffs characteristic of the legendary Champaign, Illinois, band Hum. However, while FAKE EYES seeks a delicate human-level intimacy out of the detailed layers of sound, Hum works at a geologic scale, shifting tectonic plates and unleashing crushing tsunamis.
Melee by Dogleg (Triple Crown)
In a year that I gravitated back to the heavier music of my late teens/early twenties, the debut LP of the Detroit quartet led by Alex Stoitsiadis jumped out and up and down and did a cartwheel and bounced off the wall and knocked over the couch and screamed out the window. No album this year left me more rejuvenated. The pure raucous energy burns so brightly it is easy to imagine sweatily colliding with strangers, arms in the air, worries abandoned, if only for a moment.
Manger on McNichols by Boldy James / Sterling Toles (Sector 7-G)
Detroit rapper Boldy James released four albums this year. This collaboration with producer Sterling Toles is a decade-plus long labor of love. Young and still green, James recorded the original vocal tracks for the album over simple beats between 2007 and 2010, leaving Toles to create the arrangements, which he did in a slowly evolving organic process, employing the talents of a score of local artists, catching them when they were in his studio for other projects. In 2018, James put the finishing touches, adding new flows to what had been intended to be instrumental tracks. The result is a lush, jazz and soul-inflected portrait of personal perseverance on the richly drawn streets of a predatory Detroit.
Free Love by Sylvan Esso (Loma Vista)
Why does my chest swell so every time I hear Amelia Meath's fluttering voice dance a melody across Nick Sanborn's breezy, glitched out programming? The couple's third full length displays a welcome fragility, veering away from the danceable bops of their last album in support of Meath's more detailed songwriting. If this year had not been this year, I don't know if I would have reacted so strongly to the gentleness of this album. But this year was this year, and Free Love greeted me like a handmade card a friend mailed across town just to let me know that they were thinking of me.
---
THE CROSSOVER BONUS

Field Works: Ultrasonic by various (Temporary Residence)
Stuart Hyatt has now curated nine albums as part of the Field Works series, which pairs locational audio field recordings with experimental musicians. The most recent sees Eluvium, Marry Lattimore, Kelly Moran, Sarah Davachi, and ten others turn the echolocations of the endangered Indiana bat into magical auditory journeys.
Catch you next Tuesday (and every Tuesday) from 8–10M Pacific.