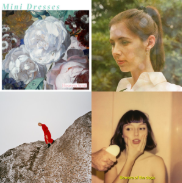 B-Side Dreams leans toward indie pop and post punk. Top 5 selections based on how often I returned to them. Like what you see? Tune in Saturday mornings at 9am!
TOP 5 OF 2019
Stella Donnelly - Beware of the Dogs > Solid album, voice, and performer. Relevent themes.
Cate Le Bon - Reward > Effortlessly cool, with dissonance.
Carla dal Forno - Look Up Sharp > Moody/ambient, limited vocals. Mesmerizing, good focusing music.
Lunch Lady - Angel > Classic post punk, updated.
Mini Dresses - Heaven Sent > Jangly pop. Good follow up to their amazing 2017 album.
HONORABLE MENTIONS
Chris Stroffolino - Audition 4 a Practice People Place > Modern Day Electric Company.
Natalie Rose Le Brecht - Mandarava Rose > Perfect for a quiet sunset drive after a long day.
The Ocean in Films - Cruel Vestige > Check out my episode with these locals, FKA Evening Empire.
Jeanines - Jeanines > Slumberland pop sweetness
Trash Kit - Horizon > I support all ofRachel Aggs projects, and I root for this underdog.
Jenny Hoyston - Hold On, Loosely > A late year release, new work by the Erase Errata singer, sounding great.
The Stroppies - Whoosh > Australian jangle pop, influenced by classic Flying Nun.
Black Belt Eagle Scout - At the Party with My Brown Friends
Penelope Isles - Until the Tide Creeps In