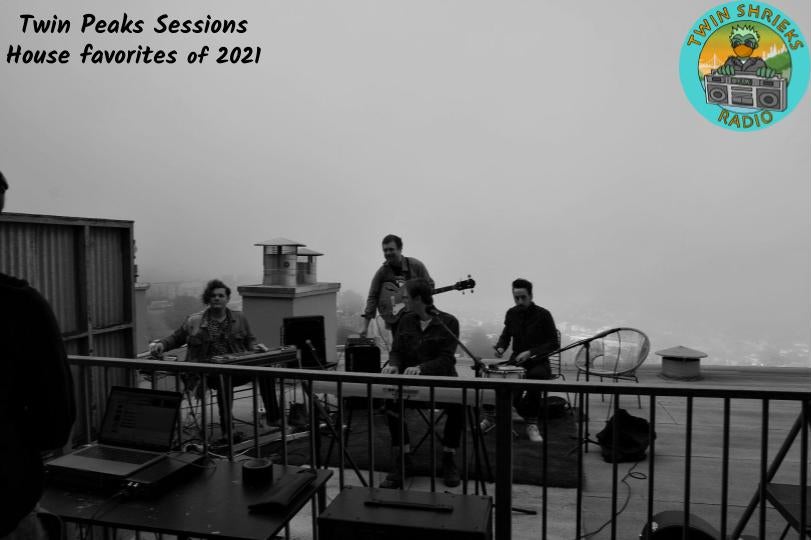 Another year in the books, and your friendly folk at Twin Peaks Sessions saw more of our past rooftop dwelling artists release new incredible records. Here, I'll highlight 5 records/EPs that dropped this year from some Twin Peaks alum. Let's go in ABC order.
Broken Field Runner "FIELD" (Jetsam-Flotsam)
Part 2 of the upcoming trilogy of brutally heartbreaking EPs, Broken Field Runner (NY / LA) drops FIELD, a mesh of spoken word and indie happy sad grooves detailing grief, regret, and the infinite internal struggles of the human mind. FIELD gives you that physical listeners' chill that has a scientific name I don't feel like looking up right now. "..goddamn the sober mind that brings no peace.." FFO Jimmy Eat World, Dashboard Confessional, Hey Mercedes
Catch Prichard "I Still Miss Theresa Benoit" (Self-released)
In what is now a historic live session being the final full band to ever be recorded on the infamous Twin Peaks rooftop, Bay Area based Catch Prichard were the perfect choice to go out with a bang. A band that blew my mind upon first listen of their 2021 record I Still Miss Theresa Benoit, especially from the haunting baritone vocals of Sawyer Gebauer -- taking it back to the legendary Leonard Cohen or 90s grunge hero Mark Lanegan. The session (linked below) involves two songs off said record, with chaotically blissful lap steel guitar, bass, and we even allowed a drummer in this rare instance.
Common Sage "It Lives and It Breathes" (No Sleep Records)
Back in the dismal spring of 2020, Brooklyn NY's Julian Rosenthal visited San Francisco and we had a friendly online interaction navigating what a solo acoustic session could look like amidst a pandemic. From listening to their earlier EPs, this exact inquiry from the brain of Common Sage helped light the fire to get Twin Peaks Sessions back up and recording safely after taking a few months off. We were blessed with a hint of what's to come from Common Sage, as Julian performed the then "Untitled" acoustic track which evolved into the jangly post-rock "Sour" as heard on the new record It Lives and It Breathes. FFO Modest Mouse, listeners of Washed Up Emo podcast.
Taking Meds "Terrible News From Wonderful Men" (Smartpunk)
Frontman Skylar Sarkis remains supreme as a master of the arts in DIY music and beyond. The Bay Area was blessed from their memorably loud and fierce warehouse set at the inaugural Twin Shrieks Fest in 2019. Skylar has kept busy with a multitude of projects, with hardcore acts Who Decides + Highway Sniper (feat. Eric from Heart Attack Man), his solo project Growing Stone, and lest we forget the most heartwarming Christmas story involving one mans dedication to join the ranks within the guerrilla marketing industry in his "25 days of Heineken" bit. The new Taking Meds album is arguably their best work yet, with all the 90s alt and post rock influences feeling unique and addictive (Shades of Jawbox to Stone Temple Pilots can be heard). "Citgo" is one of my favorite songs released this year.
PS Do not overlook Skylar's solo work under moniker Growing Stone, where in his Twin Peaks Session he does a song off that catalog, a 2019 Meds song, and a Leonard Cohen cover (weren't we just talking about him?").
Spurts "The Long Haul" Self-Released
Oakland/Livermore's slacker rockers Spurts put out a well polished, mature yet playful indie record dubbed The Long Haul -- for fans of Pavement and dare I say it, Weezer. Musical mastermind Robert Sanlis spearheads this quarantine recorded album, and has provided countless live recordings, mixes, and overall assistance within the Twin Peaks HQ --thank you Robert, congrats on this excellent release.