Blown-Out, Blowout Benefit Show: Barely Legal Edition
By
Andre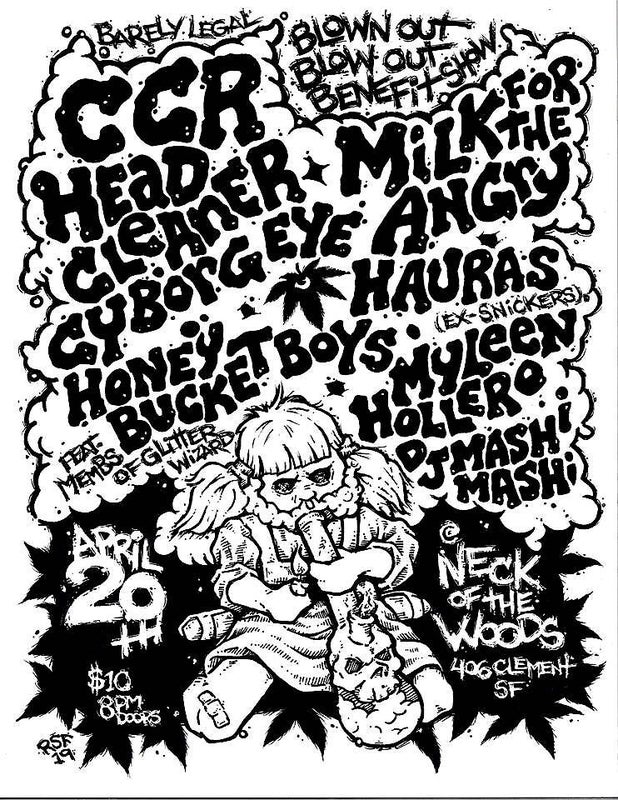 Okay. Let's burn it down...but for a good cause.
With the annual crush of humanity on Golden Gate Park's Hippie Hill reaching near mythical proportions, 4/20 in San Francisco is pretty much a stoner holiday. It seems like a no-brainer to tap into this crowd for some low-level marijuana offense criminal justice reform.
California's recreational use marijuana law went into effect in 2018. At this point, any partakers are "barely legal". Good times! But what about all those pot-case convictions prior to the new law kicking in? Bummer? Not so fast.
Recently Code for America, a nonprofit that helps gov't use tech to better serve people, worked with San Francisco's D.A. to clear more than 8,000 marijuana convictions.
Why stop there? Marijuana is just the tip of the iceberg! Expunging old, low-level convictions can help tens of millions of Americans so they can get jobs, housing and education. Algorithms helping break down these barriers? It's already happening! But it takes time, resources and money.
Pocket your vape pen and follow the wafting haze from the park on 4/20 and step inside SF's Neck of the Woods (406 Clement Street) for the Blown-Out, Blowout Benefit Show: Barely Legal Edition.
This year's lineup includes local, psych-heavyweights; CCR Headcleaner, bringing you riffs for days! Oakland's Milk For The Angry is hot with their new cosmically, psychedelic-flavored album 'Extraterrestrial Desert'. Ratskin Records' Cyborg Eye, a dark and moody East Bay duo, will wow you with their gear. Hauras sets the experimental tone including a special screening of film work by Myleen Hollero. And if you like Glitter Wizard, then you won't want to miss "members of" in the country-folk duo known as Honey Bucket Boys. DJ Mashi Mashi of Galaxy Radio fame will be spinning vinyl all night.
Come on out and stick it to the man. The fun starts at 8pm. $10.